Temple Researcher Receives American Cancer Society Grant to Study Synthetic Targets for Tumor Drug Delivery
News
December 07, 2022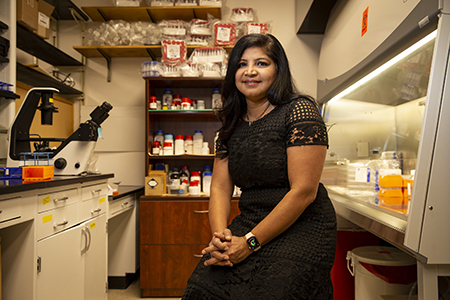 Swayam Prabha, MBA, PhD, an associate professor at the Fels Cancer Institute for Personalized Medicine at the Lewis Katz School of Medicine at Temple University, was recently awarded a $792,000 American Cancer Society research scholar grant to investigate new methods for treating lung cancer.
"We are working on new treatments for lung cancer because in Philadelphia alone there is a 25% mortality for this cancer type. Quite a few patients diagnosed with this cancer are at the metastatic stage and are very resistant to current therapeutic approaches," said Prabha, who is also a member of the Cancer Signaling and Microenvironment research program at Fox Chase Cancer Center.
"There are immune checkpoint blockers that work in some patients; our proposal is to change the treatment landscape for these drugs," she said.
Prabha and colleagues will be using the four-year grant to develop synthetic cellular targets to advance immunotherapy in lung cancer. Immunotherapy is the groundbreaking use of drugs, therapeutic vaccines, viruses, antibodies, and cell-based techniques. This method activates the body's immune system to identify certain kinds of cancer cells and slow their growth. 
For example, cytokines are a type of protein made by cells that have an effect on the immune system. They can be used in immunotherapy to help fight cancer and other diseases, as well as infections. "We are essentially trying to localize delivery of cytokines, which would otherwise negatively affect the entire body," said Prabha.
She added that her work will focus on transforming the tumor microenvironment, the tumor's "neighborhood," so that tumor cells will respond more readily to immunotherapy, which has been found to work particularly well in lung cancer patients.
"I'm very excited to be part of this elite group of scientists who are working toward improving cancer treatment. More than that, I want to contribute to the American Cancer Society, so I'm looking forward to having some positive results and good collaboration with the outstanding clinicians at Fox Chase," said Prabha.
American Cancer Society research scholar grants are awarded to self-directed researchers and clinician-scientists conducting work that applies to one of the organization's six priority research areas. These include etiology, obesity/healthy eating and active living, screening and diagnosis, treatment, survivorship, and health equity across the cancer continuum.