2021 Alumni Awards
Congratulations to the 2021 Alumni Award recipients. We are proud to recognize their professional achievements and contributions to medicine, and honor them as representatives of the Lewis Katz School of Medicine at Temple University.
One of our most fundamental tenets is the strength and spirit of our alumni community, which has proven true now more than ever before. Together, we all share in the pursuit of excellence—in our work and in supporting one another. We recognize this year's Alumni Award recipients for exemplifying that pursuit and celebrate their commitment to the values that define a Temple Made physician: exceptional care for their patients, generosity of spirit and a passion for serving others.
Nominations for the 2022 Alumni Awards are now open! Learn more and submit your nomination.
The Henry P. and M. Page Laughlin Alumna of the Year Award 
Recognizing outstanding contributions to medicine 
Dr. Beverly J. Lange, MD '71 is a renown pediatric oncologist and translational clinician educator whose lifetime work has led to outstanding contributions to the medical care of children with leukemia. 
Dr. Lange served as a senior physician and director of clinical affairs in the Division of Oncology at the Children's Hospital of Pennsylvania (CHOP), where she worked from 1976 until her retirement in 2012. She also held the Yetta Deitch Novotny Chair in Pediatric Oncology at the hospital from 1998 to 2012. She is a Professor Emeritus of Pediatrics at the Perelman School of Medicine at the University of Pennsylvania. 
Among her many honors, Dr. Lange received the 2014 Distinguished Career Award from the American Society of Pediatric Hematology/Oncology (ASPHO). In announcing the award, the society said, "There is no question that Dr. Lange is synonymous with evidence-based improvements in the treatment of pediatric acute myeloid leukemia (AML). Much of her work has focused on conducting landmark clinical trials to discover optimum combination treatments for AML, including reducing and preventing side effects of cancer treatments. 
Her expertise also produced advancements in treating high-risk forms of another childhood cancer, pediatric acute lymphoblastic leukemia. 
In 2006, Temple University's Lewis Katz School of Medicine honored her with its Alumni Achievement Award. 
Dr. Lange graduated from Bryn Mawr College with a bachelor's degree in the history of art and then earned a doctor of medicine degree from Temple's medical school in 1971. She completed her residency in pediatrics at the former Philadelphia General Hospital and fellowships in virology and hematology/oncology at CHOP. In 2017, she earned a master of public health degree from Penn's medical school. 
Currently, she is an Emerita trustee of the Bryn Mawr College Board of Trustees and serves on the Board of Trustees of the Philadelphia Opera Company. She was recognized as a 2017 Distinguished Daughter of Pennsylvania by Gov. Tom Wolf and First Lady Frances Wolf. 
Among her many honors are the Robert Dunning Dripps Memorial Award for Excellence in Graduate Medical Education from Penn, the 2007 Lifetime Achievement Award from the Children's Oncology Group and the 2012 Alex's Lemonade Stand Pitcher of Hope Award. 
Upon her retirement from CHOP, her colleagues and staff created the annual Beverly J. Lange Distinguished Service Award "to honor a member of the Oncology Division who exemplifies her spirit of integrity, service, compassion and friendship." Dr. Lange described the establishment of this award as her "most cherished honor." 
---
The Alumni Achievement Award
Recognizing alumni whose contributions to medicine have had a lasting impact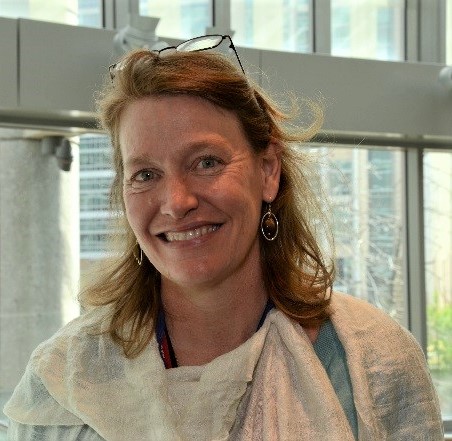 Dr. Barbara Marston, MD '86 serves as the Deputy Director for Science and Program in the Centers for Disease Control and Prevention's (CDC) Division of Parasitic Diseases and Malaria. An infectious disease specialist, she has been involved in the CDC's response to a wide range of global public health issues, including HIV/AIDS, Ebola and now COVID-19. 
She earned a bachelor's degree in biology from Franklin & Marshall College and then a medical degree from Temple University's Lewis Katz School of Medicine in 1986. After completing her internal medicine residency and chief residency at Oregon Health Sciences University, she joined the CDC's Epidemic Intelligence Service (EIS) in the Respiratory Diseases Branch at the National Center for Infectious Disease. She completed an Infectious Disease Fellowship at Emory University, and then joined the Emory faculty. Dr. Marston returned to the CDC after several years focused on HIV clinical care.   
From 2001 to 2005, she was stationed in Kenya, establishing HIV care and treatment programs and serving as the overall coordinator of the CDC's HIV program activities in Western Kenya.  She then worked with the Care and Treatment Branch of the Global AIDS Program and led the CDC's Health Systems Recovery Team, coordinating its public health efforts in Haiti following the 2010 earthquake.  
Later, she was engaged in the CDC's emergency response to the Ebola epidemic in West Africa, serving on and then leading the Ebola Response International Task Force. Then, as Director of the Ebola Affected Countries Office, she led the CDC team supporting recovery efforts in West Africa. She joined the Division of Parasitic Diseases and Malaria in 2017. 
Most recently, Dr. Marston has led the international aspects of the CDC's response to the COVID-19 pandemic and oversaw a team that coordinated efforts related to the outbreak of the disease on the Diamond Princess cruise ship.  
Her awards for outstanding public health service include the Global AIDS Program Humanitarian Award and the Center for Global Health Director's Medal of Excellence in Global Health. She is the author of several book chapters and more than 60 scientific publications related to international public health issues.
---
The Alumni Service Award  
Honoring outstanding alumni with exemplary records of service and generosity to the school 
Dr. Robyn R. Jones, MD '81 is Senior Medical Director, Women's Health, in the Office of Chief Medical Officer at the Johnson & Johnson healthcare company. A physician researcher, she is a Board-certified Obstetrician/Gynecologist. 
She received a Bachelor of Arts degree in biology from Brown University and is a 1981 graduate of Temple University's Lewis Katz School of Medicine. Dr. Jones continued her medical training at the Medical College of Pennsylvania and the Duke Center for Integrative Medicine. Her professional expertise extends to the health of women, integrative medicine, life sciences, obstetrics and gynecology and health coaching. 
Dr. Jones' active interests include advocating for increasing the awareness of the health of women and in eliminating health inequities and disparities, especially in African American women. She is involved in mentoring Black and Brown high school and middle school girls in STEM2D and integrative medicine. She has served on many external panels, including HLTH, the March of Dimes, and Observational Health Data Sciences and Informatics. She has been invited to share her expertise with lay audiences, including on "Good Morning America" online and for the Essence Festival. 
She credits her family with inspiring her to pursue her passions for increasing awareness of sex and gender differences in clinical research, medical care and medical education; partnering with women to empower them in their quest for wellness with accountability that leads to transformational lifestyle change; mentoring youth; and advancing an appreciation for the arts. 
Dr. Jones is an avid art collector, educator and gallery owner, who has a passion for artwork created by artists from the African Diaspora.
---
The Alumni Service Award  
Honoring outstanding alumni with exemplary records of service and generosity to the school 
Dr. Steven J. Peitzman, MD '71 is a Professor of Medicine at the Drexel University College of Medicine, semi-retired, and a nationally known historian of medicine. He is Board certified in Nephrology and in Internal Medicine. 
A lifelong Philadelphian, Dr. Peitzman graduated from Central High School and received an undergraduate degree from the University of Pennsylvania. He is a 1971 graduate of Temple University's Lewis Katz School of Medicine, where his burgeoning interests in nephrology and the history of medicine were amplified by faculty members Leroy Shear and Fred Baker Rogers. 
Dr. Peitzman completed his internship and residency in internal medicine at the Medical College of Pennsylvania and Hospital and the Philadelphia Veterans Administration Medical Center. He joined the faculty of the Medical College of Pennsylvania (MCP), a forebear of the Drexel medical school, in medicine, nephrology, and medical humanities and became active as well in medical education research and reform. 
Over the course of his career, he has published in peer-reviewed journals, particularly in the teaching and assessment of clinical skills. He has long cultivated an interest in the physical diagnosis.  
Nationally recognized as a historian of medicine, Dr. Peitzman is the author of two books and numerous chapters and articles on topics that include the history of nephrology, women in medicine, the medical history of Philadelphia and medical education. He has lectured widely in this discipline. 
In recent years, Dr. Peitzman has revived a long-standing interest in architecture and turned his attention to historic preservation. He has been active in saving historic hospital buildings and important sites in East Falls and Germantown, where he has lived for most of his life. 
---
The Emerging Leader Award 
Honoring exemplary leadership and promise in medicine 
Dr. Ericka L. Powell, MD MBA '01 has served since 2017 as the Emergency Medicine Medical Director at WellSpan Good Samaritan Hospital in Lebanon, Pa. 
In her role, she oversees the Emergency Department's operations and clinical quality. She also serves as Vice President of the medical staff and is the chair of several of the hospital's committees.  
"I want the Emergency Department to be where all people can come for kind, compassionate, high-quality healthcare," she said. 
Dr. Powell received an undergraduate degree from Franklin & Marshall College and her medical degree in 2001 from Temple University's Lewis Katz School of Medicine. After completing her residency in Emergency Medicine at Thomas Jefferson University, the central Pennsylvania native returned to the community that had supported her growth and development. She said serving the community was an important value that she learned during her student days at Temple's medical school. 
Previously, Dr. Powell served as the Emergency Department Medical Director at St. Joseph Hospital and earlier was the Heart of Lancaster and Lancaster Regional System's Emergency Services Medical Director with EmCare.  
In 2016, she served as a member of the Board of Directors of the Pennsylvania College of Emergency Physicians. 
---
The Emerging Leader Award 
Honoring exemplary leadership and promise in medicine
Edward J. Schenck, MD '06 is a medical intensivist at New York-Presbyterian Hospital/ Weill Cornell Medicine who investigates the intersection between translational science and data science to help diagnose and predict the severity of disease. His research is aimed at understanding the role of regulated cell death in sepsis and non-infectious critical illness. 
Dr. Schenck is an Assistant Professor of Clinical Medicine and the J.P. Smith Clinical Scholar at Weill Cornell Medicine and an Assistant Attending Physician at New York-Presbyterian Hospital/Weill Cornell Medical Center in New York City. 
He earned a bachelor of arts degree from the University of Pennsylvania. In 2006, he was awarded a medical degree from Temple University's Lewis Katz School of Medicine, where he was elected to Alpha Omega Alpha honor medical society. After his residency in internal medicine at New York-Presbyterian Hospital/Weill Cornell Medical Center and his Chief Residency at Memorial Sloan-Kettering Cancer Center, he completed a Fellowship in Pulmonary and Critical Care Medicine at New York University Langone Medical Center. He received a master of science degree in Clinical Investigation from Weill Cornell in 2018. 
During his fellowship at NYU, Dr. Schenck worked with information from a large database to evaluate vascular injury biomarkers in firefighters who were exposed during the 2001 World Trade Center tragedy. At Weill Cornell Medicine, he has focused on a formal translational research path after recognizing medicine's limited ability to treat patients with sepsis and other pathologies. He has helped to develop the Weill Cornell Biobank of Critical Illness WC-BOCI to facilitate clinical/translational research. 
He was awarded a grant to further develop the database and completed several biomarker studies related to novel cell death pathways in critical illness. The research led to successful identification of novel cell death-related biomarkers that are prognostically significant in the Intensive Care Unit. 
Dr. Schenck also led a bioinformatics project at his hospital that created the Critical Care Database for Advanced Research (CEDAR). This health-record database was integral in generating timely data during the COVID-19 pandemic in NYC in the spring of 2020. This led to publication of nine peer-reviewed articles that he co-authored that helped shape a better understanding of the pandemic in NYC. As a clinical leader in research at Weill Cornell, Dr. Schenck expects to play a key role utilizing the database for further understanding during the city's recovery. 
---
The Honored Professor Award 
For faculty who exemplify the knowledge and values that Temple strives to instill 
Dr. Gerald H. Sterling, PhD serves as Senior Associate Dean for Accreditation and Continuous Quality Improvement and as a Professor of Pharmacology.  
A member of the faculty at Temple University's Lewis Katz School of Medicine for more than three decades, Dr. Sterling has received more than a dozen awards for excellence in teaching. In 1996, he was honored with the University Great Teacher Award, the highest recognition of teaching excellence at Temple.  
He's also been awarded a Christian R. and Mary F. Lindback Award for Excellence in Teaching and Student Service, two Golden Apple Awards and has been honored by the medical school multiple times for excellence in teaching basic science. In 2017, he received Temple University's Outstanding Faculty Service Award. 
He received a bachelor of science degree in biophysics from the Pennsylvania State University and a Doctor of Philosophy degree in pharmacology from the Ohio State University. He went on to complete a NAS-National Research Council Postdoctoral Fellowship at NASA's Ames Research Center at Moffett Field, Calif. 
From 1979 to 1990, Dr. Sterling was on the faculty at Hahnemann Medical College, rising to Associate Professor of Pharmacology and Assistant Dean for Graduate Studies. He joined Temple medical school's faculty in 1990. At Temple, he has previously served as Associate Dean for Medical Education and Senior Associate Dean for Education. 
Dr. Sterling's research interests include trends in medical education, curriculum development and pharmacology education for professional students.