Students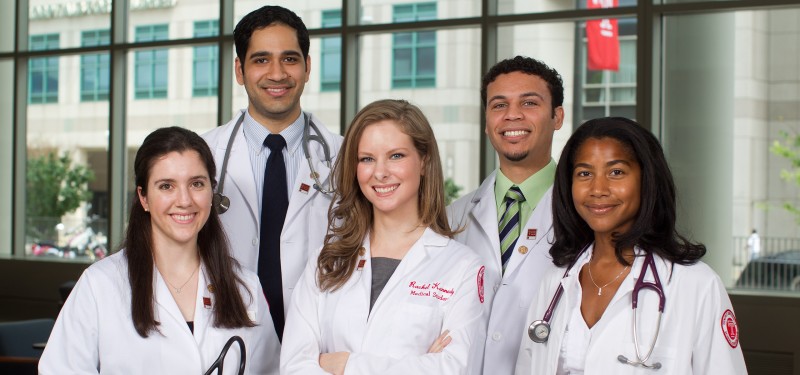 The Lewis Katz School of Medicine at Temple University is recognized for its superior clinical education, and is one of the most sought-after medical schools in the world. One in four people who applies to medical school in the United States applies to Temple.
One reason for this high application rate is, since its founding in 1901, Temple has been committed to providing education that is patient-centered, instilling in learners the school's ethic of human service and lifelong learning. This emphasis on student learning couples innovative curricula and programs with hands-on clinical training, and places the student at the center of everything we do.
For this reason, the Katz School of Medicine produces outstanding physicians from a variety of backgrounds who are legendary for their hard work, dedication and strong passion for making a difference.
Donors can help us further this mission by making a direct investment in medical education and supporting the physicians of tomorrow in a variety of ways.
Scholarships
Alleviating the burden of the high cost of tuition is one way to provide Temple University's outstanding medical students the freedom to pursue their research interests and to choose their preferred medical specialty. There is no more direct or impactful way that you can support medical students.
Programs and Activities
Medical education is about more than lectures and rotations — it's about volunteering with a student organization you're passionate about, taking advantage of professional development opportunities or finding new collaborations with your fellow students. Gifts to help fund student programs and activities can have a huge impact on the day-to-day lives and holistic educations of our students.
Resident and Fellowship Programs
For generations, Temple's world-renowned residency and fellowship programs have helped thousands of trainees fulfill their potential as skilled, compassionate and caring physicians. Young physicians from around the world come to Temple because of its reputation for excellent clinical training; and making a gift to expand our resident or fellowship programs serves not just these bright and talented young physicians, but the departments, and the patients, they serve.
Graduate Programs
Beyond clinical training, many students aspire to lead the biomedical advances of tomorrow in academia, government and industry. They often seek admission to the Lewis Katz School of Medicine's PhD and MD-PhD degree programs. These students, and the programs that support them, help push the frontiers of science and medicine, create a robust research enterprise and ensures the pipeline for academic medicine is alive and well.