A Shared Quest: Dr. Edmundowicz and the Florence P. Bernheimer Chair in Cardiology
News
February 16, 2022
Imagine devoting your entire career to combatting the number-one cause of disability and death worldwide: heart disease.
Now imagine a total stranger leaving a substantial sum of money in her will back in 1985 for exactly that cause. And four decades after her death, that money becoming available to you. And with it, a title that denotes your distinction as a heart-disease expert.
That is exactly what's happening to Daniel Edmundowicz, MD, FACC, Temple's Chief of Cardiology.
Thanks to a generous, forward-thinking North Philadelphian named Florence P. Bernheimer (1890-1985), Dr. Edmundowicz now also holds the University's Florence P. Bernheimer Distinguished Service Professorship Chair – and has "new" funding at his discretion earmarked for research in cardiology at Temple.
"I'm so grateful," he says, "as it comes at a time when the talented faculty members I am privileged to lead are driving our clinical growth while asking important research questions that will impact the care of our patients in the future. 'Paying it forward' in such a way is what attracts faculty to academic careers — and generous individuals like Florence Bernheimer realize that such a mission requires investment."
A national authority on cardiovascular disease prevention and risk-factor modification, Dr. Edmundowicz plans to use the Bernheimer funding to boost prevention-oriented heart disease research at Temple. "We have numerous research ideas and venues that can be supported with this funding — all exciting," he says.
A fellow of the American College of Cardiology — and a past president of its Pennsylvania chapter — Dr. Edmundowicz has lectured and published widely. He has led multiple epidemiologic studies and has participated in multi-center clinical trials for new treatments for various aspects of heart disease. Notably, he is also a driving force behind the Temple Heart and Vascular Institute, a powerhouse clinical operation with a team of 100+, eight locations throughout the Philadelphia region, and 27 specialty programs for heart conditions both common and rare.
"That number gives you an indication of the vastness and complexity of the cardiovascular field – and why the Bernheimer funding has significant value," says Dr. Edmundowicz, who serves as the Institute's Medical Director and leads its Preventive Cardiology Program.
Temple is making impressive strides in cardiovascular research, he says. At the medical school, the Department of Cardiovascular Sciences is working to unravel the underlying mechanisms of disease and to identify new prospective therapies – "while on the clinical side, we're testing lifesaving devices and assessing novel therapies – and none of this would be possible without funding," he says.
Will and Wisdom 
It was 1970 when Florence Bernheimer informed Temple University of her intention to benefit Temple cardiology in her will.
As Dr. Edmundowicz explains, the Bernheimer family had been in the care of two former chiefs of cardiology for many years: Louis Soloff, MD (1904-1998) and Alfred Bove, MD, PhD (1938-2019).
"Dr. Bove taught me when I was a Temple resident in the early 1990s. I don't recall ever meeting the Bernheimers, but I can envision Dr. Bove — and I'm sure Dr. Soloff as well — helping patients understand the importance of clinical research and the magnitude of the impact it can have on so many lives," says Dr. Edmundowicz, who is eager to learn all he can about his "new" benefactor, Florence Berheimer.
"The facts I've collected so far speak to an astounding woman," he says.
She was born and raised in North Philadelphia (her Gratz Street address was walking distance from Temple University Hospital). She graduated from the University of Pennsylvania in 1914 and taught mathematics in Philadelphia public schools for at least 48 years.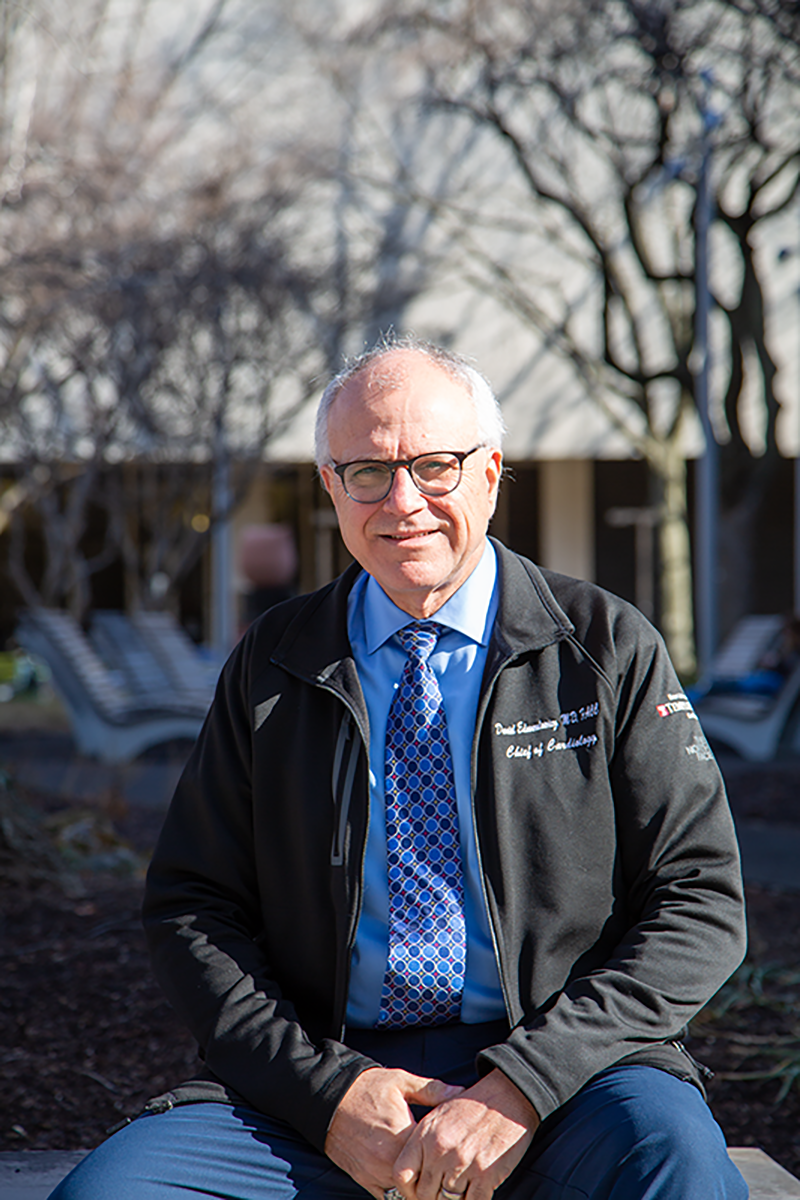 According to Census information, Ms. Bernheimer's father was a grocer. "It's unlikely he left her a significant inheritance. It also appears she remained unmarried, so she's truly self-made, I believe. This was something unusual for a woman of her time — mainly a result of lack of opportunity," Dr. Edmundowicz says.
In addition to endowing the Bernheimer chair in her will, she directed support to a variety of social welfare and arts agencies. She also left specific sums to specific individuals, perhaps relatives and friends. Notably, she made careful provisions for the lifetime care of a man who shares her mother's maiden name. Her uncle, perhaps.
"All these facts are testament to a caring, generous person with wide-ranging interests and the desire to make a difference," Dr. Edmundowicz says.
When Florence Bernheimer died in 1985 at the age of 95, Temple University honored her wishes and named Dr. Soloff the inaugural Bernheimer Chair given his importance as past chair of the department and Bernheimer family clinician. As he had retired by then — after 68 years at Temple — the Chair was awarded to him on an honorary basis. It was next presented to Dr. Soloff's successor as Chief of Cardiology and Bernheimer family cardiologist, Alfred Bove, MD, PhD. Two other physician scientists of prowess have also been honored with the chair over the years as well.
"How very fortunate I am, that this all-star list now also includes my name," Dr. Edmundowicz says.   
Time Travel 
Florence Bernheimer died a year after Temple performed the region's first heart transplant, but through careful planning she helped ensure that Temple heart care would advance far into the future.
According to Amy J. Goldberg, MD, FACS, Interim Dean of the Lewis Katz School of Medicine, it's no accident that Ms. Bernheimer listed three qualifications for all holders of the Bernheimer chair: They must be physicians practicing cardiovascular medicine, they must teach, and they must conduct research.
"Florence Bernheimer listed the ideal triumverate of qualifications," says Dr. Goldberg. "She also showed real savvy when she attached a title to the endowment. She could have simply left money for research. Or left a research fund in her name. But she didn't. She named the researcher, not the research. That was really smart. Naming the researcher adds distinction and exposure – elevating the research, the researcher, the entire endowment – to a higher plane."
"Endowed funds are permanent even though we are not," Dr. Goldberg says. "They carry a certain kind of immortality."
Dr. Edmundowicz agrees – inspired by the generosity and wisdom of someone he's never met.
"I feel like I know her," he says. "The way I think of Florence Bernheimer is unbound by time – like all true partners in a quest."
- Giselle Zayon 
Photo Credit: Kevin Edmundowicz