Narrative Medicine Takes Center Stage at First-Ever Temple Conference
News
January 08, 2020
The Lewis Katz School of Medicine (LKSOM) was alive with storytelling on December 7. Not to mention poetry, dance, photography, improv and writing. All were part of the school's inaugural Narrative Medicine Conference.
Attended by about 75 students and healthcare professionals from a variety of backgrounds, the conference was conceived and organized by Temple medical students who took a narrative medicine elective in the fall of 2018. The purpose of the conference was to help attendees "explore various forms of narrative expression, sharpen their critical eye, and nurture their humanity."
"The students really ran with this," said Michael Vitez, Director of Narrative Medicine at LKSOM. "We gave them suggestions, but we largely left it in their hands. The result was a conference that really lifted the hearts of those who attended. It showed how the arts can be used in many forms to interpret and find meaning in a life in medicine. You couldn't help but appreciate and understand how photography and theater and sharing stories enriched the lives of physicians, making them better doctors and happier doctors."
The day-long conference featured a mix of group presentations and smaller, interactive workshops. Attendees explored what narrative medicine is, its role and value, the many forms it can take, and how it can improve patient care and enliven careers. 
Second-year medical students Ambuj Suri and Phil Delrosario were two of the conference organizers. Both said they didn't know what to expect when they signed up for the narrative medicine elective a year ago, but admit they were "hooked" by the end.
"Narrative medicine is something we can incorporate into our day-to-day practice and something we want others to know about," Delrosario said. "We thought we could create this conference based on our passion for humanities and medicine and the resources already found at Temple. It was the perfect storm."   
Topics of the hour-long workshops ranged widely – from reflective writing and poetry to improv theatre and drawing. In one workshop, the facilitator led participants through a short fiction-writing exercise and discussed how fiction can be used to process the world of medicine. Other workshops had participants out of their seats performing various improv skits and learning dance moves.  
"Narrative medicine is much more than writing…we wanted to give attendees a 'buffet' to show them all the different ways in which they can express themselves," Suri said. "Through these workshops, we wanted the theory behind each topic to be shared but we also wanted attendees to come away with skills they can use in their own lives or practice."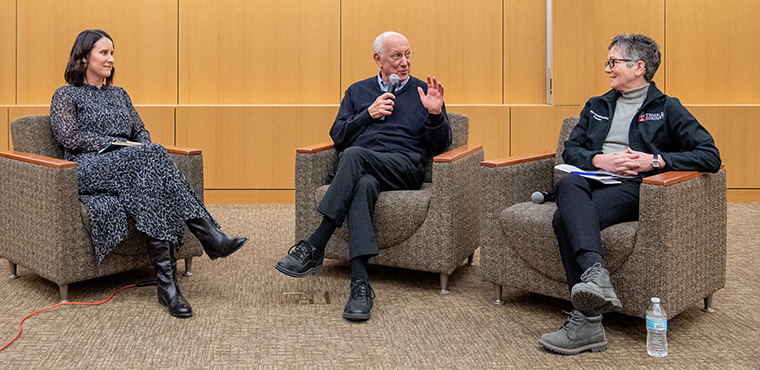 Two group presentations explored photography and theater. Penn Medicine pulmonologist John Hansen-Flaschen, MD, shared how he has used photography to help him find meaning in medicine and enrich his life as a physician. Megan Voeller, Director of Humanities at Jefferson, was joined by medical students and other cast members who shared excerpts from their original theater performance about people living with dementia, "Tangles in Time."
The conference concluded on a high note with "A Life in Medicine," a talk-show-style conversation featuring Amy Goldberg, MD, FACS, the George S. Peters, MD and Louise C. Peters Chair of Surgery at Temple, and Steven Rosenberg, MD, PhD, Chief of Surgery at the National Cancer Institutes and a pioneer in the use of immunotherapies and gene therapies to treat advanced cancers. The conversation was moderated by Dr. Rosenberg's daughter, Naomi Rosenberg, MD, Assistant Professor of Emergency Medicine and Assistant Director of Narrative Medicine at Temple.
During the laid-back, hour-long conversation, Drs. Goldberg and Rosenberg captivated the audience with stories about what led them to medicine, their early training days, memorable patients they have treated, and even mistakes they have made along the way.  
"I remember when I was a fellow and saw a 16-year-old boy who had been shot," Dr. Goldberg recalled. "He went into cardiac arrest, and I did everything I had been taught. He lived and I was so proud of myself. I later saw him in the clinic and found out he wasn't in school and was still following a path that put him at risk of future injury. I was embarrassed by how proud I had felt earlier, because I now wasn't sure I had changed his life expectancy."   
Dr. Rosenberg recalled a patient who presented with abdominal pain. He had previously been operated on for a liver tumor that had spread to his stomach. He wasn't expected to live long, but Dr. Rosenberg found no cancer when he opened him up. "His belly was completely clear, I had never seen anything like it," he said. It was one of the reasons he pursued a career in oncology.    
"The very conversation Drs. Goldberg and Rosenberg were having in front of us was an act of narrative medicine," Vitez said. "It was very moving to hear them both talk about how physicians can stay present, committed and passionate while also protecting themselves from getting overwhelmed by what they see."
Photo credits: Phil Delrosario (top), Andy Smith (bottom)