A Legacy in Leadership
News
December 15, 2022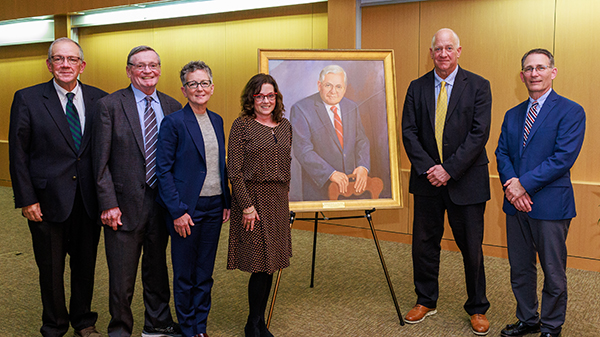 The inaugural Wallace P. Ritchie Jr., MD, Lecture explored the keys to effective leadership. These tenets were delivered amid a sea of gratitude for the former Chair of Temple University's Department of Surgery's positive influence on the lives and careers of so many.
Dr. Ritchie's former medical students and residents, many of whom went on to become accomplished surgeons, and former colleagues, who had remained at Temple or had risen to leadership positions at academic centers around the nation, came together on November 2 to honor his legacy. Dr. Ritchie, who passed away in March at age 86, had served from 1983 to 1994 as the department's fifth chair.
"Each one of us is who we are because of Dr. Ritchie," said Amy J. Goldberg, MD, FACS, Dean of the Katz School of Medicine, who completed her general surgery residency at Temple under his tutelage.
In introducing the annual lecture series, Thomas Santora, MD, FACS, Interim Chair of the Department of Surgery, said it was intended to "be a lasting legacy to Dr. Ritchie that will continue his positive influence on the education of countless trainees into the future."
David W. Mercer, MD, another former Dr. Ritchie resident, delivered the keynote address on "Attributes of Surgical Leadership" — insights that he said were distilled from his own experience and the influence of his mentors and colleagues. Dr. Mercer serves as the McLaughlin Professor of Surgery and the Chair of the Department of Surgery at the University of Nebraska Medical Center.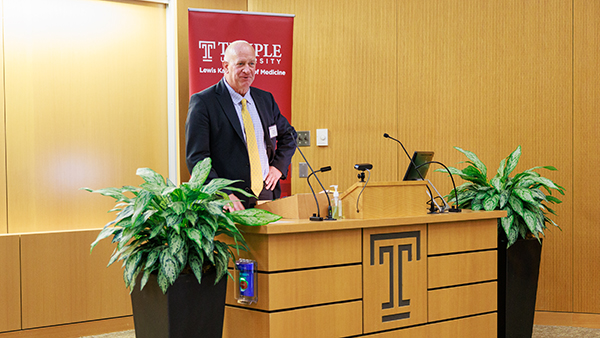 He told the audience to always keep in mind that leadership is a team sport, and he encouraged those in influential roles to do more listening and less talking. He cut to the heart of effective leadership to detail the five functions of a healthy team, the four factors of personal accountability, the four disciplines of a healthy department, and the four temptations of a coach.
What characteristics had research shown that people wanted most in a leader? Honesty was number one, followed by forward-thinking, inspiring, and competent.
A highly functioning team, he asserted, relied on cultivating trust, engaging in productive conflict, insisting on team commitment and personal accountability, and focusing on results.
"Be their coach, not their boss," Dr. Mercer said. "The boss sees managing as what I do, whereas the coach recognizes coaching as who I am."
"Coaching is helping people focus on where they are today, where they want to go, and how to get there" Dr. Mercer said.  
"It's not about you," he said. "It's about them. You've got to put aside your personal accomplishments for your own career. Take pride in the students you teach, the residents you train, the faculty you recruit, and the future leaders you mentor. There's a lot of satisfaction in a leader doing that."
Dr. Ritchie's daughter, Stephanie Ritchie, and his brother, Daniel Ritchie, were among those in the audience.
Dr. Ritchie was an internationally recognized expert in peptic ulcer disease as well as the metabolic effects of upper intestinal surgery. He was recruited to Temple to reinvigorate surgical research and to strengthen its surgical training program. With his innovative vision, he elevated the program's clinical acumen, resulting in improved patient care and a national reputation for surgical excellence.
Following the lecture, his daughter offered a personal reflection on what drove her father to success. Ms. Ritchie said her mother had said that her father always felt like he was on the brink of failure, "which created in him a tremendous drive to succeed."
He was fully committed to his mission, Ms. Ritchie said, but had no interest in the trappings of a chair's title. "His first office appeared to be in a former broom closet, which he found hilarious."
"Prestige and money made very little difference to him," she said. "What did matter greatly to him was making a real difference in the landscape of medical training and care."
Dan Dempsey, MD, another former department chair and a close friend, offered an endearing reflection.
Dr. Dempsey recalled that Dr. Ritchie had recruited Dr. Dempsey to Temple, and he recalled the handshake that sealed his faculty appointment, calling it as "my lucky day."
"He put a substantial amount of time, energy, and resources into these two legs of the academic stool — education and research. This is where he had his biggest impact as a surgeon," Dr. Dempsey said.
On Dr. Ritchie's watch, Dr. Dempsey said, Temple performed the first heart transplant in the Philadelphia region, and the program grew into one of the busiest in the nation. He also nurtured an interest in the early growth of laparoscopic surgery.
"Wally Ritchie was a wonderful human being and I think that is why we are all here today," Dr. Dempsey said.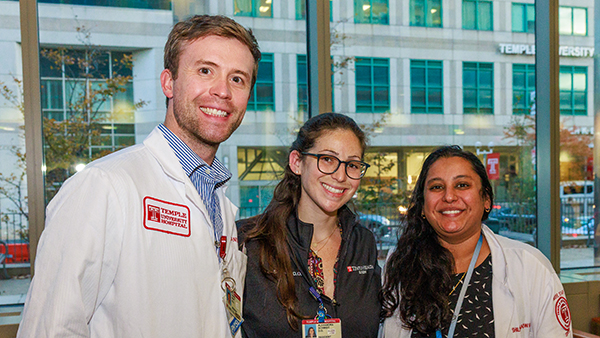 "With his quick wit, exceptional intellect, broad surgical experience, and diligent preparation, he was always able to entertain and educate colleagues at all levels of clinical training and practice, driving home important surgical concepts," he said.
In 1994, Dr. Ritchie stepped down as chair at Temple and retired from clinical practice. He took on the role of Executive Director of the American Board of Surgery until his retirement in 2020.
During her reflection, Dr. Goldberg recalled Dr. Ritchie's "warmth" and "welcoming way" and said she had kept the letter of acceptance he had written to her, inviting her to join the Temple residency.
"Dr. Ritchie was all about opening the eyes and minds of medical students, residents, and faculty," she said. He was interested in "producing well-rounded surgeons — surgeons who aren't just varsity in the operating room, but who can also teach, perform research and publish."
The dean thanked the former Ritchie residents who had been a driving force toward creating the annual lectureship, and were among those who had gathered in his honor that day. Their goal is to raise of $100,000 by the end of this year to maintain the lectureship in perpetuity.
To make a gift, visit giving.temple.edu/surgery.