Congratulations, Class of 2019!
POSTED ON
May 17, 2019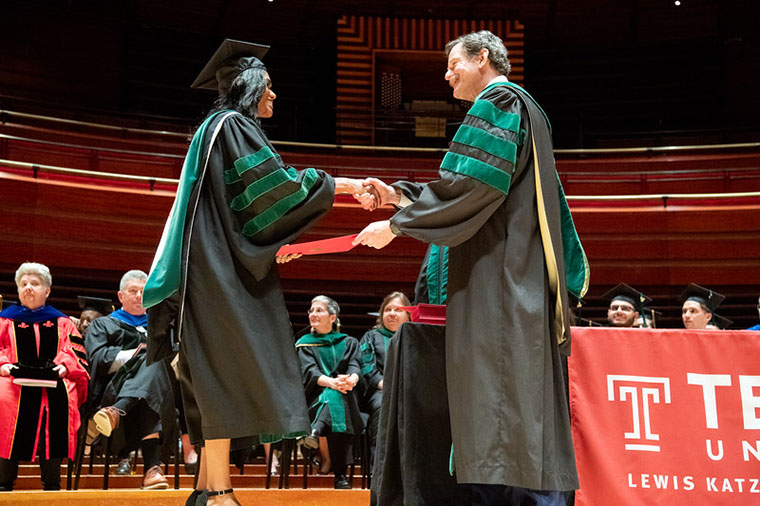 If there was a single, overriding message at the 117th commencement for the Lewis Katz School of Medicine (LKSOM), it was this: Don't lose sight of the personal connections.
"Your fund of academic knowledge won't make a bit of difference if you can't establish personal connections with your patients and your colleagues. It all begins with that," said Larry R. Kaiser, MD, FACS, Dean of LKSOM and President and CEO of the Temple University Health System, at the May 10 ceremony at the Kimmel Center of the Performing Arts. "Never lose sight of the human drive that brought you to medicine in the first place. Half the cure is the care. Absent human connection, medicine is transactional."
Nurture the connections that run inward, too, Dr. Kaiser told the Class of 2019—the first to spend all four years under the Lewis Katz School of Medicine banner.  
"You must build within yourself a shelter to weather every storm," he said. "Make a sacred pact with yourself to find solace in your own thoughts and to trust your inner resources."
That advice, Dr. Kaiser said, is critical to ensuring that, as doctors, they remain a "sanctuary" for their patients in the face of market forces and regulatory pressures.
It also will be necessary in the increasingly technologized field of medicine to remain relevant, said keynote speaker Arthur "Tim" Garson, MD, MPH, MACC, Professor of Management, Policy, and Community Health at The University of Texas School of Public Health.
"Algorithms will beat us in diagnosing patients soon. And then it will only be a matter of time before the procedures follow suit," Dr. Garson said. "So we need to begin by cataloging the things that humans do well that can't be replicated by technology, like warmth and empathy.
"This is not about keeping up. It's about leading," he said.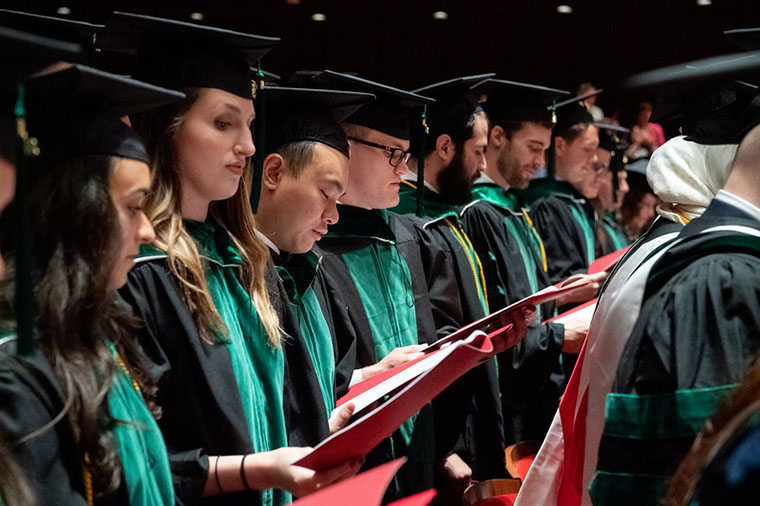 In receiving the yearbook dedication, David O'Gurek, MD, Associate Professor of Family and Community Medicine, harked back to his first lecture before the Class of 2019, four years ago.
"Remember caring. Many here were the first to teach you what true caring looks like," Dr. O'Gurek said, acknowledging the hundreds of family and friends who filled the 2,500-seat Verizon Hall, including his own parents.
He cautioned the graduates that their patients would enter their souls and that they'd be confronted by their powerlessness over death. But it's essential that they allow themselves to feel it, all of it, Dr. O'Gurek said, because coping with the emotional anguish is a natural part of the process of becoming a doctor.
Class president Brenton Halsey, MD, encouraged his classmates to consider, before they dispersed into the world and embarked on a spectrum of new experiences, why LKSOM was a special place to train. Chief among them: "Temple has always understood the importance of accessible health care. This, in turn, has taught us the ability to advocate for others."
"You learned that the expansion of the social conscience is central to medicine. That medicine is not medicine if it does not address the social determinants of health," Dr. Kaiser said earlier in the commencement, touching on the same sentiment. "You also learned that we all have hidden biases and assumptions that govern how we operate. Consciousness-raising is the only antidote. Let every day be Martin Luther King Day, a day in which we prize diversity, inclusion, equity, and service in the name of better health. This is a professional imperative. And a moral one."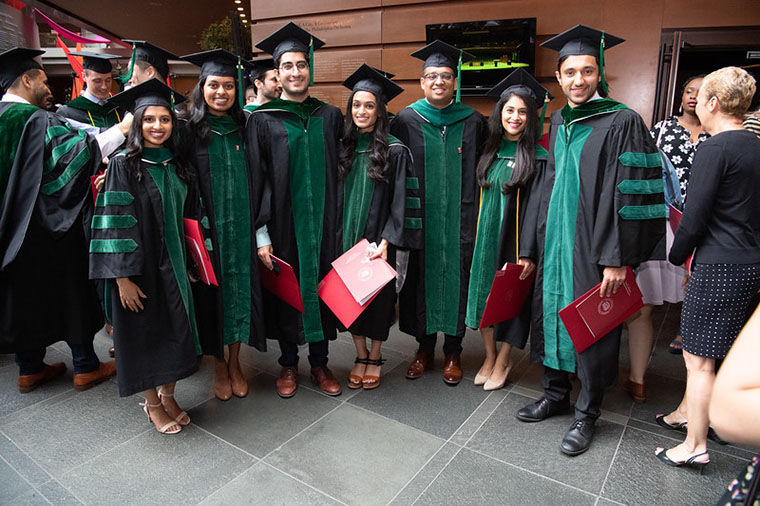 In all, 240 diplomas were awarded, including 188 Doctor of Medicine diplomas, 21 Doctor of Philosophy diplomas, 13 Master of Arts diplomas, 2 Master of Science diplomas, and 1 Master of Medical Science in Physician Assistant Studies diploma.*
 Dr. Gerald Sterling, Senior Associate Dean for Education served as the Master of Ceremonies. He and Dr. Scott Shore, Associate Dean for Graduate Programs, read the names of all the graduates as they were hooded by the faculty and received their diploma from Dr. Kaiser.  
*NOTE: Included in these numbers are 7 graduates with both Doctor of Medicine and Doctor of Philosophy diplomas and 8 graduates with both Doctor of Medicine and Master of Arts diplomas.