Training Future Physician Assistants: Temple Program Offers Unique Benefits
News
September 27, 2022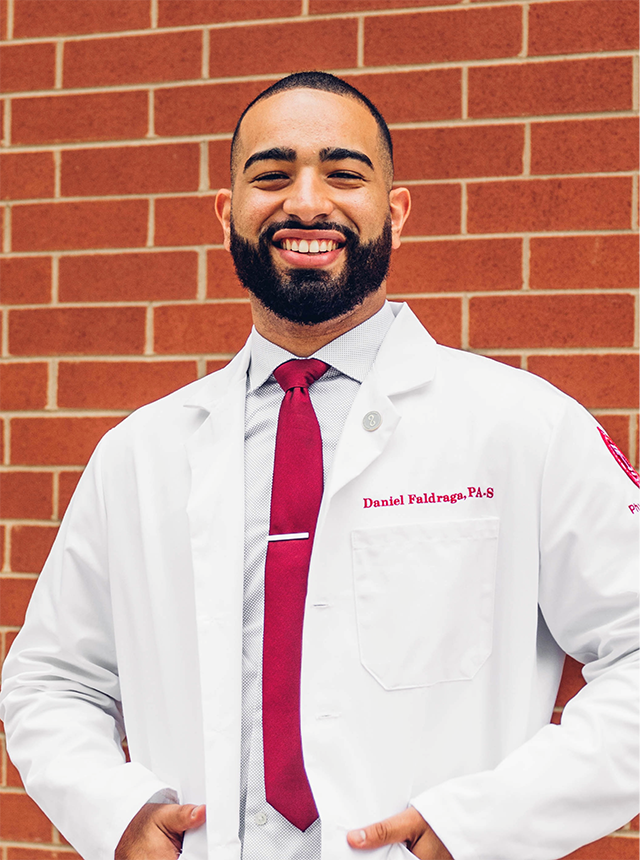 For Daniel Faldraga, deciding to become a physician assistant was "a no-brainer."
"I always wanted to go into the medical field. When I found out about the PA profession, it made perfect sense to me," says the 24-year-old.
And when it was time to choose a school, Temple's Physician Assistant Program was "the best option," says the Elizabeth, NJ, native, who entered the program in June 2021.
"Temple is a giant in the medical education world. They have amazing doctors, incredible lecturers, ground-breaking researchers. Directly learning from people like that, you can't compare that to any other school."
Indeed, the program is integrated with the MD training program of Temple's Lewis Katz School of Medicine, says Christine Mount, MS, PA-C, Director of the PA Program. "The professors provide education to the PA students as well as the medical students."
Temple's PA Program, which leads to a Master of Medical Science (MMS) degree, stands out in other ways, too. These include its:
Innovative curriculum design
Unparalleled selection of clinical training options
Extensive opportunities to work with underserved populations
Small class size and robust faculty mentoring
The program recently received full continuing accreditation from the Accreditation Review Commission on Education for the Physician Assistant, which is independent, objective confirmation of high quality.
PAs are clinicians who work in healthcare teams to improve patients' access to care and their health outcomes. They can perform a wide range of duties, from diagnosing and treating illness, to assisting in surgery, to conducting clinical research.
"Our students learn alongside medical students, residents, fellows, and students in pharmacy, dentistry, physical therapy, and social work," notes Ms. Mount. "They learn that patient outcomes are better when multiple professionals are involved in care."  
'Best Way to Learn Medicine'
Benefits of the 26-month curriculum stem from its structure and wide array of clinical training opportunities.
The first 14 months consist of classroom learning, divided into "blocks," each focused on a different organ system. This approach provides a deep medical understanding, students report.
"I really appreciate the way the curriculum is set up," says Mr. Faldraga. "It's not easy, but I think it's the best way to learn medicine."
Simulated patient encounters enable students to apply their knowledge in realistic situations.
"Trained actors give us a medical complaint, and we do a full assessment, diagnosis, and treatment plan -- all correlated to what we learned in the classroom," Mr. Faldraga explains.
Clinical Learning Options
Students then train for 12 months in a series of nine rotations.
"Temple provides a vast array of rotations that aren't readily available through other PA programs," says Ms. Mount. 
Examples include maternal-fetal medicine, ophthalmology, and abdominal organ transplant, as well as interventional radiology, rheumatology, and surgical sub-specialties. Rotations in orthopedics, dermatology, and medical intensive care are available too. 
Temple's many choices enable students to pursue special interests and consider more career options, Ms. Mount explains.
"PAs are trained as generalists, but the vast majority eventually specialize. As time goes on, they can also move from specialty to specialty."
Most important, Temple holds its PA students to standards equal to those of its medical students during their clinical learning experiences, Ms. Mount states. 
Students "take care of patients and make supervised medical decisions, applying the skills we have learned," Mr. Faldraga explains.
In their final month, students complete a scholarly research project and take a comprehensive review course. Upon graduation, they can take the national PA certification exam.  
Service Learning
With its distinctive commitment to at-risk populations, Temple PA students benefit from volunteer opportunities to help residents in the economically disadvantaged neighborhoods surrounding the medical school.
Temple's PA students are committed to helping our community, very involved," says Ms. Mount. "Each class chooses something to focus on."
Past service learning opportunities have included free health screening clinics, health fairs, and food distribution campaigns.
The chance to give back was a big reason Mr. Faldraga chose Temple.
"I never heard of another PA school that does so much for the community," says Mr. Faldraga, who has volunteered at Temple's community health fairs, checking people's blood pressure and blood sugar levels -- advising them, when needed, to see a health care provider.
"You're not just learning medicine but also how to talk to people and address their problems," he observes.
Close-Knit for Career Success
With a small class size of about 35, students enjoy supportive relationships with one another and their five full-time faculty, Mr. Faldraga says.
The program offers many opportunities for bonding – including regularly scheduled meetings between each student and their faculty advisor.
"The faculty are really personable," says Mr. Faldraga. "They make sure our mental health is in check, that our concerns are expressed, our questions answered. I enjoy these one-on-ones."
Temple's PA Program graduates work in a wide range of positions, with approximately 75 percent employed in the Philadelphia region.
"We have many graduates working at Temple, for example in the cardiac thoracic ICU, the pulmonary department, respiratory ICU, and pediatrics," reports Ms. Mount – calling Temple's PA Program "one of the best in the Philadelphia region."
A number of students – including Mr. Faldraga – have earned prestigious National Health Service Corps Scholarships. This award provides tuition reimbursement and other benefits for graduating PAs who work in underserved communities.
He cites other reasons for becoming a PA, too:
The ability to start a full-time healthcare career quickly
More affordable tuition costs due to the short training period
The ability to change specialties with relative ease
Applicant Criteria
People who are empathetic, caring, and hard-working – like Mr. Faldraga – are ideal applicants, says Ms. Mount.
Additionally, prospective students should have:
a solid base of knowledge in the sciences, including biology, chemistry, anatomy, and microbiology
strong academic performance in additional, higher-level sciences classes
some patient care experience, so they have a basic understanding of a PA's responsibilities
50 hours experience shadowing a working PA
In many cases, students apply a year or more after college, in order to accumulate the required experiences.
Mr. Faldraga, a Rutgers University graduate who has worked as an EMT, offers this advice: Don't compare yourself to others. Apply when you're ready, not due to outside pressure. Apply early in the cycle. And make your personal statement stand out. Let schools know who you are and why they should choose you.
"If you're willing to give back to the Philadelphia community, apply to Temple," he urges. "If you're willing to meet amazing people, apply to Temple!"
To learn more, visit the Physician Assistant Program page.