A Tradition is Rekindled for Katz School of Medicine Fourth-Year Students
News
March 28, 2022
For the first time since 2019, fourth-year medical students at the Lewis Katz School of Medicine gathered in person in the Maurice J. Stone, MD, Commons and learned together where the next phase of their medical training will take them. 
Match Day is a highly dramatic affair where, at the exact same moment (12 PM, EST), fourth-year medical students across the country tear open envelopes that contain the name and location of the residency program with which they matched.  It's one of the most important – and emotional – days in a student's journey to becoming a physician. 
Because of the pandemic, the 2020 and 2021 Match Days were staged virtually. But this year, the palpable excitement so difficult to translate through Zoom, electrified the air as soon as students began trickling into the Commons for the big day. Many greeted each other with "Happy Match Day" and all sported Temple cherry-colored T-shirts that read "Call me doctor" and contained a blank area they'd later use a Sharpie pen to fill in with the details of their match.  
With about 15 minutes to go before the big reveal, the Commons filled shoulder-to-shoulder with anxious students, their friends and families, and local media. Amy J. Goldberg, MD, FACS, Interim Dean of the Lewis Katz School of Medicine, came to the podium at the center of the room. 
"See this piece of paper? It's dated March 19, 1987. This is my match letter," she said. "It means so much to me. Why is that? Because it sent me here to Temple!" 
She encouraged the students to trust in the match about to be revealed to them. All would be well, no matter where that letter might lead them next. 
With 10 seconds to go, Dr. Goldberg led countdown to the moment of truth. Silence fell over the room as students frantically ripped open their envelopes. And then, an eruption of joyous screams.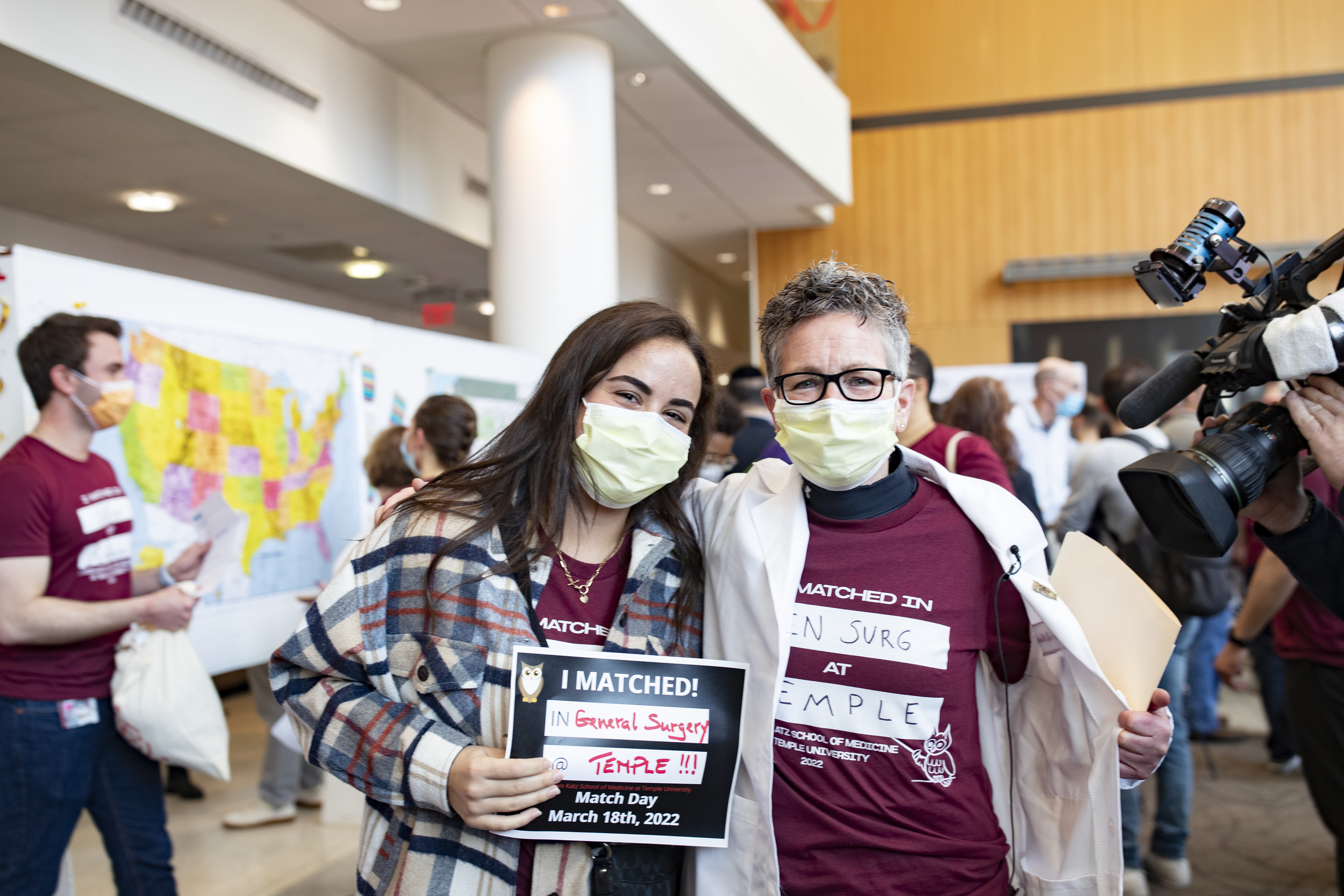 Just that quickly, hundreds of lives changed. More specifically, 236 students matched in 23 specialties, with 17 embarking on a transitional year. 
Hannah Cooper Bank's match would not only affect her, but also her husband and their two-year-old son. That fact had weighed on her heavily during her residency interviews.  
Mrs. Bank, who is going into general surgery and, ultimately, surgical oncology, matched with Massachusetts General Hospital, in Boston. She says it's her "dream program" because it's strong in every aspect. Equally important to her, it's a family friendly program. 
"I'm very nervous about being a mother in a surgical residency," Mrs. Bank says. "But from the opening talks, they boasted about how many children their residents had. And I was able to validate that with a number of residents there. Their interest in my wellbeing as a mother really sealed the deal." 
Paige Mergaman and Connor Hartzell's next destination also has implications beyond their medical training. They met at the University of Florida nearly five years ago and arrived at the Lewis Katz School of Medicine as a couple. 
They had ranked their wish list of potential residency programs such that they could at least end up in the same city. Match Day delivered an unexpected surprise: They landed at the same institution, Vanderbilt University Medical Center. Ms. Mergaman will pursue psychiatry, Mr. Hartzell pathology. 
Mr. Hartzell said, "It's like we were on parallel tracks and then they intertwined, which makes this feel very special." 
Throughout their time together, they prioritized their medical education. But the building momentum has enticed them to start thinking about the next phase of their relationship, too.  
"We've just been trying to get our ducks in a row," Mr. Hartzell says. "But now [getting engaged] feels like one of the next major things ahead of us." 
For Claire Perez, who's going into general surgery at Cedars-Sinai Medical Center, in Los Angeles, residency means an opportunity to move closer to her family. Her brother recently moved to California, and her parents live in Guam, where Perez grew up. 
She says her mentors were very supportive of her desire to match at a program on the West Coast. They encouraged her to do an away rotation there, which helped her affirm that's where she wanted to be. 
The 2022 Residency Match was the largest in the National Resident Matching Program's (NRMP) history. In all, 47,675 applicants submitted program choices for 39,205 positions, the most ever offered in the Match. The number of available first-year positions (PGY-1) rose to 36,277, an increase of 1,083 over 2021. The increase was due largely to the continued growth in the number of Match-participating programs, according to the NRMP.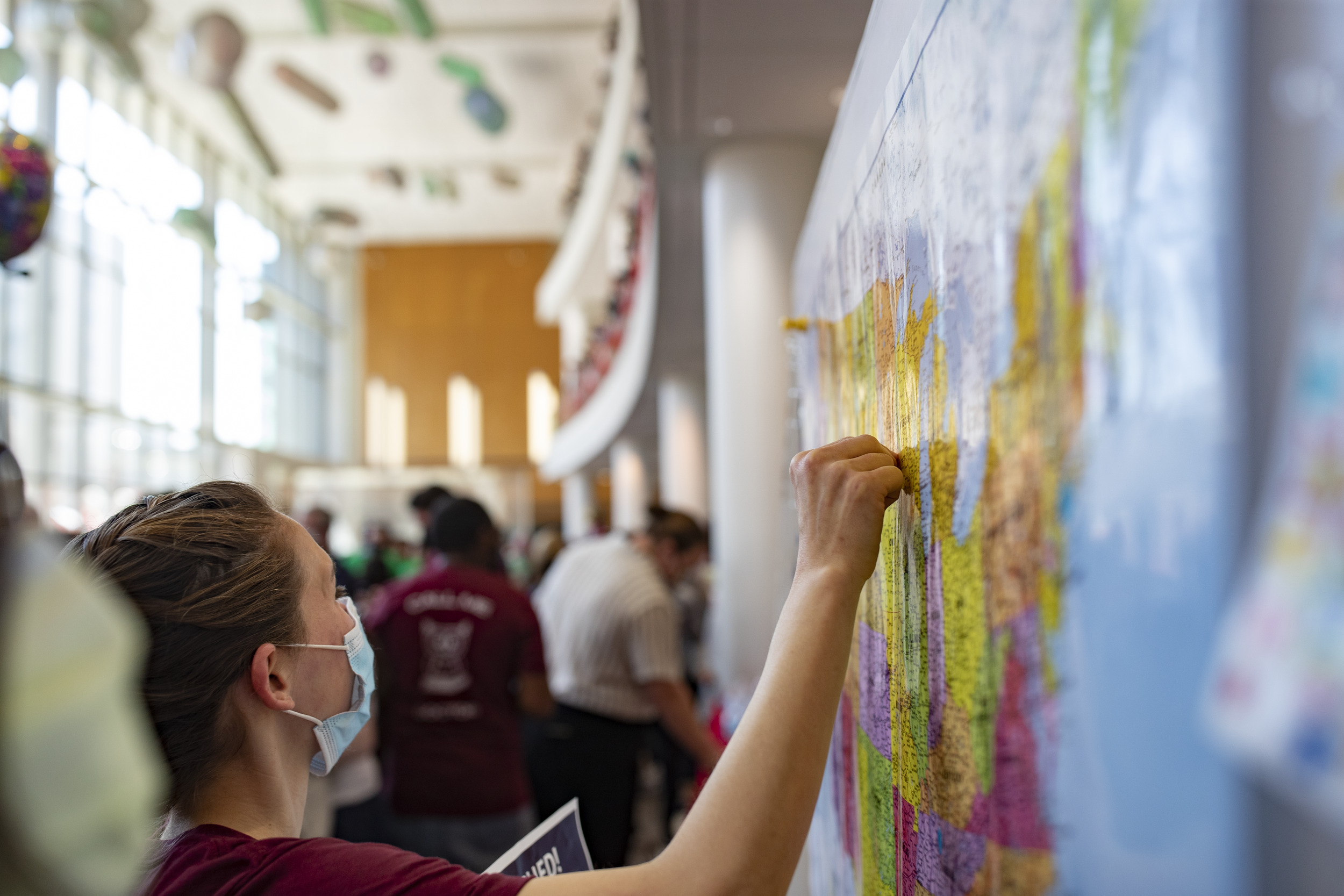 Growth in the number of PGY-1 positions was most visible in emergency medicine, family medicine, psychiatry, and internal medicine. 
For applicants, the Residency Match process begins in the fall during the final year of medical school, when students apply to the residency programs of their choice. Throughout the fall and early winter, applicants interview with the programs. As was the case last year, because of the pandemic, the interviews were conducted entirely online. Then, from mid-January to late February, the applicants and program directors rank each other in order of preference and submit the preference lists to the NRMP, which processes them using a computerized mathematical algorithm to match applicants with programs. 
The day after Match Day, Ambuj Suri and Gena Topper, on behalf of the student government association at the Katz School of Medicine, hosted a party for their fellow fourth-year students at Love City Brewing, in Northern Liberties. It was an opportunity, Mr. Suri says, for them to relive the rollercoaster of emotions that was Match Day. 
Mr. Suri was clearly thrilled to have matched with his first choice, emergency medicine at Brown University/Rhode Island Hospital. He chose emergency medicine because he was struck by the intimate way working in Temple's emergency department connected him to the North Philadelphia community. And Brown selected him, he believes, because its faculty also recognizes that connection. 
"Temple has an amazing reputation in emergency medicine," Mr. Suri says. "That comes from how much they invest in the department and how important it is for the surrounding community." 
The sentiment about Temple's reputation was expressed again and again. 
"Everyone always says that Temple students do a good job. And they expect a lot from you because of Temple's reputation," Ms. Mergaman says. "So, I'm not feeling scared about my competency, but I am scared about the major changes that are about to occur in my life." 
Mrs. Bank has a unique perspective on how ready she is for what comes next. She earned a doctor of philosophy in cardiovascular research at the Lewis Katz School of Medicine before embarking on her doctor of medicine degree. 
"Temple does a really good job preparing its students for this next step," she says. "They've given us as much autonomy as a medical student can be given, which has been stressful at times. But it seems to allow us to hit the ground running as residents." 
- Gwen Coverdale 
Photo Credit: Ryan Bradenburg, Temple University