Temple Love Stories
News
February 14, 2020
Inspired by Valentine's Day, we wanted to celebrate love — Temple Med style! We asked our community to share their stories of finding love through a shared Temple connection.
Marc de Moya, MD '98 and Adriana de Moya, MD '99
"Adriana and I met at Temple Med School and I wooed her with my 1985 300ZX T-Top. We married the day after my graduation on May 23, 1998 and now have been married for 22 years this May. We have two children, Sophia, 14 and Andre, 17. We have fond memories of Temple." 
Travis Omura, MD '11 and Jaclyn (Russell) Omura, MD '13
"We met on the Temple Medical school intramural soccer team. Travis completed his EM residency at Temple and Jaclyn did her medicine prelim year at Temple before completing residency and fellowship in Seattle, WA. We were married in 2017 (with over 50 fellow temple alums in attendance!) and welcomed a new baby girl in 2018! Temple shaped our path in more ways than one and we are forever grateful to be part of the Temple family." 
Lance Leopold, MD '87 and Nancy (Graboyes) Leopold, MD '88
"In 1984 I transferred medical schools to TUSM to complete my medical training AND share life with Nancy Graboyes, who was a TUSM student. At the time, the Dean of students at the other medical school was not supportive or encouraging. After 33 years of marriage, sharing a life in medicine, and seeing our 2 children embark on careers in medicine and also graduating from TUSM, I have a lot to say to my former Dean! Love comes first and all else will follow!" 
Adam Lyons, MD '15 and Jackie Haas, MD '16
"My husband and I met while studying at Temple Med! We were unable to couples match because he was a year ahead of me but we did long distance through residency and got married in November! This is us at Adam's Match Day very early in our relationship in 2015, and this is our wedding in Philly on November 2, 2019 (check out that 'Temple T' in the background!)."
Marc Hopkins, MD '03 and Erica Yoon, MD '03
"We both graduated from Temple Med in 2003. We didn't hang out for the first two years of school since we had different circle of friends. However, in our third year we ended up on a same team during an away rotation in Pittsburgh. As we began to know each other, we quickly became close friends, which eventually blossomed into love. We got married after IM residency in 2006, and almost 15 years later, we have two beautiful kids, Philip and Amelia. We have such fond memories of our medical school experience not only because of the education, but also because it brought us to our true love." 
Mark Novitsky, MD '06 and Ali Novitsky, MD '06 
" Mark and I met the first day of medical school during the class party at Dave and Busters. We became quick friends...then best friends...but we didn't actually start dating until the second year of med school. We had the best time- and I would sign up for medical school all over again- just to relive it. We have been married for 12 years and have 2 beautiful daughters.  I recently started my company Mind, Body, Marriage PC where I am now a life coach for women physicians." 
Ryan Moore, MD '14 and Hillary (Aaron) Moore, MD '14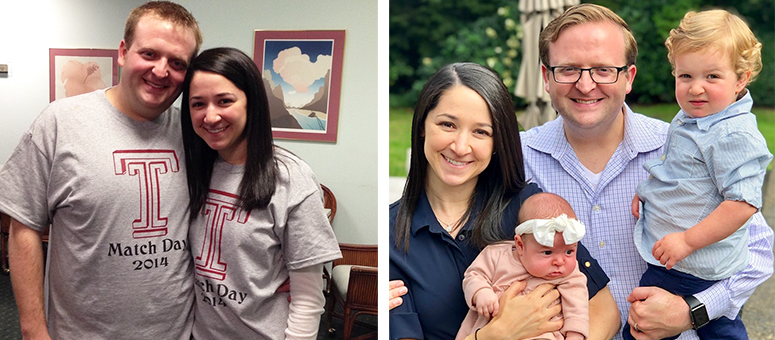 "Hillary has surgery second year of med school and couldn't carry anything heavy. Her friend, Ryan, picked her up at her building every day and carried her books to school. The rest is history. Pictured are future Owls, Ari (age 3) and Claire (6 months)." 
 
Jonathan Hue, MD '17 and Janel Paukovits, MD '17

" My now fiancé, Janel Paukovits, and I met while at Temple Med. We started dating in November 2013 and are set to get married this September. We couples matched at University Hospital's Cleveland Medical Center at Case Western. She's finishing up her residency in Emergency Medicine and I'm part way through my General Surgery residency." 
Anki Deo MD '18 and Thomas Scary, MD '18

"Tom and I met at the end of our first week of classes as first year medical students. We dated throughout medical school and look back at our time at Temple and in Philly as some of our favorite times in life. We got engaged just before Match Day in 2018 and soon after found we would both be residents at Tufts Medical Center in Boston, with Tom training in psychiatry and with me training in pediatrics. We returned to Philly in October 2019 for our wedding at the Franklin Institute, which served as a medical school reunion as well, especially because our fellow LKSOM classmate and friend Nick Hadjokas served as our wedding officiator. We are proud to be Temple med alums and grateful it is a big part of our shared history!" 
Laurence Wellikson, MD '73 and Sharon Fives Wellikson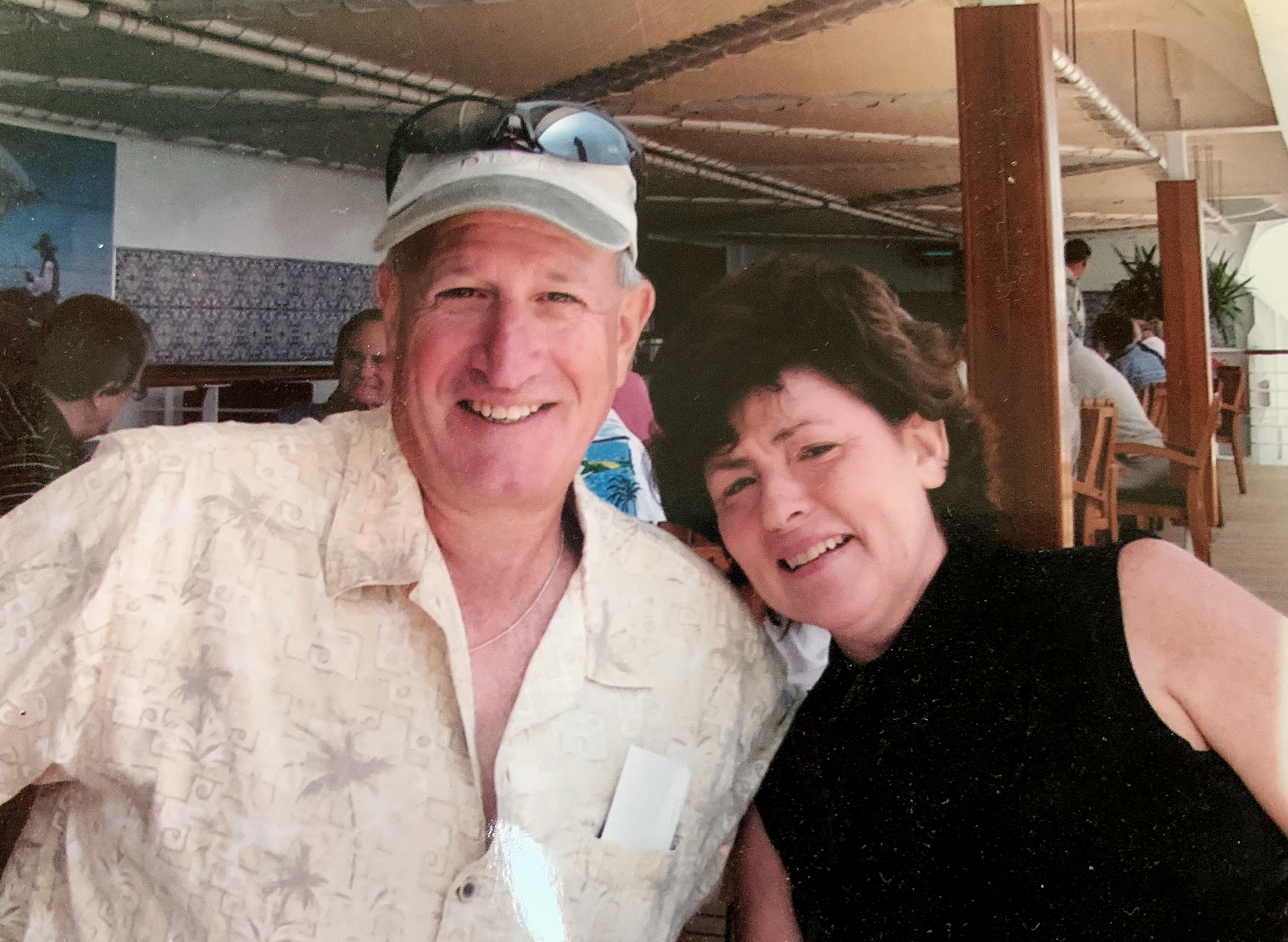 " I met my wife Sharon Fives Wellikson the day before medical school started on Sept 3, 1969. She was in Physical Therapy school at Temple (class of 1971). We were married June 3, 1972 and now have three sons, three daughter-in-laws and eight grandchildren and live in Dana Point, CA. Also of note my parents, Seymour Wellikson (journalism class of 1948) and Miriam Orchow Wellikson (pharmacy class of 1948) met at Temple and are still alive at age 93 and were married in September 1947." 
Joan Hoshauer Madison, MD '55 and James F. Madison, MD '56

"We met in the med school library in 1953 and were married in 1955. Our attendants at our wedding included Marianne Borky McEuen, MD '56 and Harry McEuen Jr., MD '54. I practiced allergy at Timberlane Medical Center in South Burlington, VT with Stokes Gentry, MD '55. My husband, Jim practiced dermatology next door to us in the same medical center."
David Berman, MD '11 and Lacy Sommer, MD '11
"We first met at a Temple Alumni-sponsored baseball game prior to beginning medical school in August 2007. By the end of our first year we began dating and became engaged during our fourth year. We completed our intern year together at Temple University Hospital (TUH) while managing to plan a destination wedding during the spring of our intern year. David stayed on at Temple to complete his internal medicine residency at TUH where he is currently a hospitalist. Lacy completed a dermatology residency at Cooper University Hospital where she has remained as one of the dermatology faculty. It was a unique experience to train and learn together at Temple. From the anatomy lab to late nights in the library to middle of the night pages while on night float, we are thankful to Temple for bringing us together and for all it has taught us."
Stephen Solomon, MD '69 and Phyllis Barson, MD '70
"I met my wife at Temple Med and we married as students in 1969 and we are still married for the last fifty years. One of our sons graduated from Temple Med and we practice ophthalmology together.Two other of my children are physicians and my brother Jason Solomon is a graduate of Temple Med. One other of my my children is a nurse." 
Allison Sih, PGY4 and Aeen Asghar, PGY4 
"Out of nearly 500 applicants, we happened to match at one of Temple's three urology positions. Moving from Brooklyn and Iowa City, we first met at the Philly DMV in June of 2016. It is a risk dating a co-resident, especially in a small residency. After dating for two years, Aeen popped the question at Lake Tahoe. Our wedding is this May in California."