Student Spotlight: Breanna L. Price, Physician Assistant Class of 2021
News
July 30, 2021
Student Spotlight: Breanna L. Price, Physician Assistant Class of 2021
Her advice for incoming PA students: Be patient with yourselves while you find your groove
Breanna L. Price is a member of the Class of 2021 who will graduate Friday, July 30, from the Lewis Katz School of Medicine Physician Assistant Program. Before enrolling at Temple, she worked as an emergency room technician at Jefferson Abington Hospital and a volunteer EMT for Bensalem Emergency Medical Services. A native of Croydon, Pa., she graduated from LaSalle University in 2012 with a degree in biology. This Q and A has been condensed.
Q. What drew you to a career in medicine?
A. I've always liked science and I've always had an interest in the field of medicine. I was exposed to various medical professionals growing up and some of my family members worked in the medical field, and I've always admired them. I was in pre-med in my junior year of college, trying to go the medical school route, when I discovered the Physician Assistant profession. I loved its flexibility to move across specialties and still be able to provide advanced medical care to patients.
I didn't apply to PA school right after undergrad because I needed to work on my pre-requisites. During that time, I also started a family and I thought I had missed my opportunity to further my education. However, in 2018, I had a prophylactic total gastrectomy and when they removed my stomach, they found cancer. Luckily, it was at an early enough stage that I did not need any further treatment. I remember looking over at my husband, it was three days post-op, and I said, 'I want to go to PA school.' After I had the cancer, I felt like a had a new chance at life. So that's really what pushed me to go back to school in 2019.
Q. What was the hardest part of the Temple PA program for you?
A. Trying to juggle between being a mom of a young child and finding time to study during didactic [classroom] year. There's an exam almost every week, sometimes there's two. So, we're constantly studying the medical knowledge and being assessed. It was hard to feel like I could focus on my studies while also being present for my family. I felt like I didn't have enough hours in the day to get it all done.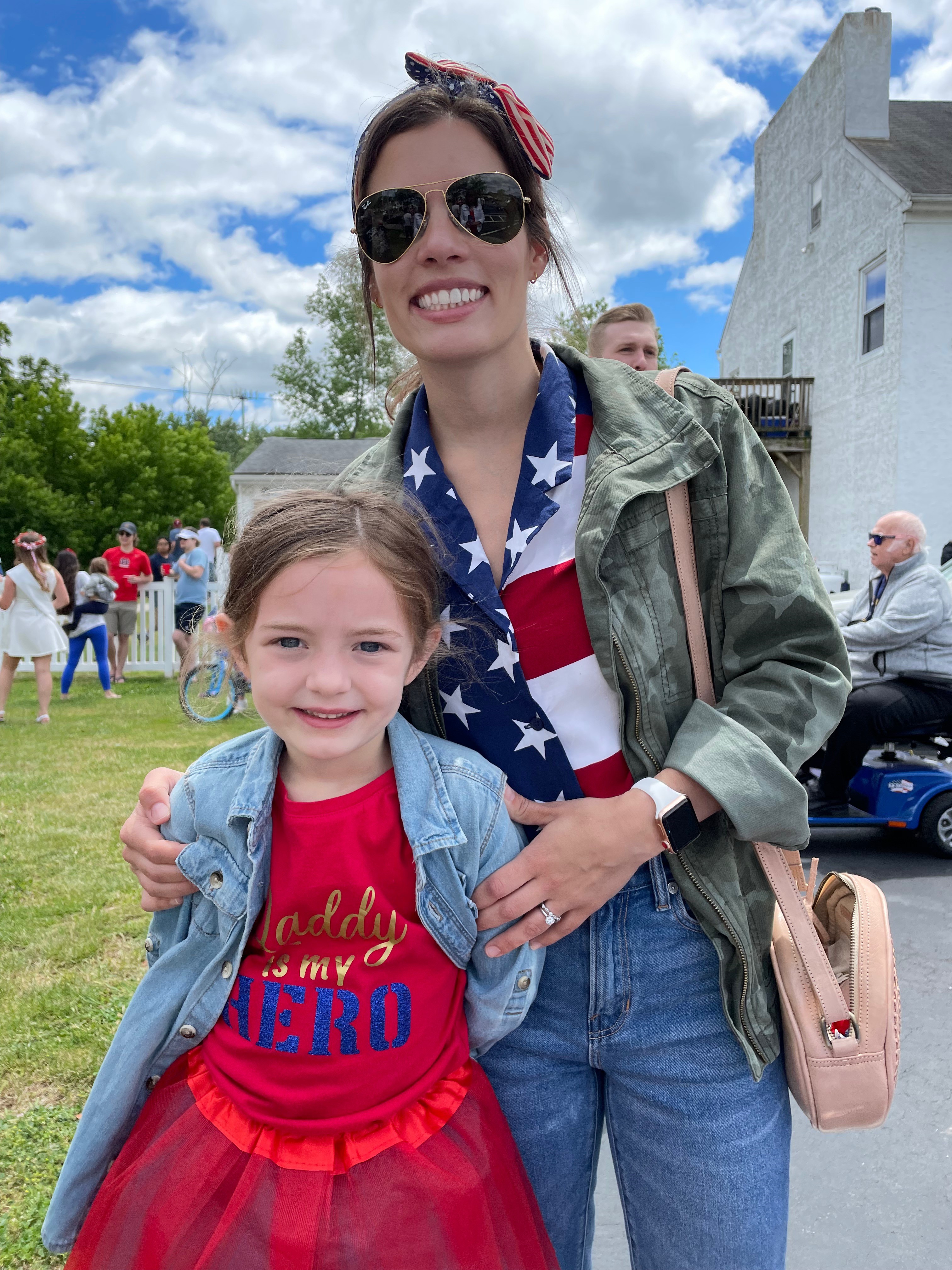 Q. What kept you going when things got tough?
A. Honestly, knowing that my daughter Brinlee was looking up to me and the support of my family, especially from my husband Michael. I wanted to show my daughter that nothing comes easily and that it takes hard work, but it can be done. I wanted her to see me succeed in school, as a mom, even without a stomach. Michael was always encouraging when times got tough and reminded me that 'This is all temporary. And it will all be worth it in the end.' I couldn't have done it without him.
Q. What's one piece of advice for someone just beginning the PA program?
A. Be patient with yourself, it can take some time to find your groove at the start of school.  Don't forget to find time for yourself to do something that's not school-related. PA school is very different from any undergraduate or graduate school– from your study habits to the amount of free time you're going to have. Just be patient. There are going to be struggles along the way, but that doesn't mean you can't do it.
Q. What are your plans after graduation?
A.  My husband moved to California in February because he is active-duty military. He's in the Navy and he's going to be deploying in a few months, so I plan to take some time and just focus on my family. My daughter and I will go and visit him in California as often as possible until he deploys. The end goal is to move there next summer before he returns from deployment.
Q. What will you miss about Temple's PA program?
A. My friends. The amazing people that I met. The pandemic presented a new challenge. We were together all the time in the classroom and then the pandemic hit and we were at home on Zoom. Then we began our clinical rotations at different sites all over the tri-state area. Now we are about to go our different ways upon graduation. It's been nice to get to know such a great group of people and I wish I had gotten to spend more time with them.
- Lillian Swanson