Student Spotlight: Alexa Burychka Led With a Positive Voice
News
August 25, 2022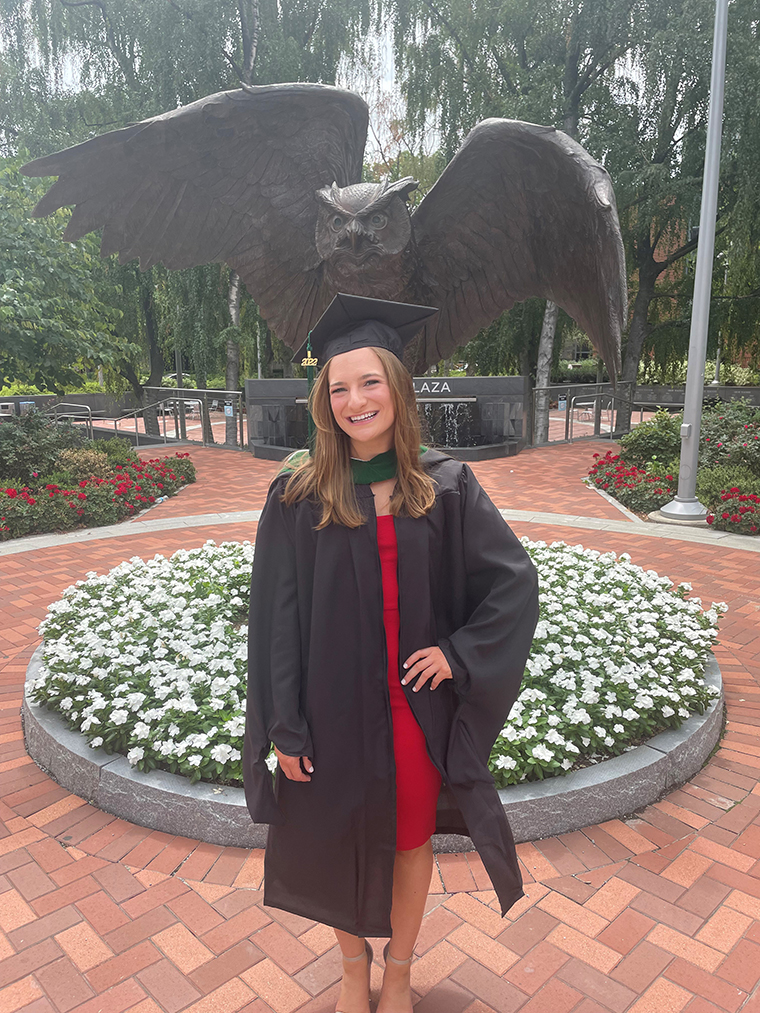 Alexa Burychka, a member of the Physician Assistant Class of 2022 at the Lewis Katz School of Medicine, described a special "aha moment" in her second year when she was sure that she had selected the right career and the right school to study her profession.
"I was on my elective rotation in orthopaedic surgery. I  got to scrub in for surgical cases in the operating room and then I got to see patients on my own in the clinic. I could finally see where I clicked in this field and I was absolutely 100 percent sure that I had made the right choice, not only in my career but also in applying to Temple," she said.
Ms. Burychka (Pronounced Bur-RICK-ah), a native of Mount Laurel, N.J., was drawn to Temple because she wanted to enroll in a physician assistant (PA) program in Philadelphia and she was attracted to Temple's goal of delivering "high-quality health care with compassion," she said.
She was not disappointed.
"Being able to serve the Temple community [in surrounding North Philadelphia] has just been beyond anything I could have ever hoped for as a student," she said.
"I think you come out of a program from Temple being able to face anything in life and in your career."  
An interdisciplinary approach
In that preparation, Ms. Burychka saw great benefit to the program's interdisciplinary approach.
"As a PA student, I was afforded a lot of opportunities to be able to work with physicians, PAs, nurse practitioners, and nurses and to see how integral everyone's role is in patient care. The more people you have devoted to providing that high-quality care, the better the outcomes for the patient," she said.
After graduation on August 5, she will stay at Temple. Ms. Burychka accepted a position in the Department of Orthopaedic  Surgery and Sports Medicine of the Temple University Health System, working in the hand and wrist service.
"I'm super, super excited to be staying at my now second home," she said.
A standout student
Ms. Burychka's enthusiasm, self-awareness, and professional approach are among the attributes that helped her stand out in a talented cohort of 35 PA students, according to Assistant Professor Erin E. Kaesshaefer, MS, PA-C, Director of Didactic Education for the PA program.
"She led by being a positive voice, which we think is really important," Ms. Kaesshaefer said. "Alexa was always focused and driven, but she didn't take herself too seriously. I think she's fantastic and we're really happy to have her stay within the Temple community."
"I truly love the program and I love to tell people how much I love the program."
A positive attitude and adaptability were especially important for this class of PA students, who began their studies in June 2020, during the height of the COVID pandemic. Their first-year's didactic studies were conducted on Zoom. Ms. Kaesshaefer credited Christine Mount, MS, PA-C, Director, Physician Assistant Program, with utilizing break-out rooms and other special features on Zoom that enabled the faculty to teach the course material virtually and maintain the same standards as in-person instruction.
A second family
"My biggest fear," Ms. Burychka said, "was that I wouldn't be able to make strong connections with the faculty and my classmates, but clearly that didn't come true. I have this second family, the classmates in my program. My friends have been through all the highs and lows with me, whether it's study buddies, a shoulder to cry on, or if we're laughing until we cry."
Ms. Burychka, who commuted from her home, also took the time to get to know the faculty, making sure to stop by their offices to talk whenever she was on campus.
"The faculty for Temple's PA program is absolutely incredible. They obviously know what we're going through as most of them are practicing PAs. They made sure to check in with us, provide any help we needed along the way, and also celebrated even really small wins with us. And now, with graduation, the big ones, too. They've been monumental, in my experience, and a huge reason why I wanted to stay," she said.
A similar passion for medicine
Though staying at Temple means she won't be far from the faculty, she knows she will miss her classmates — "a nice, small family" — and the unique experience that each of them brought. "I truly feel blessed," she said. "I've gotten to know so many people who share a similar passion for medicine as I do. I'm just constantly impressed by their empathy and knowledge."
It was just in the last few weeks of the program — with the clinical rotations finished, graduation just ahead, and the pandemic in decline — that the class was able to safely convene in a classroom for the first time. During this comprehensive review period, Ms. Burychka had a view of what her didactic year would have been like.
"It was a special moment for me. To sit there and look around the classroom and see all of my friends and really get to experience what it was like to be in classroom together.
"It was funny. Our faculty kept saying 'Welcome back.' And we said, 'Oh, this is the first time we've all really been here,'" she said.
Building in time for herself
The biggest adjustment the 2019  College of New Jersey graduate had to make came at the beginning of the 26-month program, when she learned how to manage the large volume of material that was taught each day. Beyond learning study techniques, she also sacrificed family gatherings and holidays. And over time, she found she needed to build in time for herself.
"I learned that I had to give myself grace at certain times and learn when sleep and a good meal were more valuable than staying up late and studying. I would try every day to remind myself that if I'm not taking care of me, I can't take of anybody else."
She soon learned that one of her favorite pastimes — teaching group fitness dance classes — was a great way to unwind. She invited friends to join her in a Zoom class.
"We'd finish class at 5 o'clock, jump on Zoom again and do a quick workout. It was a great way to bond with friends and relieve a lot of our stress after a long day of being in lecture," she said.
Advice for applicants
Asked what advice she would give to PA students just starting out, she said it is important for them to "just breathe. They need to understand that they are capable of a lot more than they realize. They wouldn't have been given a spot in the program if the faculty didn't see their potential. So, it's important to see that in yourself."
She encourages anyone interested in becoming a PA to reach out to various programs and learn as much as they can about them. "As much as you want to apply to programs you like, you want them to want you as well. So having a good understanding of a program's goals is huge. Just make sure you find the place that fits you.
"For me, Temple was that perfect fit," she said.