Scholarship Celebration Dinner
POSTED ON
March 21, 2018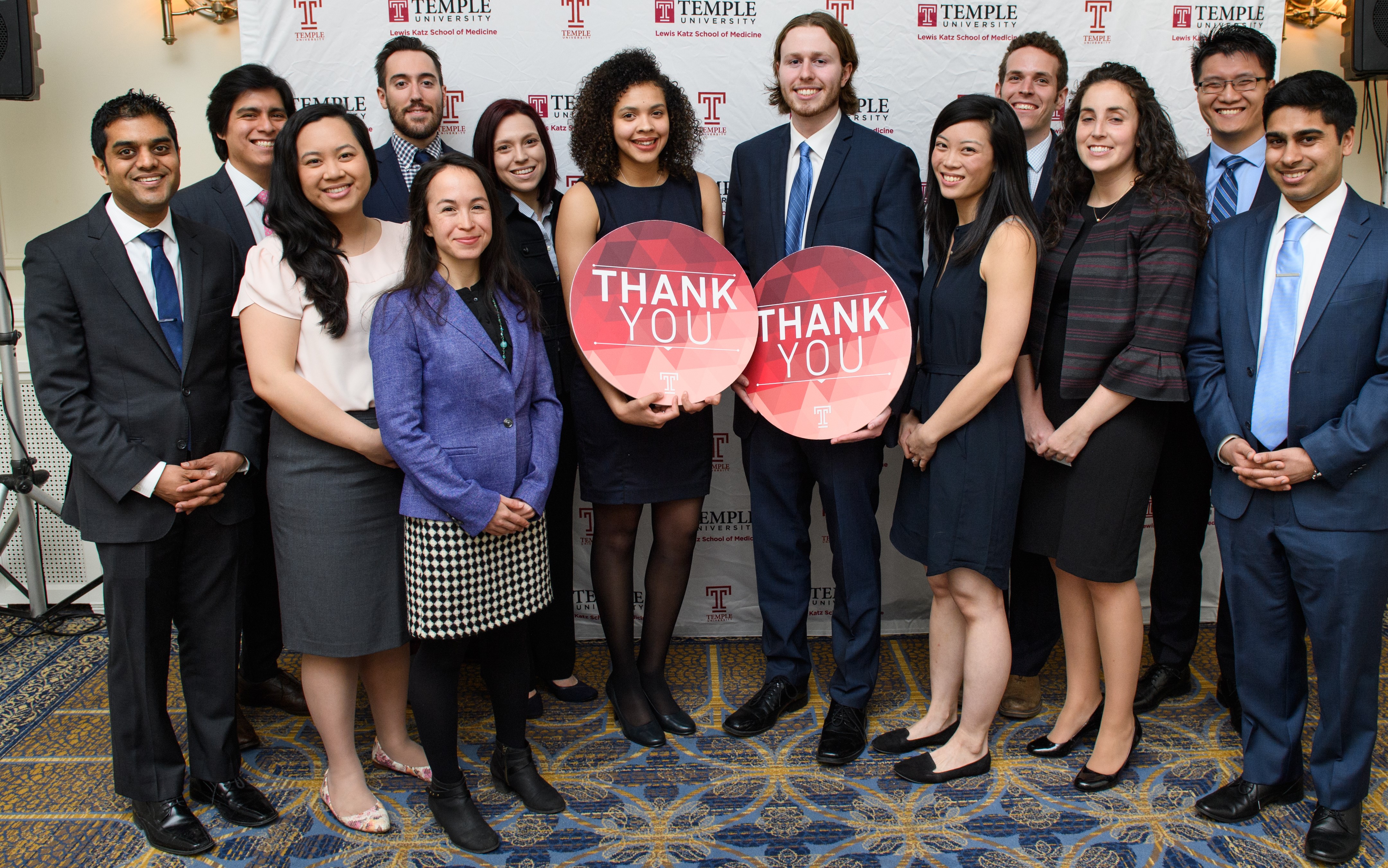 The recent Scholarship Celebration Dinner honored donors who have made a significant commitment to supporting medical school scholarships at the Lewis Katz School of Medicine. Donors and student scholarship recipients had the opportunity to meet and mingle at this annual event, held at the Union League of Philadelphia on March 15, 2018 and attended by over 230 guests.
Dr. Larry R. Kaiser, the Lewis Katz Dean at the School of Medicine thanked assembled donors, noting that the school has raised an impressive $7.6M for scholarship this academic year and that more than 56% of medical students at the Katz School of Medicine receive scholarship funding.
Dr. Kaiser emphasized that no student who wants to attend Temple should have to make another choice because of affordability, acknowledging to assembled guests "your investment in scholarship today is an investment in the future of medicine."
Leslie Weaver, a third year student told the crowd that "receiving a scholarship allows me to choose a specialty where I am best suited to serve others and allows me to devote myself to the ever-humbling, life-changing adventure of medicine." 
Second year student Carlos Manuel Romero drew laughs as he shared one of the pivotal moments that led him to medical school, assisting in an emergency delivery while working as a hospital transporter in high school. He moved on to express gratitude that "opportunities are created by people, people like yourselves and your families, who believe in someone like me and have the ability to do something about it."
Dr. Helene Pavlov CST '68, MED '72 , speaking from her perspective as a donor with guests told her own moving story about receiving a scholarship as a student and asked "those of us who have achieved through life's' hard work and accomplishments—continue to pay it back."
Fourth year student Joseph Rinaldi bravely took to the stage on the eve of Match Day, expressing his gratitude for the ability to study at Temple and noting that "the waters are not always calm, but the need to serve those who have the least has always been at the forefront of my desire to enter into medicine." 
The waters calmed for Joe the next day, as he matched to internal medicine at Mt. Sinai Hospital in New York.
To those who joined us for the evening, or have given in support of scholarship this year, thank you.
To make a gift in support of scholarship at the Lewis Katz School of Medicine, visit giving.temple.edu/givetomed.  For information about establishing a scholarship fund, contact the Office of Institutional Advancement.