Renowned Lewis Katz School of Medicine at Temple Researcher Wins Prestigious International Award in Pharmacology
News
March 17, 2023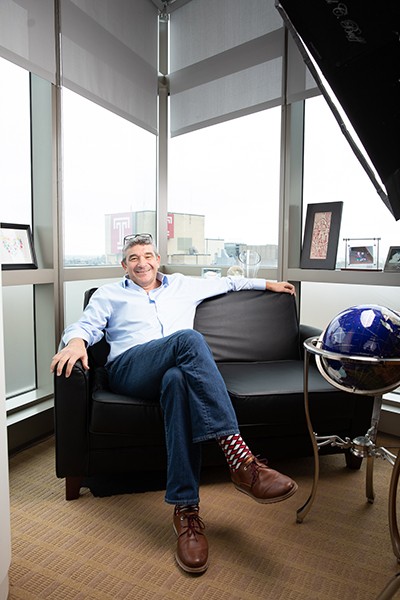 For Walter J. Koch, PhD, conducting research and mentoring others have always gone hand in hand. Now, the Lewis Katz School of Medicine at Temple University scientist will be recognized for his exceptional achievements in both realms.
In May, Dr. Koch will receive one of the highest honors in his field: the Julius Axelrod Award in Pharmacology from the American Society for Pharmacology and Experimental Therapeutics (ASPET).
Dr. Koch is a professor and the W.W. Smith Endowed Chair in Cardiovascular Medicine in the Department of Cardiovascular Sciences at the Katz School of Medicine, and director of the school's Center for Translational Medicine.
He will be lauded for his "innovative research" developing new therapeutic approaches for heart disease, and "dedicated mentoring of the next generation of scientists," according to ASPET.
"I'm excited and humbled to win this award. The fact that it's partly a science award and partly a mentorship award means even more," said Dr. Koch, a past chair of ASPET's Division of Cardiovascular Pharmacology and a fellow of the American Heart Association (AHA).
"I cannot think of a more worthy candidate for this award," said his nominator, Douglas Tilley, PhD, a professor in Dr. Koch's department and frequent collaborator. "Wally and his group have introduced numerous novel concepts to the field of cardiovascular pharmacology and accomplished challenging feats…to prevent the development of heart failure."
Dr. Koch will accept the honor this May, during ASPET's annual meeting in St. Louis. As part of the prize, he will deliver next year's Axelrod lecture and organize the symposium for ASPET's 2024 meeting.     
The award is named for Nobel Prize-winning pharmacologist Julius Axelrod, who shaped the fields of neuroscience, drug metabolism, and biochemistry, and who mentored other renowned scientists.
Record of Achievements
Dr. Koch's accomplishments include major discoveries about the molecular processes involved in heart failure – a condition that contributes to nearly 400,000 U.S. deaths annually. He is also developing potential treatments, including one that could proceed to clinical trials in three to five years.
"Patients would be able to take a pill to inhibit heart failure," explained the scientist, who is also working on a gene-therapy product for the condition. 
Dr. Koch has published 500 research articles and directly mentored 70 trainees over his 30-year career.  Moreover, he has maintained continuous grant funding from multiple institutions since 1998, including four or more NIH Research Project Grants (known as R01 grants) per year.
 
"I've been blessed with a lot of funding, which has enabled me to have a large lab. That's always been important to me," said the scientist. "An extra grant means I can train two more people. You don't know what they will discover 15 years from now."
Dr. Koch has received extensive recognition for his work, including merit awards from both the AHA, where he's held various positions, and the NIH. In 2020, he earned the prestigious Research Achievement Award from the International Society for Heart Research – the group's highest honor for a senior heart researcher.
The Ohio native began researching heart failure as a faculty member at Duke University, where he spent the first 13 years of his career. He continued that work at Thomas Jefferson University for nine years – and launched that school's center for translational medicine – prior to joining Temple in 2012.
Here, he's held leadership roles throughout his tenure. Additionally, he led the dean's committee to reorganize the basic sciences departments to better support interdisciplinary learning, collaboration, and clinical-translational research.
"Dr. Koch is a world-class scientist and academic leader who is incredibly dedicated to training future generations of researchers," said the Marjorie Joy Katz School Dean Amy J. Goldberg, MD, FACS. "His exemplary work in both basic science and its translation into medical care embodies our mission here at the School."
'Genuine, Remarkable' Mentor
Dr. Koch credits his own mentors for stirring his dual passions – and creating the foundation for his success. "I learned so much about mentoring from my mentors," he said.
Those pivotal advisers include Arnold Schwartz, PhD, at the University of Cincinnati, where Dr. Koch earned his PhD, and Robert Lefkowitz, MD, of Duke University, who supervised Dr. Koch's post-doctoral training. Dr. Lefkowitz later won the 2012 Nobel Prize in chemistry.
Both men are great motivators and scientists, said Dr. Koch, and they still remain in touch. Notably, he is the sixth Axelrod Award-winner from Dr. Lefkowitz's lab, out of 32 total honorees. "His lab was a great environment. You take things from that."
Dr. Koch's mentees have also advanced to thriving careers. Those who've worked in his Katz School of Medicine lab, for example, include many tenure-track assistant professors at respected institutions. His earlier trainees include academic surgeons, department chairs, and scientists at leading pharmaceutical firms.
"His trainees [are] successful across many metrics," noted Dr. Tilley, "competing in prestigious oral competitions at national and international meetings, publishing in top-tier journals, and attaining training fellowships and early career transition awards."
"He really cares for his students and post-docs," said former mentee Anastasios Lymperopoulos, PhD. "His humanity, kindness, and empathy for the members of his lab and for the administrators [who] work for him are genuine, remarkable, and truly rare," recalled the pharmacologist, an associate professor at Nova Southeastern University in Fort Lauderdale.
Dr. Koch views himself as a "cheerleader" who encourages young researchers' independence. 
"I give them the freedom to explore any question within the realm of cardiovascular disease," he said. "Some of my best trainees disagree with me. I want to learn from them, too."
Trainees "provide your legacy," he stated. "They produce more funding and keep things going."
Dr. Koch also has been "very successful" in recruiting faculty to his department. Those researchers, in turn, have "been able to find their own success" at Temple.
"There's no better place in the country for heart-failure research," he said, noting that his is the only department nationwide with two NIH program project grants (P01s) in heart failure.
His department is growing, too. "With Dr. Goldberg now in place as the Katz School of Medicine's permanent dean, we're working to expand the research center. I'm looking forward to participating in that," he added.  
Heart Disease Breakthroughs
Dr. Koch's research focuses on a set of enzymes called GRKs, which play a role in heart function. He discovered the molecular mechanisms that cause GRK levels to rise in people with heart failure, and found that this increase harms the heart.
These advances pointed to the enzymes GRK2 and GRK5 as attractive drug targets, constituting a new class of medications. Dr. Koch and his team are now developing such therapies to reduce GRK levels in heart cells. In fact, several of his preclinical models have shown GRK inhibition reversed heart failure.
"All our animal data shows when you inhibit GRK2 in the heart, the heart beats stronger, its metabolism is better, and the heart cells survive longer," noted Dr. Koch, citing nearly three decades of his lab's research leading to this point.
Putting it simply, he said: "We think we can offer people hope and increase their lifespan."