Rabiatu Braimah: Empowering Communities and Embracing Diversity as a Lewis Katz School of Medicine PA Student
News
November 01, 2023
Rabiatu Braimah, a first year Physician Assistant student at the Lewis Katz School of Medicine, shared her experience and insights about the program. When asked about what made her choose the program and how her experience has been so far, she said, "I chose Temple University Lewis Katz School of Medicine Physician Assistant Program because after interviewing with other schools and carefully looking at their curriculum, I found that the Katz School of Medicine took steps beyond just stating their goal of inclusion and diversity."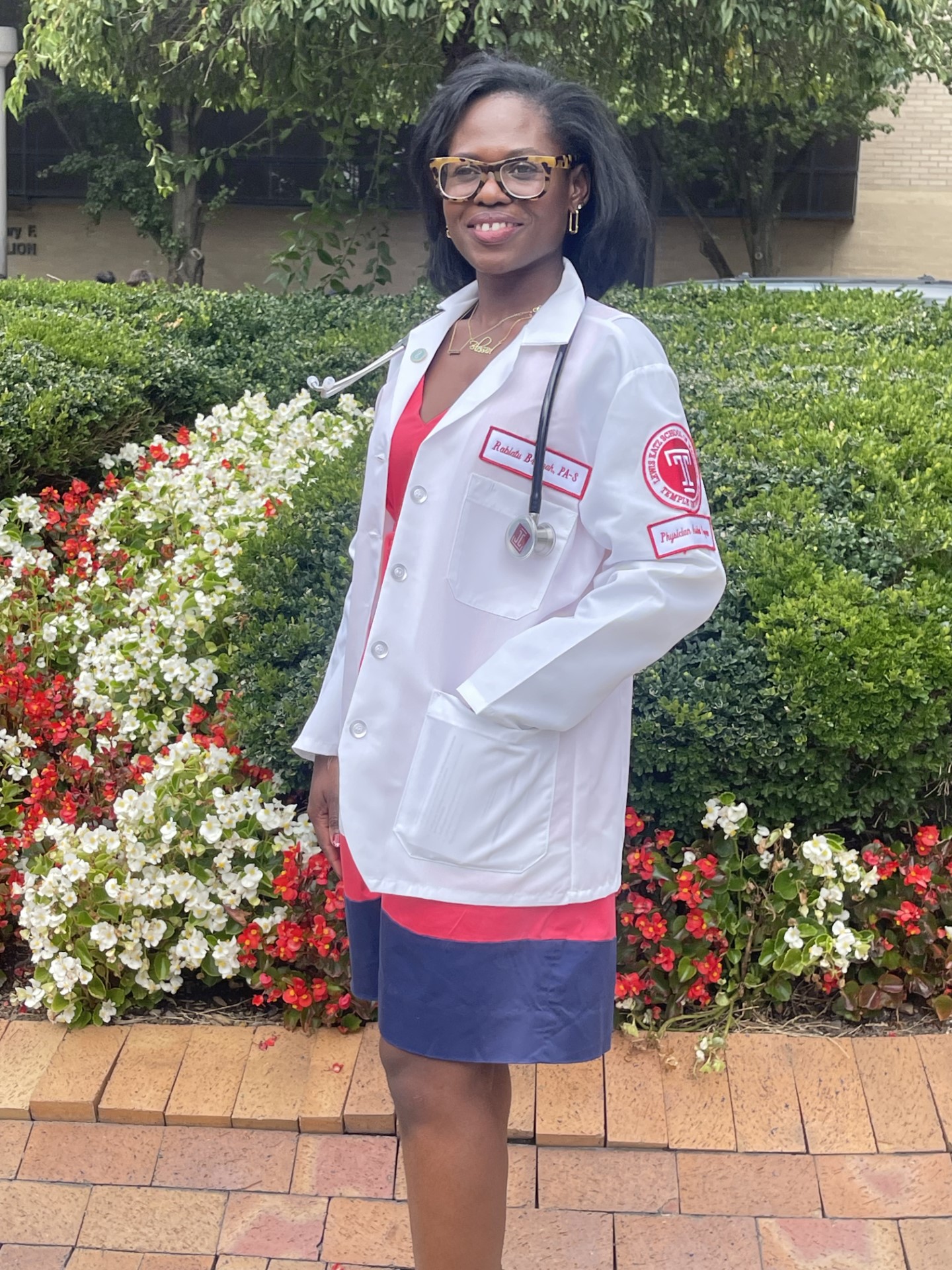 She added that the program has a diverse representative in the student body, and students organize classes and diversity celebrations.
Recently, Ms. Braimah learned a lot about Spanish-speaking countries during the Spanish Heritage Week, which was put together by her colleagues. This was important because it gave her an added pride in her culture. When asked about the most valuable lessons or skills she learned during her first year in the program, Braimah replied, "One priceless thing I would say I have learned is the importance of self, community, and balancing the two." She emphasized the importance of being out there in the community and helping as much and as often as possible, but also taking time for oneself and ensuring that one is mentally, physically, and emotionally well.  
As a mom juggling school and home, Braimah learned to take time for herself, even if it is just an extra hour in bed, so she is well-rested. She believes that the program is rigorous, and so is the profession, so learning this now helps deal with issues like "burnout." Braimah had nothing but praise for the program's support in transitioning into a physician assistant student's rigorous academic and clinical environment. She said, "They are phenomenal down there. Whenever I need to talk over anything, even in the middle of something important, I believe they stop, listen and engage." Braimah is grateful for this because there are times when she needs someone who has walked her current path to talk to because they have been there and understand. Each student has an assigned advisor, but every time she goes down there, everyone available talks to her tries to make her feel better and advises her.  
Finally, when asked about her memorable experiences or challenges during her clinical rotations, Braimah shared she hasn't started clinical rotations yet. She further stated "I am looking forward to clinical year so bad because I get to put what we have been studying to work. I am excited."