For Physician Assistant Students, White Coats Signify a New, Hands-on Phase of Learning
News
September 28, 2022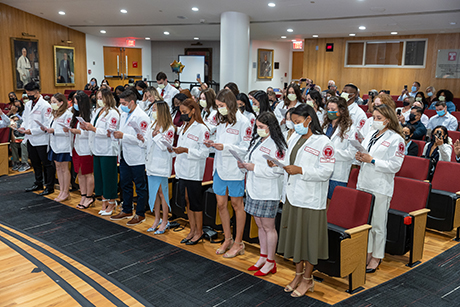 An enthusiastic audience recently helped the 33 students who comprise the Lewis Katz School of Medicine's Physician Assistant Class of 2024 celebrate a milestone in their medical education and training.
On September 16, during an afternoon ceremony in Temple's Erny Auditorium, faculty donned the students donned their white coats for the first time as proud family members and friends cheered them on -- and captured a moment years in the making on camera.
"The physician assistant profession is in great demand. It's pivotal to the direction that healthcare is taking," Amy Goldberg, MD, FACS, Lewis Katz School of Medicine Interim Dean, told the class. "You have chosen work of great meaning and great impact. For many of you, it's more than just work, but a true calling"
The ceremony signifies the beginning of a student's journey to becoming a full-fledged medical professional, while the coat, Dr. Goldberg said, symbolizes "the traits, values, and behaviors you will learn here at Temple and exemplify throughout your career."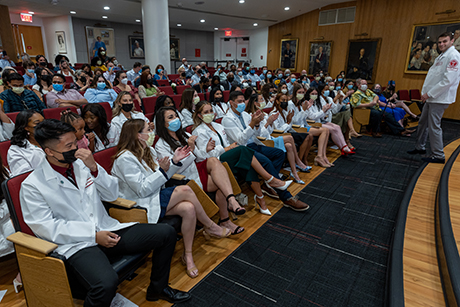 Christine Mount, MS, PA-C, Director of the Lewis Katz School of Medicine Physician Assistant Program, said the ceremony also marks a shift in the students' education. For the first two months, it consisted largely of science-based lectures. Now the class will begin to learn to care for patients.
"Students will soon be spending more time learning physical exam skills and how to interact with patients," Ms. Mount said. "
Dr. Goldberg said that the prospect of interacting with patients for the first time can be daunting. It's also natural, she said, for students to discount their authority. To which she countered, "Do not underestimate the impact you will have. Patients will see you as an authority, a key member of their healthcare team. And you are. Your influence and impact begin now."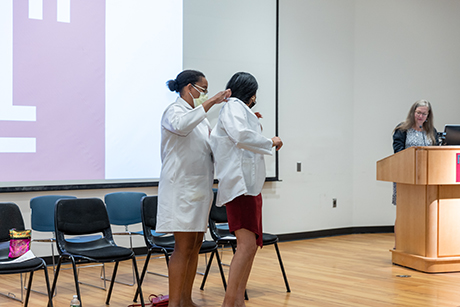 Ms. Mount noted that while the crisp, clean white coats seem almost sacred today, the iconic garment Of the healthcare profession, in time, the coat's prestige will likely fade a little, and the coat will be used like a pillow, blanket, reference library, filing cabinet, supply closet, or lunchbox.
"But the white coat is truly more than all of that," she said. "By no means are they just another part of your wardrobe. They are an outward sign of your expertise and training."
However, she cautioned students not to look at their white coat as a superhero's cape. It does not make you all-knowing, and it will not make you invincible. But it does give you strength. It's a cloak of humility, a cloak of empathy, a cloak of professionalism, and a cloak of compassion. It should remind you of your limitations, your humanity, and your responsibility."
At the conclusion of the ceremony, the Class of 2024 stood and recited the Physician Assistant Professional Oath. Across the auditorium, smartphones were thrust into the air, recording a moment that will be relived many times over.