Physician Assistant Students Don First White Coats
News
October 02, 2019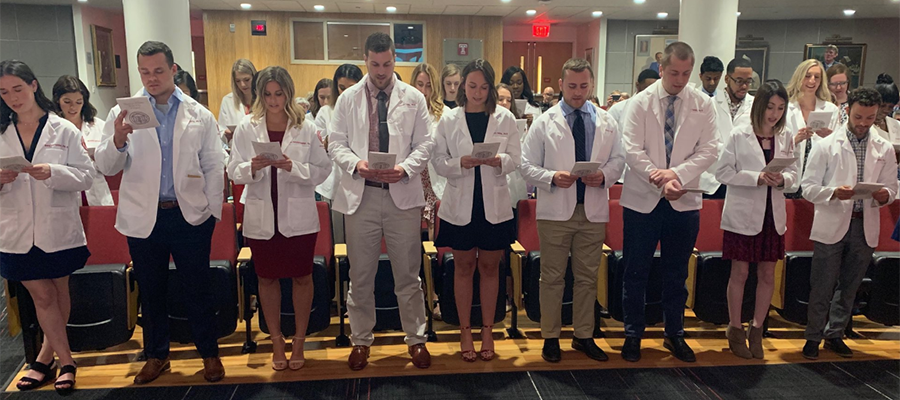 If the decibel level of a cheering audience is any indication of future success, the 32 students who make up the Lewis Katz School of Medicine's physician assistant class of 2021 have nothing to worry about.  
On September 20, the students gathered for their White Coat Ceremony in Temple's Erny Auditorium with an enthusiastic crowd of friends and family looking on. The ceremony signifies the beginning of a student's journey to becoming a full-fledged medical professional, while the white coat symbolizes professionalism, caring and trust.
"But I want you to think of your coat as something more – as a sign of Temple's confidence in your potential to develop into full-fledged professionals," said Larry Kaiser, MD, FACS,  former Lewis Katz Dean of LKSOM and President and CEO of Temple University Health System. "There will be difficult times, dreadful days, believe me. It's part of the deal. But you will prevail.  We have confidence in you. And over time, you will develop confidence in yourself. Which in turn will instill patients' confidence in you, too."
This is the most diverse class in the relatively short history of Temple's Physician Assistant Program, according to David Isgan, MHS, PA-C, Director of Student Affairs for the program.
"The students in this class come from a variety of backgrounds, experiences and interests," he said. "Each class has its own personality, and we expect this class to make its mark."   
In addition to Dr. Kaiser, students and guests heard from Program Director Christine Mount, MS, PA-C, who encouraged the students to practice one of life's simplest acts: listening.
"Patients need you to listen," she said. "Listen to their concerns, listen to their problems, listen to their families and listen to the things that have nothing to do with what's going on. You will be surprised how far lending an ear will go in establishing trust, building rapport and generally just making the patient relationship better."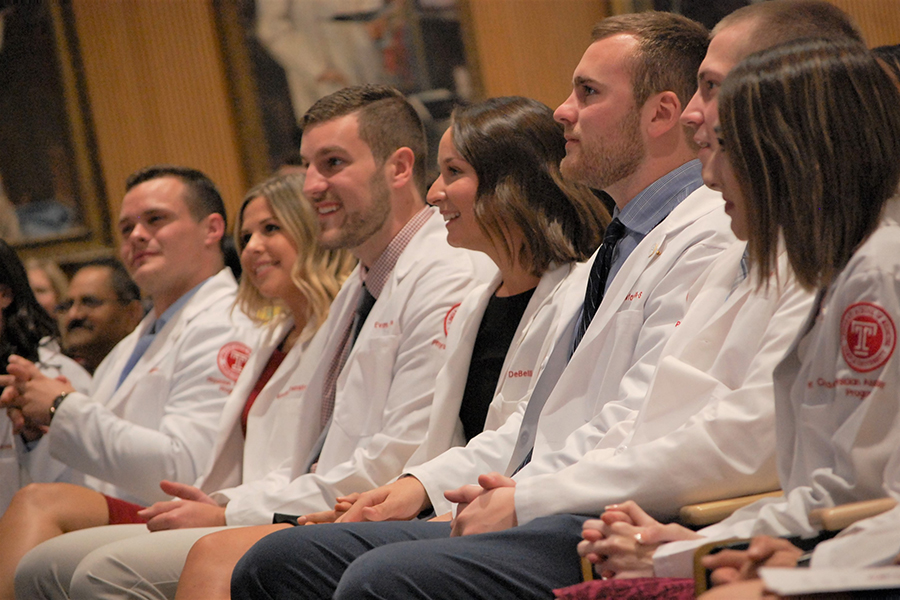 Also offering words of advice was Fatima Camara, MMS, PA-C, a 2019 graduate of the Physician Assistant Program. She reflected on her time as a student and offered the new class some tips.
"You will be tested, literally and figuratively," she said. "Remember to support each other because you are all in this together. And relax, you're not supposed to know everything."
A physician assistant is a medical professional who is integrated into healthcare teams with physicians and other providers. PAs can examine and treat patients, make diagnoses, prescribe medications, assist in surgery, counsel patients and perform minor procedures. They can be found in a wide variety of specialties and medical settings.
Temple's PA program is now in its fourth year and currently has 60 students enrolled across two classes.