Lewis Katz School of Medicine at Temple University Receives $100,000 Donation from Stop Alzheimer's Now to Conduct Groundbreaking Study
News
January 09, 2019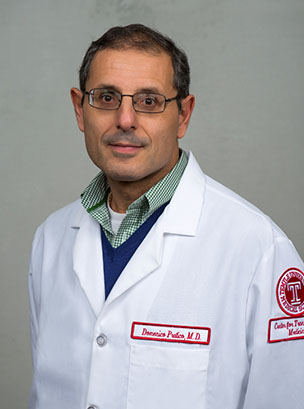 Beneath the amyloid plaques and neurofibrillary tangles that are the hallmark pathological features of Alzheimer's disease, is another, lesser-known anomaly: the almost complete absence of adult neurogenesis, the process by which new neurons form in the developed brain. Thought to serve a critical role in maintaining memory and learning ability, little is actually known about the significance of reduced adult neurogenesis in Alzheimer's disease. Now, scientists at the Lewis Katz School of Medicine at Temple University have a chance to find out, thanks to a $100,000 gift from Stop Alzheimer's Now, a non-profit organization dedicated to eradicating Alzheimer's disease.
Domenico Praticò, MD, Scott Richards North Star Charitable Foundation Chair for Alzheimer's Research, Professor in the Departments of Pharmacology and Microbiology and Director of the Alzheimer's Center at the Katz School of Medicine will be leading the study supported by the Stop Alzheimer's Now donation.
The new study will test whether inhibition of a specific protein in the brain can stimulate neurogenesis. Dr. Praticò and colleagues previously found that the targeted protein functions as a controller of neurogenesis and demonstrated in vitro that its inhibition triggers the growth of new neurons.
Reinvigorating the endogenous process of adult neurogenesis differs from current trends in the development of stem cell therapies for Alzheimer's disease, which rely on the administration of stem cells. "The research project is high-risk, high-reward," Dr. Praticò said. "Our work may not yield a significant result, but if we show that natural adult neurogenesis can be restored, it could lead to big breakthroughs in our understanding of neurogenesis, in addition to the generation of novel therapies for Alzheimer's disease."
"The reason I chose Temple [to receive funding] was simple," said Shaun McDuffee, founder of Stop Alzheimer's Now. "It was Dr. Praticò and his team. Their dedication, passion, and commitment to wiping out this disease are second to none. I truly believe they will find a cure."
Stop Alzheimer's Now (SAN), founded by McDuffee in 2013, has committed to walking across all 50 states to raise awareness and funds for research for a cure. To date, SAN has walked nearly 900 miles and raised over $360,000 through individual contributions and partnerships with organizations such as the Scott Richards North Star Charitable Foundation and the McDuffee Family Foundation.
"We are very excited and grateful that Stop Alzheimer's Now has chosen to support our research," Dr. Praticò added.