Lewis Katz School of Medicine at Temple University and Fox Chase Researcher Receives Grant to Study Gene as Target in Squamous Cell Head and Neck Cancers
News
January 27, 2023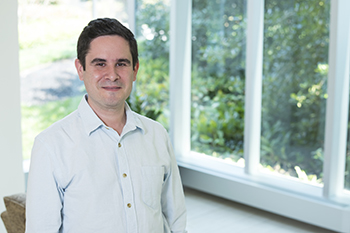 Pedro Torres-Ayuso, PhD, an assistant professor in the Department of Cancer and Cellular Biology at the Lewis Katz School of Medicine at Temple University and the Cancer Signaling and Microenvironment research program at Fox Chase Cancer Center, recently received a grant that will be incorporated into the prestigious Specialized Program of Research Excellence (SPORE) for head and neck cancer held by Fox Chase Cancer Center.
Head and neck cancers are a group of cancers that start in the lining of the oral cavity, throat, voice box, or vocal cords. These squamous cell carcinomas account for approximately 4% of all cancers in the United States and can be complex to treat, according to the National Cancer Institute. It is estimated that over 65,000 people will be diagnosed with head and neck cancer this year, resulting in over 14,000 deaths.
"One of the goals of the SPORE program is to identify better ways to target head and neck squamous cell carcinomas. My study aligns with other major projects for the grant, which are headed by Dr. Erica Golemis at Fox Chase and Dr. Barbara Burtness from Yale. Their studies investigate new targets for these patients and look into how they can impact the effectiveness of current treatments," said Torres-Ayuso.
He received $50,000 in funding through the SPORE Career Enhancement Program (CEP), which aims to enhance head and neck translational work by providing funding for new and established investigators who have developed an interest in studying this type of cancer. 
The main SPORE grant, which is a competitive five-year, $11.7 million grant funded through the National Institute of Dental and Craniofacial Research, is a collaboration among Fox Chase Cancer Center, Yale Cancer Center, and the University of North Carolina Lineberger Comprehensive Cancer Center to address obstacles in treating head and neck squamous cell carcinoma.
"For many head and neck cancer patients, we don't know what the target is for cancer treatment. With the research that will be conducted with my CEP grant, we wanted to characterize a protein kinase that is frequently amplified in head and neck tumors and study whether this protein kinase can actually serve as a target," said Torres-Ayuso.
He is applying findings from his previous research in lung squamous cell carcinoma to investigate the use of the protein kinase coding gene TNIK as a target in head and neck cancer. This study, which was published in the journal Cancer Discovery, was the first to not only identify TNIK as a kinase necessary for the development of lung squamous cell carcinomas, but also characterize how it contributes to that development.
"What's exciting about this research is that we are doing it in a biomarker-driven way, so results support what we call precision medicine—tailoring specific treatments to individual patients. Often, this way of treating patients is not only more efficient but also less toxic. This can drastically improve a patient's quality of life, which is ultimately one of our biggest goals," said Torres-Ayuso.