Lewis Katz School of Medicine and Fox Chase Research Program Student Receives ASCO 2023 Conquer Cancer Merit Award
News
January 16, 2023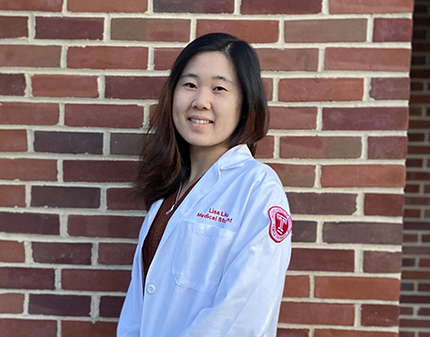 Lisa Liu, a third year medical student at the Lewis Katz School of Medicine at Temple University, recently received a 2023 Conquer Cancer Merit Award from the American Society of Clinical Oncology (ASCO) for research that will be presented at an upcoming meeting.
"This award means a lot because it's from ASCO, which is such a prestigious organization. I'm interested in going into oncology in the future, so it's really exciting for me to be able to participate in this conference in a meaningful way," said Liu, whose mentor for the research was Namrata "Neena" Vijayvergia, MD, FACP, assistant chief of Gastrointestinal Medical Oncology at Fox Chase Cancer Center.
Liu received the award for her research into age- and sex-based differences in the genomic profiles of patients with gastrointestinal and pancreatic neuroendocrine tumors. She conducted the research as part of a pilot summer program at Fox Chase aimed at exposing students from the Katz School of Medicine to translational cancer research to help them build professional skills needed for careers in clinical and translational research.
"We found distinct molecular and immune profiles associated with age and gender in both gastrointestinal and pancreatic neuroendocrine neoplasms. In gastrointestinal neuroendocrine neoplasms we found that TP53 and Rb-1 gene mutations and a higher tumor mutation burden were more prevalent with increasing age. We also found that KRAS gene mutations were less prevalent with increasing age," said Liu.
"In pancreatic neuroendocrine neoplasms we found that the KRAS gene mutations were more prevalent and the tumor mutation burden was less prevalent with increasing age," she added. Tumor mutation burden refers to the total number of mutations found in the DNA of cancer cells, information that can be helpful in determining a patient's best options for treatment.
Additionally, Liu said the study revealed that tumor mutations in the P53 genes were more prevalent among males with gastrointestinal neuroendocrine neoplasms, while deficient mismatch repair (dMMR/MSI-H) cells were more prevalent in females with pancreatic neuroendocrine neoplasms.
Deficient mismatch repair describes cells that have mutations in specific genes that help correct mistakes made when DNA is copied. Cells that have deficient mismatch repair can have many mutations, which in many cases can lead to cancer.
The program that Liu participated in at Fox Chase helps students gain experience collecting and analyzing data as part of a functioning research program, as well as the opportunity to submit and possibly present their work at a national professional conference. They receive a stipend for the summer and financial support if they attend a conference.
Conquer Cancer Merit Awards are presented to researchers who are first authors on high-quality abstracts submitted at an ASCO Meeting. These abstracts are recognized for their scientific merit and award recipients receive $1,000 in support. Liu will be presenting her abstract, "Age- and Sex-Based Differences in the Genomic Profiles of Patients With Gastrointestinal (GI) and Pancreatic Neuroendocrine Neoplasms (NENs)," in a poster session at the ASCO Gastrointestinal Cancers Symposium in January.