Keepers of the Flame: Faculty Promotion, Tenure & Retirement, 2023
News
June 29, 2023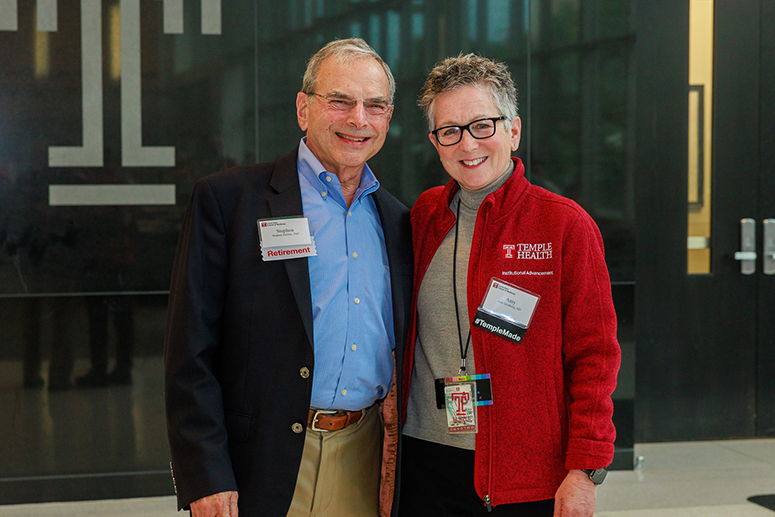 "Students come and go, but faculty are in it for the long haul, keepers of the flame," said Amy J. Goldberg, MD, Dean of the Lewis Katz School of Medicine, during the Katz School's 2023 faculty promotion, tenure, and retirement celebration.
The event, held June 22 in the Medical Education and Research Building on the school's Philadelphia campus, lauded the contributions of 52 faculty newly awarded promotion to higher rank; two who were granted tenure; and 13 who plan to retire this year. (The names of these exceptional faculty members are listed below.)
Dr. Goldberg described these changes as "significant milestones to be acknowledged and applauded."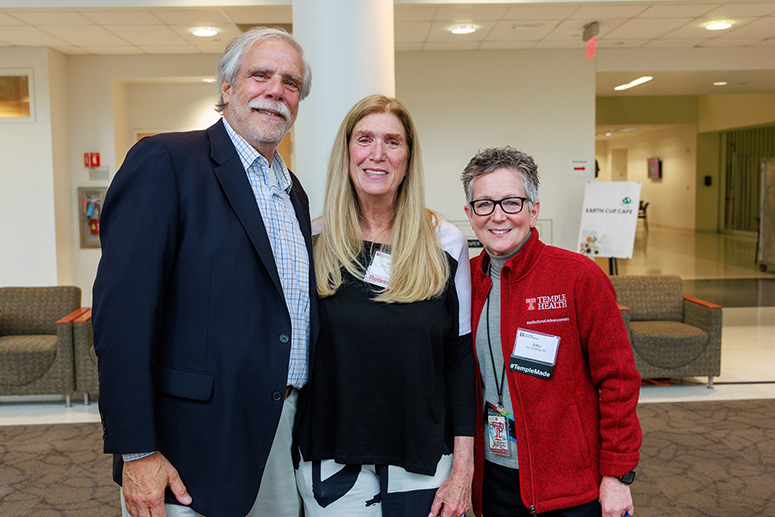 "I am so very grateful for the contributions you have made to the Lewis Katz School of Medicine and our entire community," she told the faculty, many of whom gathered to celebrate with colleagues, family members, and mentors.
"Our students are better-educated, better-prepared, because of you. Our programs and program content are top-notch because you make them so," said the dean.
Promotions and Tenure
One thing was made clear as the dean spoke: Is it not easy to be promoted at the Lewis Katz School of Medicine.  Exacting standards must be met. The criteria are challenging and weighty.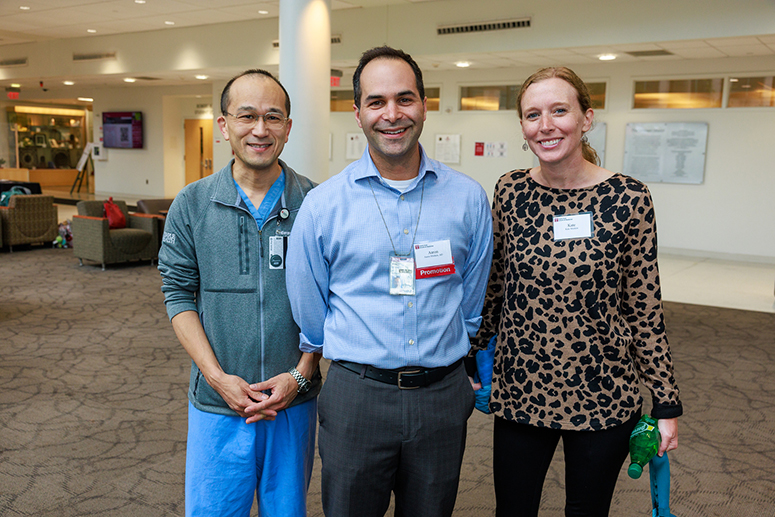 "You must climb mountains to be promoted or tenured.  And document the climb and have witnesses," said the dean, clearly proud that such a significant proportion of faculty – 52 -- faculty negotiated the challenge with seeming ease -- elevating themselves across scholarship, teaching, research, service, or leadership.  In some cases, all of these things.
"Given the demands that promotion entails, I'm thrilled to announce that 37 Katz faculty have been promoted to associate professor this year, and 15 to full professor," said Dean Goldberg.
In addition, two Katz faculty members were awarded tenure this year,  another status that is difficult to attain. Tenured faculty are individuals of considerable expertise and excellent judgment. Tenure denotes seniority in the scholarly world.
"One of our newly tenured faculty holds associate professorships in four departments, including Thoracic Medicine and Surgery:  Umadevi Sajjan, PhD," said the dean. "The other faculty member tenured this year also received a promotion in rank to Associate Professor this year: Sara Jane Ward, PhD, who holds appointments in Neural Sciences and in the  Center for Substance Abuse Research.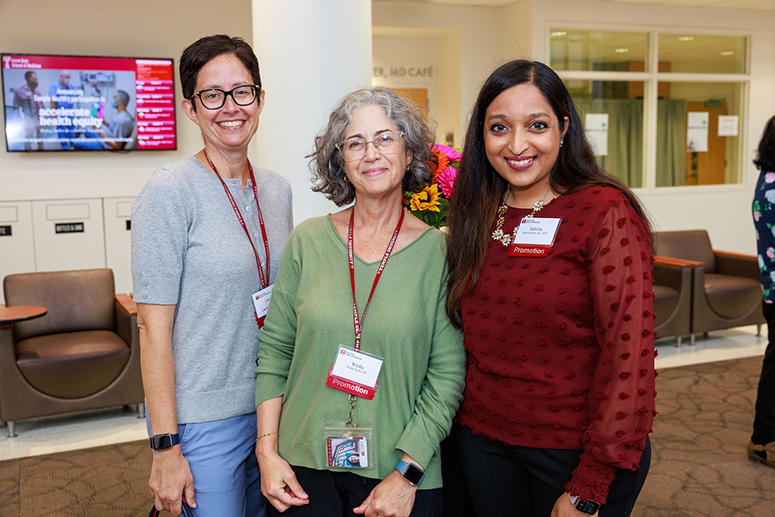 Retirement: So Bittersweet
The next part of the event recognized 13 faculty who plan to retire this year.
The dean announced the name of each retiree, along with their primary departments and years of service (see list below).
"It's hard to lose you, but your retirements are beyond well-earned," she said, expounding on the contributions each has made over the years -- benefitting students and for the school, science and healthcare, the people of North Philadelphia and people everywhere.
"The generations of learners you have inspired, the patients you have helped, the research you've conducted. Your work has been transformative," said the dean. "It is impossible  to overstate how important each of you are and how wonderfully you have shaped the quality and character of our school! We are exceptionally grateful  for all you have done!"
The dean credited faculty with giving the Lewis Katz School of Medicine its great reputation, not just for academics but also for extra-curricular clubs, projects, and activities as well – service-oriented ones, especially.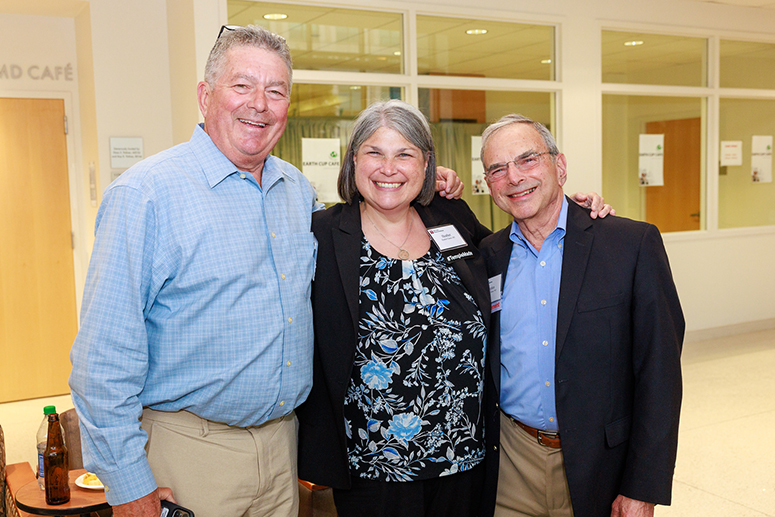 "Faculty are the ones that develop these activities and keep them going, year after year. You are the keepers of tradition," she said
"It's impossible to express how much we will miss you," she continued, "and yet -- and yet –  each of you has left an indelible and incredible legacy at this school of medicine that will carry on! We embody part of you just as you will always carry us with you … and that is a wonderful thing."
Personal Cheering Sections
During the event, the dean recognized the mentors, colleagues, friends, and family members who've provided invaluable support to the honorees along the way. 
She described their encouragement and support as  "superpowers that make a tremendous difference." 
"A giant shout out for mentors, friends, and family!" she said. "None of us would be where we are today without you!  Everyone benefits from a cheering section!"
With that, the formal portion of the event concluded with a final round of applause – and everyone enjoyed food, drink, and the pleasure of one another's company.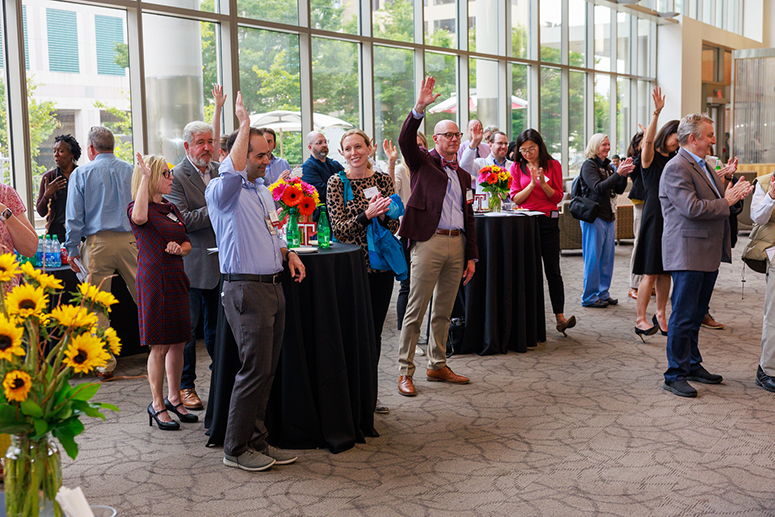 Tenured
Umadevi Sajjan, PhD — Microbiology, Immunology & Inflammation
Sara Jane Ward, PhD — Neural Sciences
Promoted to Professor
Kristin Krauss, MD — Anesthesiology
Stephen McCaughan, DO — Anesthesiology
Nicole Griffin, PhD — Biomedical Education and Data Science
Kathleen Fane, MD — Emergency Medicine
Megan Healy, MD — Emergency Medicine
Derek Isenberg, MD — Emergency Medicine
Zachary Repanshek, MD — Emergency Medicine
David Fiss, MD— Medicine-Cardiology
Wadia Mulla, MD — Obstetrics/Gynecology
Adil Khan, PhD — Pathology & Laboratory Medicine
Heidi, Taylor, DO — Pediatrics-Neonatology
Ellen Gluzman, MD — Psychiatry and Behavioral Science
Emily Cuthbertson, MD — Radiology
Joseph Panaro, MD — Radiology
Daniel Salerno, MD — TMS-Pulmonary
Michael Metro, MD — Urology
Promoted to Associate Professor
Dmitry Roberman, DO — Anesthesiology
Anish Sethi, DO — Anesthesiology
Felipe Suero, MD — Anesthesiology
Louis King, MD — Emergency Medicine
Mark Magee, MD — Emergency Medicine
Jessica Patterson, MD — Emergency Medicine
Clare Roepke, MD — Emergency Medicine
Menachem Leasy, MD — Family and Community Medicine
Kourtney Osorio, MD — Family and Community Medicine
James Tucker, MD — Family and Community Medicine
Sabrina Islam, MD, MPH — Medicine-Cardiology
Val Rakita, MD — Medicine-Cardiology
Carolyn Hogan, MD — Medicine-Hepatology
Cindy Chen, MD — Medicine-Hospitalist
Maria Escorcia De Leon, MD — Medicine-Hospitalist
Shekkar Eswarakrishnan, MD — Medicine-Hospitalist
Lindsay McGann, MD — Medicine-Hospitalist
John Nawn, MD — Medicine-Hospitalist
Aaron Mishkin,  MD — Medicine-Infectious Diseases
Sumithra Nalla, MD — Medicine-Nephrology
Sara Jane Ward, PhD — Neural Sciences
Lauren Koffman, DO — Neurology
Ching Tsao, MD — Neurology
Rami Almefty, MD — Neurosurgery
Laura Hart, MD — Obstetrics/Gynecology
David Galos, MD — Ortho Surgery and Sports Medicine
Ruby Barghini, MD — Psychiatry and Behavioral Science
Jeffery Cruz, MD — Radiology
Blachy Davila, MD — Radiology
Neilesh Gupta, MD — Radiology
Renee Kendzierski, DO — Radiology
Jared Meshekow, MD, MPH — Radiology
Jonathan Rubin, MD — Radiology
Lindsay Kuo, MD — Surgery-General
Lawrence Oresanya, MD — Surgery-Vascular
Roh Yanagida, MD, PhD — Surgery-Cardiovascular
David Manoff, MD — TMS-Pulmonary           
Retiring (with years of service)
Arthur Washburn, PhD — Anatomy — 18
Helen Pearson, PhD — Biomedical Education & Data Science — 40
Brett Oxberry, PhD — Biomedical Education & Data Science — 41                    
Daniel Liebermann, PhD — Cancer & Cellular Biology — 30
Carmen Sapienza, PhD — Cancer & Cellular Biology — 30
Steven Houser, PhD — Cardiovascular Sciences — 44
Marla R. Wolfson, MS, PhD — Cardiovascular Sciences — 42
Stephen Permut, MD, JD — Family Medicine — 27
Dianne Soprano,  PhD — Genetics & Molecular Biochemistry — 36
Gerri Schulman, MD — Medicine/Nephrology — 36
Timothy Lachman, MD — Neurology — 17
Ronald Tuma, PhD — Physiology  — 46
Polina Zilbering, MD  — Psychiatry — 13