A Katz School Conference Generates Support for Black Men in Medicine
News
December 09, 2022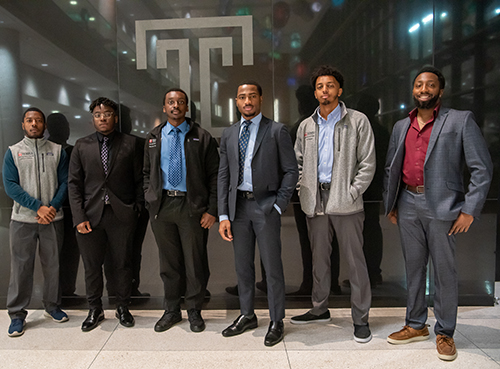 Ronnie Mubang, MD, has a message for everyone reading this: "We belong."
Dr. Mubang, an Assistant Professor of Surgery at the Vanderbilt University School of Medicine in Nashville, Tennessee, was the keynote speaker at the Lewis Katz School of Medicine's fourth annual Black Men in Medicine conference. Held November 10, the event celebrated the achievements of Black men in medicine and offered mentorship opportunities for Black premedical and medical students.
Dr. Mubang, who did his residency at St. Luke's University Health Network, a Katz School educational partner, says the evening renewed his hope that "there's going to be more of us." But it also reminded him just how lonely it can be as a Black medical student and a new doctor trying to forge his reputation. And so, it became clear that while he was encouraging all the premedical, medical, and established physicians in the audience, he was likewise encouraging himself. "Just because you don't look like everybody else, just because you don't sound like everybody else, just because you didn't have all the resources the others might have had, just because we've been behind the ball for multiple generations, it doesn't mean we don't belong," he continued. "I belong, you belong, they belong. We all belong."
The annual Black Men in Medicine gathering conference, sponsored by the Office of Health Equity, Diversity, and Inclusion, is part of the Katz School's efforts to recruit, support, retain, and advance high-quality medical students from backgrounds that are historically underrepresented in medicine, as well as to specifically address the ongoing shortage of Black men in medicine.
As recently as 2019, Black male medical students accounted for just 2.9% of the national medical student body. And that percentage has remained relatively consistent for the last four decades. However, Black students made up 11.3% of first-year medical students in 2021, and the number of Black men from this group increased by 20.8%, according to the Association of American Medical Colleges.
Dr. Mubang called the Nov. 10 conference and efforts like it a "start" to reverse that trend in a lasting way.
Ikemefuna Akusoba, MD, FACS, FASMBS, a bariatric surgeon at St. Luke's and Director of Student Advocacy and Community Engagement at the St. Luke's campus, believes the Katz School is "one of the most diverse medical schools in the country." But supporting diversity is as much about what occurs outside of the school's walls as within them, he says. "At the Lewis Katz School of Medicine," says Dr. Akusoba, who delivered the conference's opening remarks, "We're trying to help our community wherever we can." Both physicians agree that exposing more Black boys and young men to Black male doctors and medical students is a good thing. But to truly affect the decades-long trend, Dr. Mubang says the Katz School and other medical schools need to invest in the education of Black boys as early as elementary school, establishing mentorship programs.
"Make children aware they can be amazing physicians," he says.
Kenneth Jordan, a second-year student at the Katz School and one of the conference's organizers, says most of his peers at his predominantly Black high school wanted to play football or basketball for a living. Few aspired to go into medicine. "And I think some of that is not having a role model, that figure or person you can see and say, 'Hey, you did it, so I can do it, too.'"
While he lacked such a role model for himself, he's become one for others, on social media.
"People are always DM-ing me, asking for advice. Like, 'I have this interview. What do I do next?'" Mr. Jordan says. "It's amazing that I'm that point person for some people, that I'm guiding them to medical school. But it's also disappointing that I did not have that for myself.
"This event, however, has the potential to help me start building my network," he said.
Roberto Rosario, another student who helped organize the conference, says his path to medical school was nontraditional, in part because he didn't have anyone in his life who could show him the way. Instead, he earned a Master's degrees in Business Administration and Accounting and worked as a risk advisory consultant until he realized his dream of becoming a doctor wasn't going away.
Now in his third year at the Katz School, Mr. Rosario says he's discovered multiple mentors, including Dr. Akusoba, Abiona Berkeley, MD, JD, FASA Interim Senior Associate Dean for Diversity, Equity, and Inclusion at the Katz School of Medicine and Melanie A. Cosby, PhD, Director of Diversity and Inclusion.
"As a result of them sharing their experiences with me, I've been able to gain a better understanding of what it is I want to get out of my career and even life in general sometimes," Mr. Rosario says. "I've really been able to structure my goal-setting process so that I can achieve results."
Drs. Mubang and Akusoba say they've benefitted from many mentors over the course of their medical education and training. Although very few of them have been Black male physicians, which is the reality of the moment. A 2021 study reported that only 2.6% of American physicians in 2018 are Black men.
"I think it's pretty important to be able to recognize that your mentors don't always have to look like you to be able to inspire and guide you," Dr. Akusoba says.
Still, everyone who attended the Black Men in Medicine event recognized the significance of being in an auditorium filled with men who did.
"I walked away from the night with straight-up excitement from meeting other people that are just like me and are trying to make it," Dr. Mubang says.
As the school diversifies, Mr. Jordan says it's critical that it also supports its minority students.
"It's imperative to show them, 'Hey, you're not alone,'" he says. "'You have not only your peers and the faculty and administration but also people at Temple clinical facilities who look like you, have the same experiences as you, and who can give you some pointers on what you should and shouldn't be doing.'"
Dr. Akusoba says he agrees with Dr. Mubang's message ("We all belong"), but says it needs to go further.
"We also need more of us. We need more Black male physicians," he says.
Greater diversity benefits the institution, its faculty and staff, and its and especially its patients, as emphasized in this 2020 study which showed patients who share the same racial or ethnic background as their doctor often have a better experience and outcomes.
"Trust is such a vital component of what we do. We're always looking for ways to build it," Dr. Akusoba says. "Increasing the number of underrepresented people in medicine is one way to do it. And not just Black males, but care givers of all ethnicities and races."