Dr. Toby Eisenstein Honored at Portrait Unveiling
POSTED ON
October 21, 2019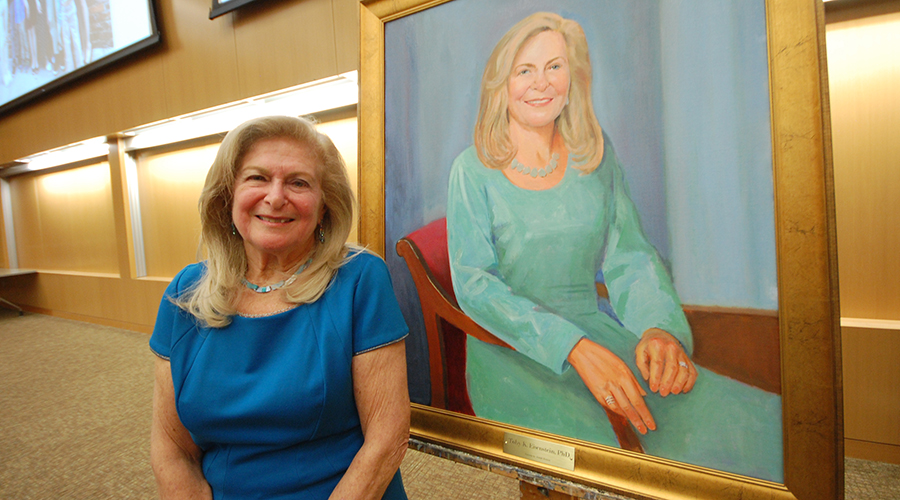 At a Lewis Katz School of Medicine portrait unveiling on October 10, well over 100 attendees were treated to a journey through the life and mold-breaking career of one of the school's longest-serving faculty members.
The person leading the tour and the person being honored with the portrait were one and the same: Toby Eisenstein, PhD, Professor of Microbiology and Immunology and Co-Director of the Center for Substance Abuse Research at LKSOM.
"I'm a professor with a microphone, what can I say," Eisenstein joked early on in her 30-minute speech, which included a PowerPoint presentation.
She had plenty of material to work with.
As a young girl growing up in post-WWII America, society's expectation was that she would get married, have children and be a homemaker. Fortunately for medical science, she had very forward-looking parents.
"My parents had high ambitions for me to be educated, but they never pushed me into a particular career," she says.
With an undergraduate degree in hand from Wellesley College and an encouraging husband, Dr. Eisenstein went on to earn her PhD at Bryn Mawr College in 1969. In September of that year, she was hired at Temple for a temporary, one-year job as a combination postdoctoral fellow/instructor. She's never left. 
Expectations of a junior faculty member in those days were 60- to 80-hour work weeks in the lab. After all, you had to prove you were serious. She had her first child in 1970 – "obvious proof I wasn't serious," she cracked – and went on to a second and third. All the while, she balanced the same work/life issues many women still face today.
As the years went by, her career moved in directions she hadn't anticipated.
"Temple provided me a home, but my duties weren't what I expected," she said. "I had envisioned myself as an educator. I thought I would teach and have a laboratory where I would train young scientists. I never expected that to have a career in research I would need to become an entrepreneur and find a way to bring in enough money to fund my lab and support my students and staff."
She applied for and received her first NIH grant in 1972 and has been continuously funded since. The ensuing decade saw Dr. Eisenstein get involved with several topical lines of research, including basic science research to understand the immune response to the bacterium that causes typhoid fever in order to develop a better typhoid vaccine, and vaccine studies on Legionnaires' disease and Group B streptococci. 
The intersection of IV drug use and HIV in the 1980s led her to team up with Temple colleague Martin Adler, PhD, on the effects of drugs-of-abuse on immune responses and infection. In 1991, the NIH awarded a large grant to Dr. Adler, with Dr. Eisenstein and others as collaborators, to study the effect of opioids on immune response. This helped lead to the founding of LKSOM's Center for Substance Abuse Research in 1998, which Dr. Eisenstein co-directs. Its mission is to discover the biological basis of addiction. Dr. Eisenstein continues to work on morphine-induced immunosuppression, tolerance, and renewed immunosuppression after withdrawal.
Today, 50 years after stepping foot on the Temple Health Sciences campus, Dr. Eisenstein is regarded by all as a role model; a gifted teacher; a much-loved wife, mother and grandmother; a pioneering scientist; and a legitimate "Temple giant."
"Temple has allowed me to pursue my research interests, teach students and have a varied, stimulating life. What better way to wake up every day than to look over the data, make a new hypothesis, solve a problem, or think about how to make a topic interesting to a group of students. I thank Temple for supporting me and for providing an environment where I could succeed."
To honor Dr. Toby Eisenstein, consider making a gift to the Center For Substance Abuse Research by visiting giving.temple.edu/CSAR.