A Coup for Two: Juarez and McAuliffe, Katz Medical Students, Named NIH Scholars
News
November 28, 2022
It is a momentous year for Jordan Juarez and Danielle McAuliffe, rising fourth-year MD candidates at the Lewis Katz School of Medicine. Both are scholars in the National Institutes of Health Medical Research Scholars Program (MRSP).
"MRSP is a rigorous, yearlong, full-time program designed to prepare medical, dental, and veterinary students for careers as clinician-scientists. To be accepted is a coup for Mr. Juarez and Ms. McAuliffe – and for Temple, too. We are so proud," says Amy J. Goldberg, MD, FACS, Dean of the Lewis Katz School of Medicine.
The MRSP was created 10 years ago to better serve tomorrow's public health, building on a 25-year legacy that combines and re-envisions two highly successful NIH training initiatives that operated in parallel until 2012, the Howard Hughes Medical Institute-NIH Research Scholars Program and the Clinical Research Training Program.    
"The future of medicine hinges upon clinician-scientists who will make and translate discoveries at the bench, achieve success against rare and refractory diseases, and address disparities in health and medicine," says MRSP Director Thomas Burklow, MD.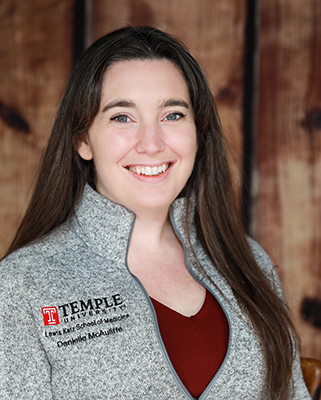 These are precisely the aims that Ms. McAuliffe and Mr. Juarez intend.
Ms. McAuliffe will devote her career to improving clinical outcomes for patients with neurological and developmental disabilities.
Mr. Juarez will devote his to internal medicine -- and to the research, practice, and promotion of equitable care for all communities.
Both students have already been working toward these goals for years – and have made impressive strides. They have participated in multiple research studies with their mentors that have resulted in abstracts and/or publications, adding knowledge to their respective fields. They have presented their findings at significant meetings and conferences. They have held leadership roles in nonprofit organizations that champion their "causes." Both have even founded organizations.
As Dean Goldberg said, "their accomplishments belie their young years – and MRSP scholarship will take their development to even higher levels."
As MRSP scholars, Ms. McAuliffe and Mr. Juarez are pursuing individual, custom-tailored research programs under the guidance of NIH investigators whose expertise aligns with their goals. The students are presenting periodic updates on their progress; attending lectures on the discovery process, clinical protocol development, bioethics, science policy, and emerging technologies; participating in clinical teaching rounds, journal clubs, workshops, and networking sessions. In addition, each is working with an advisor (also an established NIH investigator) to detailed career development plans.
"The MRSP is a transformational opportunity and will undoubtedly enrich our academic journeys," says Mr. Juarez.
Journeys that, in many ways, both students seem born for.
Deep Roots
As the older sister of a sibling with Down Syndrome -- and as a long-time Special Olympics volunteer -- Ms. McAuliffe came to medical school with a passion for working with people with special needs.
She also came with a degree in bioengineering (University of Maryland) and four years of experience as a research assistant at the Kennedy Krieger Institute (Baltimore, MD), where she studied the sensorimotor systems of children with attentional and developmental disabilities.
Her work at Kennedy Krieger resulted in the publication of novel biomedical information – and something else quite important: "the realization that I want to become a physician scientist," Ms. McAuliffe said.
With Temple's postbaccalaureate program, three years of medical school, an impressive list of extracurricular research projects and class audits, volunteer work with Special Olympics and International Healthy Athletes Program – and the founding of the Temple chapter of the American Academy of Developmental Medicine and Dentistry (AADMD) -- that journey is well underway.
As an MRSP scholar, she is deepening her investigation into how alterations in epileptic networks manifest and how they relate to clinical diagnoses and treatments.    
Each MRSP scholar works with an established NIH-based investigator. Ms. McAuliffe's mentor is Dr. Zaghloul, in the functional neurosurgery section of the National Institute of Neurological Disorders, where his lab focuses on investigating memory and cognition in patients with intractable epilepsy.
McAuliffe's path has been a natural evolution. Likewise for Mr. Juarez.
He grew up in a large Mexican American family in the primarily Spanish-speaking community of Chula Vista, California, and was made aware of health disparities by way of his grandmother's story.
"Her story inspired me to pursue medicine," Mr. Juarez says, telling the story of a brave young woman with only a high school education who immigrated to the United States from Mexico in 1960, "a low-wage factory seamstress with limited English proficiency who had challenges accessing health care. Relying on "word-of-mouth" for health information, she ultimately developed type II diabetes," he says.
The avoidable health outcomes experienced by his family remain a reality for many minority and underserved communities. This inspired Mr. Juarez to set his sights on becoming a physician to help address health disparities prevalent in his community. 
As an undergraduate at the University of Southern California (USC), he was introduced to an organization that has been a centerpiece of his life ever since:  the Latino Medical Student Association (LMSA). As a college student, he could not join LMSA officially – but he did something even better: create an organization with a similar mission to encourage Latinx undergraduates at USC to pursue healthcare careers. It's called USC Latino Students in Medicine. 
Now an MD/MBA candidate at Temple (with a master's degree in global medicine, Mr. Juarez served as Co-President of the Katz School's LMSA chapter during his first year of medical school and is currently Co-Director of LMSA Northeast, a nonprofit organization that represents more than 1,000 student members from Washington, DC, to Maine. He has been extremely active in LMSA and in other organizations that help disenfranchised patients. Like Ms. McAuliffe, he has also conducted multiple extracurricular research projects during medical school.
High Praise
Eliseo J. Pérez-Stable, MD, Director of the National Institute on Minority Health and Health Disparities at the NIH, is Mr. Juarez's research mentor this year.
"Dr.  Pérez-Stable – and my MRSP career-development advisor, Dr. Christine Grady, Chief of the Department of Bioethics at the NIH Clinical Center – are fantastic," Mr. Juarez says. "Our work focuses on utilizing large national data bases to investigate health care disparities in racial and ethnic minority populations across the United States, with an emphasis on understanding the role that social determinants of health have on chronic conditions such as cardiovascular disease and asthma."
Ms. McAuliffe is just as awed by her MRSP mentors and advisors.
Moreover, both students sparkle with praise for the Katz School faculty who encouraged them to apply to the MRSP in the first place and sent letters of support.  These include Scott K. Shore, PhD, Associate Dean of the Katz School's Graduate and Postbaccalaureate Programs (for Ms. McAuliffe) and Ana M. Gamero, PhD, Associate Professor, Medical Genetics and Molecular Biochemistry, and Oneida Arosarena, MD, Professor, Head and Neck Surgery (for Mr. Juarez).
Dr. Shore's letter talks about Ms. McAuliffe's "sophisticated skills, intellectual curiosity, thoughtful insight, and dedication to becoming a physician scientist."
Drs. Arosarena and Gamero call Mr. Juarez "a strong, emerging leader who is devoted to improving the health of underrepresented communities."
The students are extremely grateful.
"Temple faculty have not only supported us in receiving these fellowships but have also encouraged us to pursue careers in academic medicine," Mr. Juarez says.
"They devote themselves fully to students and our career passions," Ms. McAuliffe says.
- Giselle Zayon