Congratulations, Class of 2023!
News
May 25, 2023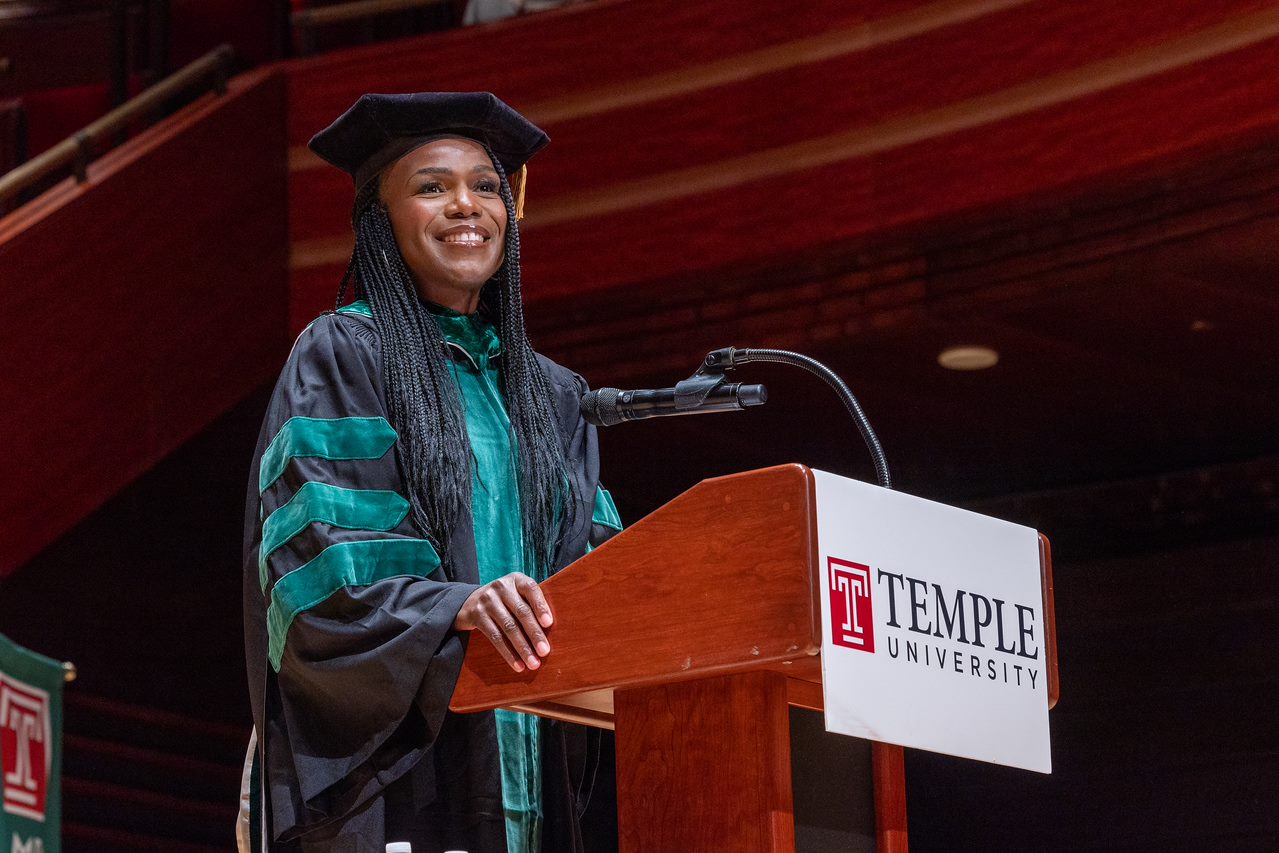 Medical school is a daunting prospect under the best of circumstances. Pile on a pandemic and a relentless succession of cultural and global upheaval and it could easily become an impossible undertaking. And yet, the Lewis Katz School of Medicine Class of 2023 not only endured all of that, it thrived.
The achievement was celebrated on May 5,2023 during the Katz School's 121st commencement, held at the Kimmel Center for the Performing Arts, in Center City, and live streamed on the school's YouTube channel.
"Your commitment to your education, each other, and our community never wavered," said Amy Goldberg, MD, FACS, the Marjorie Joy Katz Dean of the Lewis Katz School of Medicine. "In fact, you engaged. You stayed the course. You met, often exceeded, the demanding requirements of your degree programs.
"As if that wasn't enough, many of you participated in advancing our school and advancing equity in our community," she continued. "This is telling and important. But, of course, not surprising to me because, after all, you are 'Temple-made.'"
She credited the graduates with helping to draw her attention to areas of need, both at the school and among its surrounding community, when she was named interim dean in April 2021.
"It's the selflessness I've witnessed in this class that makes me proud and gives me hope for the future," Dr. Goldberg said.
And she encouraged them to trust those instincts – above all else – as they move into the next phase of their medical training and careers.
"No matter what is occurring in your life, or in the world, when you are with a patient, that patient is the center of the world," she continued. "So, doctor with the full powers of medicine. And with the full powers of your humanity."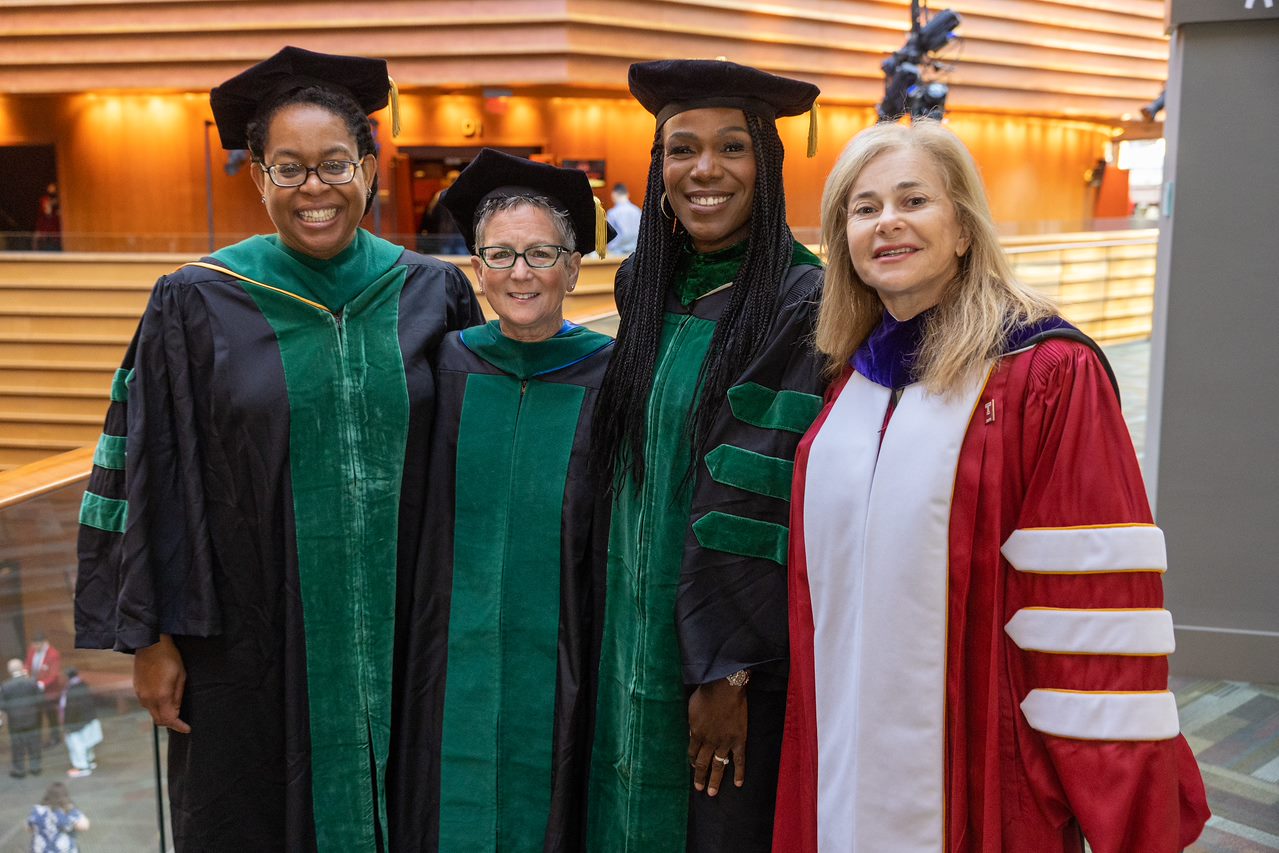 The ceremony's keynote speaker was Ala Stanford, MD, FACS, FAAP, the first Black female pediatric surgeon trained entirely in the United States and a North Philadelphia native. Dr. Stanford gained international recognition when she founded the Black Doctors COVID-19 Consortium, a grassroots organization that provided education about the virus, testing, contact tracing, and vaccination to more than 100,000 people in communities devoid of access to care and resources.
Dr. Stanford subsequently opened the Ala Stanford Center for Health Equity on Lehigh Avenue in an effort to provide better healthcare to the communities that now have the lowest life expectancy in the city.
She, too, reminded the graduates of all the turmoil that's occurred around them over the last few years. Much of it remains today and is intensifying.
"Any one of these issues in crisis would have been enough," Dr. Stanford said. "But through it all, you sit, ready to take on the world. Ready to tackle the next event and priority using the experiences that you've learned, undoubtedly, the things you have seen, which will help you be the best providers for your patients."
The value of the education the graduates received at the Katz School lies, in part, in the diversity of the teachers who taught them, the classmates they learned alongside, and the patients they treated, Dr. Stanford said.
"There is beauty and power in differences of thought, of culture, language, ethnicity, and economics," she said. "The exposure to the differences allows you to think about things differently, through a different lens, and share that perspective with others to foster a better understanding that also breeds empathy. And that empathy does lead to better health outcomes, as we treat our patients the way we would want to be treated, or someone you love."
Dr. Stanford encouraged the graduates to advocate for themselves and their patients. Doing so, she said, will mean approaching their work with compassion – and an intolerance for bias.
"We all have our inherent biases," she said. "That's just being human. But when they are a detriment, that is a problem. Use your moral compass. And when you see care that doesn't smell right, that's not what you would want for someone you love, please say something. We healthcare providers, we have to hold one another accountable."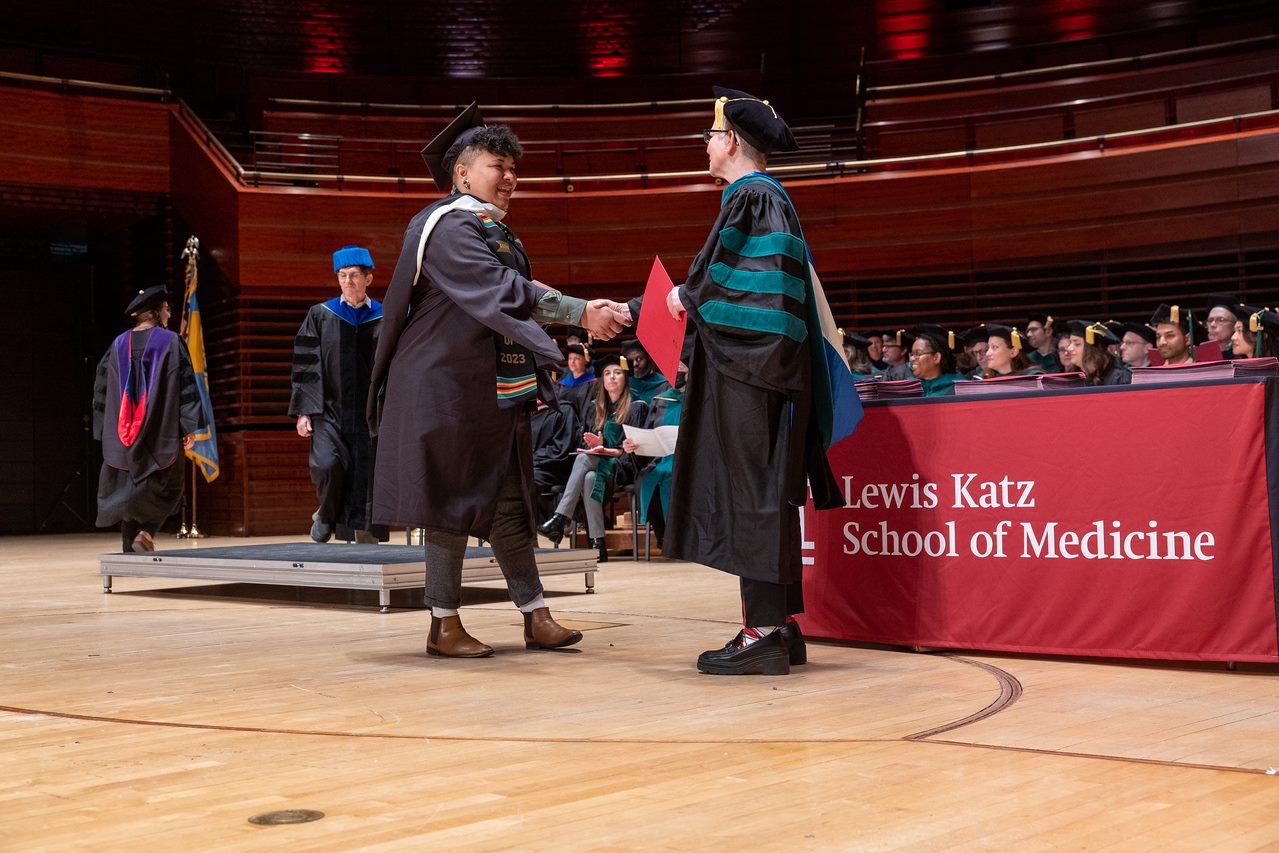 As is tradition, the graduating MD class dedicated its yearbook, The Skull, to "an individual who has been especially significant in their education and lives as medical students." This year's dedicatee was Steven N. Popoff, PhD, Chair and Professor of the Department of Biomedical Education and Data Science and Professor of Orthopaedic Surgery and Sports Medicine.
"With decades of cellular and molecular research experience, Dr. Steven Popoff was the perfect person to provide us with the foundation we would use for the rest of our lives," said Alex Rizzo, MD, Editor of The Skull. "As someone who truly teaches from the heart, his enthusiasm transformed difficult topics into content we could digest and build off of."
Dr. Popoff, who described the honor as "one of the highlights of my career," invited the graduates to approach their training and work with the same excitement.
"As you move ahead in your careers, I think it is important that you also display a passion for your own work," he said. "Because that passion or enthusiasm will be contagious to those around you. You will be perceived by your patients as someone who is competent, confident, and compassionate. A doctor who truly cares about them and their health."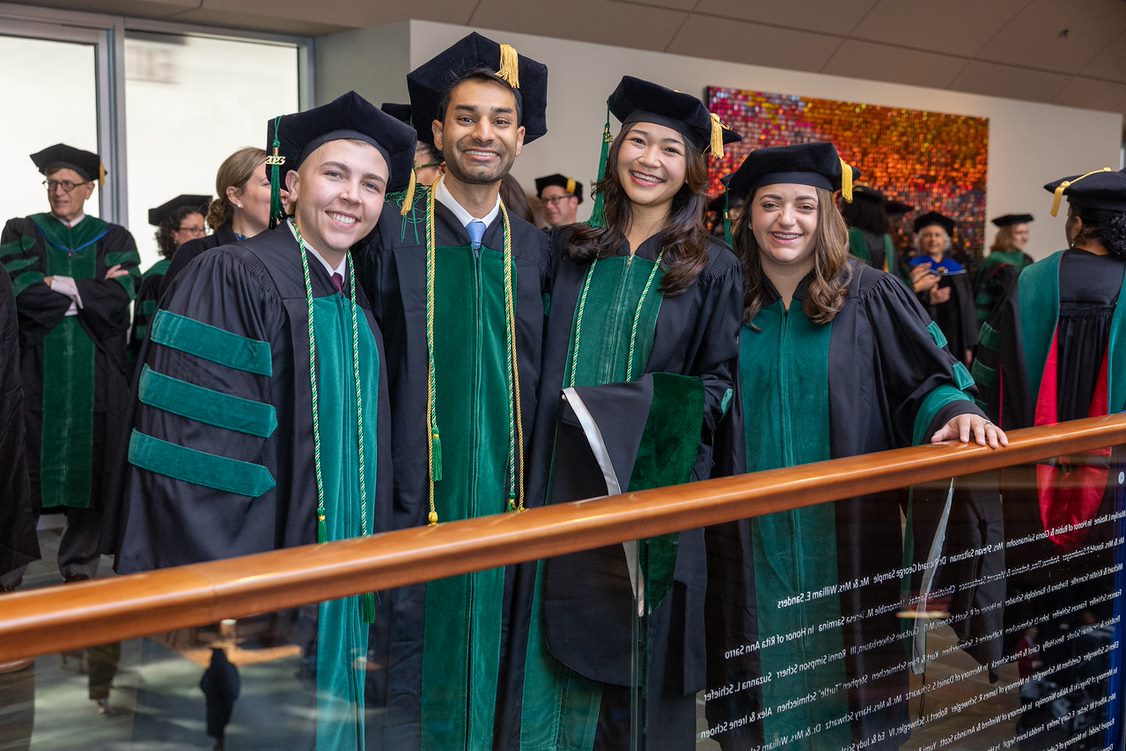 While the turmoil of recent years was revisited again and again during the ceremony, Theresa Tran, MD, Co-Class President, made clear that the graduates were only just beginning to reckon with how much they've changed as a result of it.
"Beyond the medical knowledge we worked so hard to acquire, we also learned cultural humility, the understanding of people's differences and life circumstances," she said. "We learned humanity – for patients and for each other as colleagues. We learned how to listen, how to deduce and reason, and how to empathize.
"From confronting the opioid epidemic alongside the global pandemic to coming together during social and political movements, we not only learned to become intelligent physicians, educators, and scientists, we became agents of change, voices that advocate for our education, our patients, and for justice," Dr. Tran continued. "We became community members, supporting our neighbors and local businesses. As the world underwent historic change, we engaged with it all while experiencing our own personal journeys through medicine."
Arnav Shah, MD, Co-Class President, offered insight into how personal the journey can be. After his family medicine rotation, Dr. Shah said the site director encouraged him to "be mindful of managing uncertainty in medicine."
"In this area, I struggled greatly," Dr. Shah said. "How to effectively counsel patients with frightening new diagnoses. How to effectively prepare for a new rotation. And how to even pick the specialty that will define my career."
(He selected Otolaryngology. He'll begin his residency at Rush University Medical Center, in Chicago, this summer.)
Dr. Shah said he eventually grew to understand that he would need to embrace uncertainty, just as he'd learned to master the technical aspects of medicine, to become the physician he believes he can be.
"As we continue to grow and learn as doctors, we will not only confront situations that force us to assess a diagnosed world in terms that aren't simply black and white, right or wrong," he said. "We must therefore strive to find beauty and meaning in gray areas and revel in the nuances and complexities that make medicine not just a science but an art."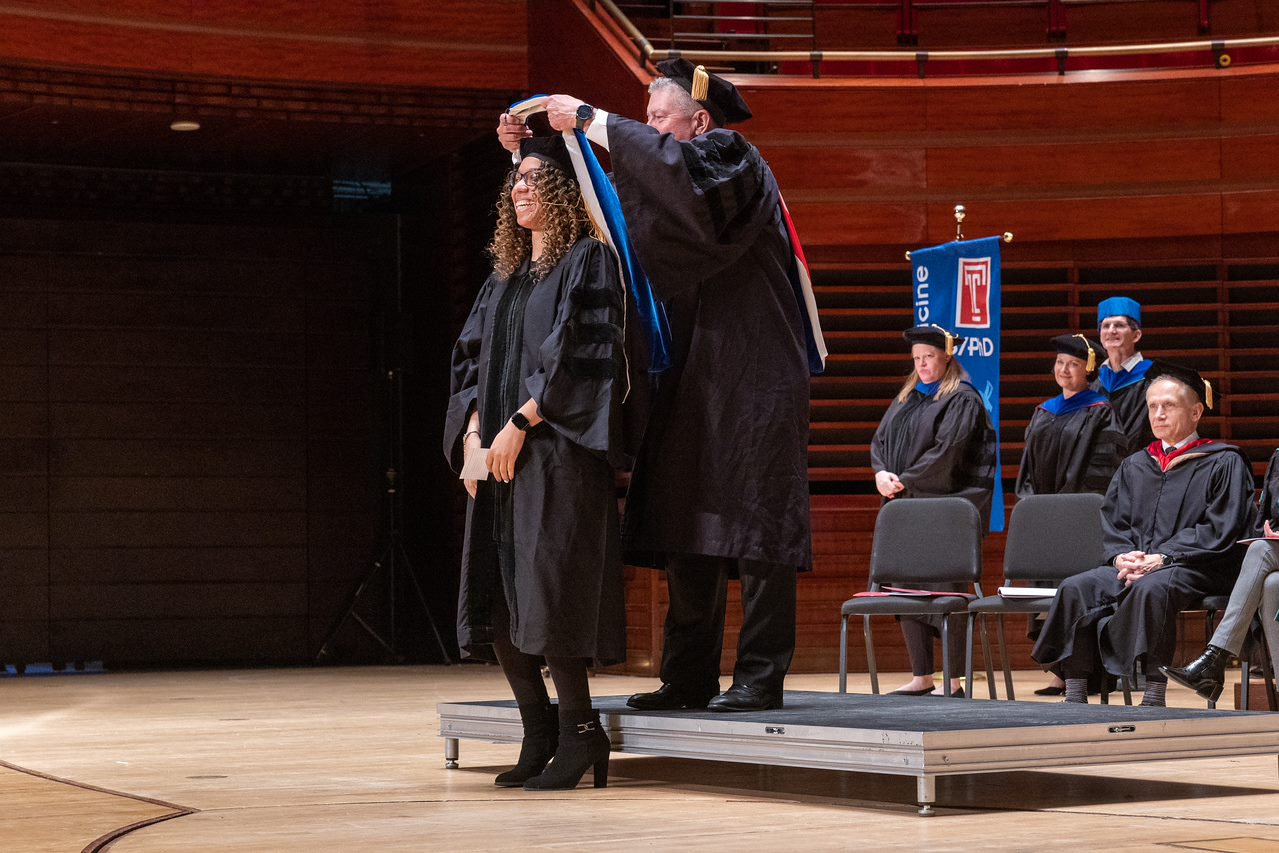 "Temple-made" is a phrase that was cited several times during the commencement and hashtagged in countless social media posts after the ceremony. It's perhaps most commonly associated with grit, but each student develops their own relationship with it during their tenure at the school.
Khyati Somayaji, MD, said, for her, "'Temple-made' stands alone as a mark of confidence, humility, and passion the Lewis Katz School of Medicine has instilled in me the last four years."
These qualities became apparent through her interactions with peers and faculty, who she lauded for their "dedication to teaching and openness inside and outside the hospital," as well as opportunities to support the Katz School's neighbors, such as the Zion Baptist Church's Zion Cares program and the student-run THRIVE Clinic organized by the Temple Emergency Action Corps (TEAC).
Daniel Farkas, PhD, received a PhD in Biomedical Sciences at the May 5 ceremony. A self-described "Temple lifer" because he earned both his undergraduate and graduate degrees at the university, Dr. Farkas says  he formed a personal connection to the phrase, primarily as a result of successfully completing 10 consecutive years of immensely challenging schoolwork.
"There certainly were lots of times when, sure, I wanted to stop and give up," he said. "But there's just something about the Temple culture that just kind of ingrains in you: Do what it takes to get through. There's just this mental toughness that everyone at Temple seems to have."
Following the commencement, Farkas was filled with conflicting emotions. On one hand, because he proceeded immediately to graduate school after receiving his bachelor's degree, his pursuit of a PhD feels much longer – and draining – than it was. On the other, he was astonished and proud that he earned it in only four-and-a-half years, especially considering what the last few years have looked like.
"With something like this, that's so long in the making, there's very much a butterfly effect," Dr. Farkas said. "So, I'm super-happy to have been surrounded by the people I was because they helped make everything happen."