Congratulations, Class of 2018!
POSTED ON
May 23, 2018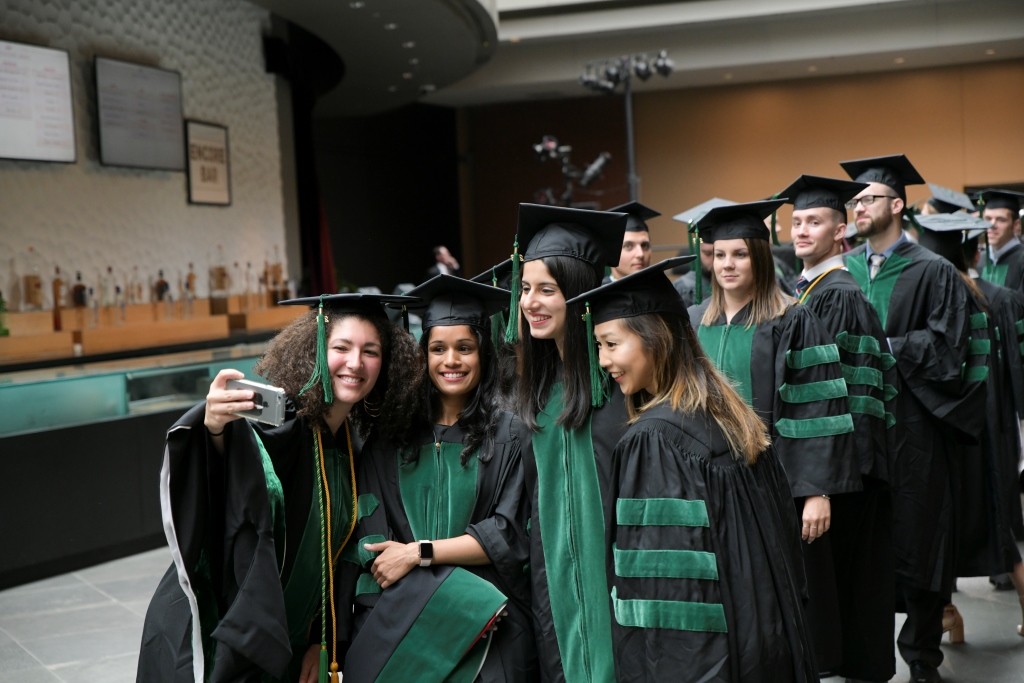 Pride, satisfaction and outright joy swelled at different turns of the 116th commencement for the Lewis Katz School of Medicine (LKSOM) at Temple University, held this year at the Kimmel Center for the Performing Arts in Center City. But even more prominent was the encouragement the various speakers offered, telling the graduates that there is still much work to be done.
Keynote speaker Laurie H. Glimcher, MD, the first female President and CEO of the Dana-Farber Cancer Institute, challenged the graduates to embrace their nervousness about the rigors ahead and the confidence that will be instilled in them with their new degrees in hand. They'll change you, she said, but it's critical to remember through such a maturation that the doctor and patient, at their essence, are not so different.
"Patients see their lives as stories, too," only theirs are interrupted by illness and injury, Dr. Glimcher said. "And what they need most of all is to be heard."
With all of the technological advances and knowledge at a doctor's disposal today, patience, she said, is a doctor's greatest skill, and you "develop patience by listening to patients. By listening, we come to understand what health and illness means to each patient."
Stephanie Barbetta, MD, Assistant Dean for Student Affairs and Career Development at LKSOM, reminded the graduates that while the commencement marked their first steps on a new path, the direction and destination were up to them—just in case two decades of schooling may have convinced them otherwise.
"Don't stay too rigid to the envisioned path. Do not simply follow a path; create one," said Dr. Barbetta, to whom the 2018 edition of the LKSOM yearbook, Skull, was dedicated, largely because of her willingness to listen when it was most needed.
"As a residency advisor, she gave each frantic student the individual attention he or she needed," said Haviva Garrett, MD ('18), Skull 2018's editor.
In crafting his commencement speech, class President Andrew Esposito, MD ('18), said he polled various classmates about the sources of their frantic feelings, their moments of deep doubt. The responses ranged from academic insecurity to financial strain. The common thread, Dr. Esposito said, was the support of family, friends and advisors that helped see everyone through. He added "each other" because the Class of 2018 became its own support system.
In one last rallying cry, Dr. Esposito said, "We are 'Temple-made.' Let's show the world what that means."
Larry R. Kaiser, MD, FACS, Dean of the LKSOM and President and CEO of the Temple University Health System, emphasized a similar sentiment earlier in the ceremony.
"Reputation is an identification card issued to every single one of us—whether we like it or not," Dr. Kaiser said. "It's like a passport composed of judgments and assessments that will grant you access to certain people, places and privileges. Or block you from them.
"Also remember that your actions represent something far greater than yourself," he said. "More than you might imagine, the selfless, sometimes heroic, and mostly unsung things you'll do every day in the months and years ahead will define medicine's reputation. And the reputation of the city where you work and live, the reputation of your hospital or organization. You are a representative of all of these things now. And you have the power to move the needle of reputation during a time of rapid technological, scientific and societal change."
The Class of 2018 hailed from 106 different undergraduate institutions, 22 states, and 30 countries. In all, 254 diplomas were awarded, including 216 Doctor of Medicine, three Master of Arts, three Master of Science, 18 Doctor of Philosophy, two Doctor of Medicine and Doctor of Science, and 12 Doctor of Medicine and Master of Arts.