Annual Women's Faculty Workshop Explores 'Wellness in Academic Medicine'
News
May 29, 2019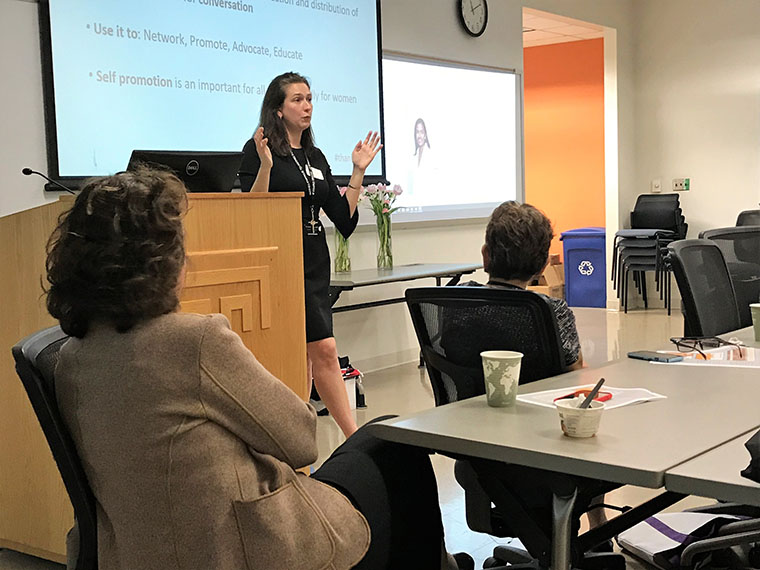 Nearly 50 attendees participated in the Lewis Katz School of Medicine's 27th annual Women in Medicine Faculty Development Workshop on May 17.
This year's theme was "Wellness in Academic Medicine: Tools to Survive and Thrive in Uncertain Times." Sponsored by the Committee on the Status of Women Faculty, the program serves as a day of education, advice and inspiration for female faculty members, residents and students.
Before a series of speakers took to the podium, Susan E. Wiegers, MD, FACC, FASE, President and CEO of the Temple Faculty Practice Plan, presented Mentoring Awards to:
Mary Barbe, PhD, FAAA, Professor of Anatomy and Cell Biology and Director of the Shared Microscope Imaging Center in the Department of Anatomy and Cell Biology. Dr. Barbe has an outstanding record as an educator and a researcher with multiple NIH awards. Since 2004, 29 of Dr. Barbe's mentees have won research awards.
Jamie Garfield, MD, Associate Professor of Medicine in the Department of Thoracic Medicine and Surgery, where she is a critical care and pulmonary attending and Co-director of the Invasive Pulmonary Procedures Laboratory. Dr. Garfield redesigned the quality improvement curriculum and recently led an interdisciplinary team that redesigned the patient identification process during the "hack-a-thon" at the most recent American College of Physicians Conference.
A Rising Star Award was also given to Sabrina Islam, MD, MPH, Assistant Professor of Medicine in the Section of Cardiology, who founded Women in Cardiology committee. Dr. Islam is also a member of the section's structural heart team and the Temple Young Innovators committee.
During the day, Dr. Wiegers, on behalf of Heather Clauss, MD, Associate Dean for Faculty Affairs, announced Temple's signatory commitment to the "Times Up Healthcare" movement to improve gender equity in healthcare organizations.
Following the award presentations, Ellen Tedaldi, MD, FACP, Professor of Medicine and Chair of the Committee on the Status of Women Faculty, drew the audience's attention to a projection screen on which an "Honor Roll of Women" played on a loop. Comprised of female physicians from throughout Temple Health, the slides featured headshots and a list of each physician's most notable achievements from the last year.
For the remainder of the morning, speakers led a succession of workshops around the Wellness in Academic Medicine theme. Topics included time management tactics, how to have "fierce conversations," social media for networking and promotion, and resiliency and wellness.