All of Us: Temple Takes Aim at Health Disparities through Nationwide Precision Medicine Effort
News
July 18, 2019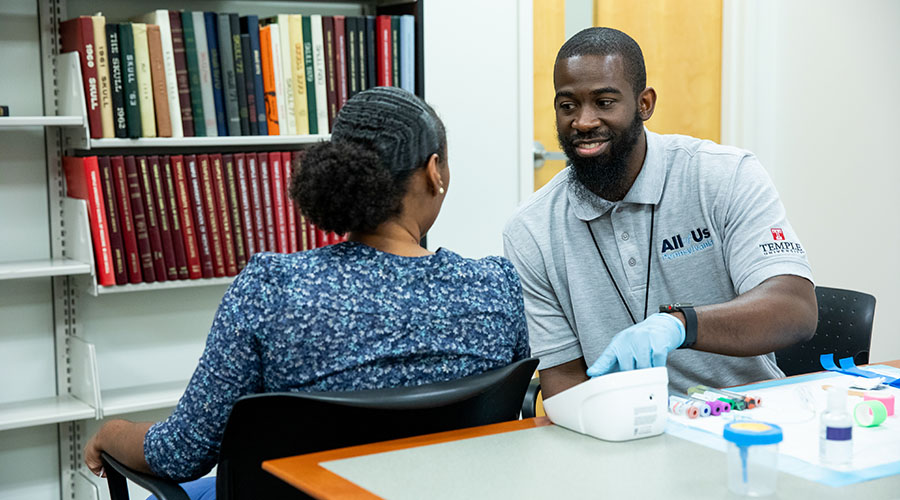 The average life expectancy for people living in the Strawberry Mansion section of Philadelphia is 64. Just down the road, on the Main Line, it is 93. Inequalities in income, employment and education and other social determinants are significant contributors to that startling disparity.
So too is predisposition to disease and responsiveness to treatment—factors which researchers hope to address by developing therapies which are targeted to genetic variations in human disease—an endeavor known as precision medicine.
But minority populations are significantly underrepresented in genomic-based research, leaving a significant information gap for linking successful therapy to genetic variation.
The Lewis Katz School of Medicine (LKSOM) has joined with the National Institutes of Health (NIH) and the University of Pittsburgh as an open enrollment site to tackle this disparity through the All of Us Research Program—a historic nationwide effort to advance individualized prevention, treatment and care for people of all backgrounds through precision medicine.
"The overall aim is to enroll more than one million participants nationwide—including 100,000 or more Pennsylvanians—with a special focus on enrolling individuals from communities that have historically been underrepresented in research—making the program the largest, most diverse resource of its kind," said Larry R. Kaiser, MD, FACS, The Lewis Katz Dean at the School of Medicine, Senior Executive Vice President for Health Affairs at Temple University, and President and CEO of Temple University Health System.
An All of Us launch event, held on July 11 at LKSOM, brought members of the Temple community as well as Pennsylvania State Senator Sharif Street and the Rev. Steven Avinger, pastor of North Philadelphia-based Greater Saint Matthews Baptist Church, together to explain the importance of this research program for Philadelphia.
"This is an important occasion for Temple and the city," said Arthur M. Feldman, MD, PhD, Laura H. Carnell Professor of Medicine at LKSOM and All of Us Lead Investigator at Temple. "All of Us will provide a genetic database that will allow us for the first time to understand the relationship between genetics and both the causes and treatments of human disease. Having a center in North Philadelphia is of particular importance because it will allow us to address an important health disparity: the limited understanding of the genetic basis of disease in minority populations."
People ages 18 and older, regardless of health status, can participate in the program. During enrollment, they are asked to share health and lifestyle information through online surveys and electronic health records. At the time of enrollment, participants are also asked to provide blood and urine samples and basic physical measurements are obtained, including height, weight, girth and blood pressure.
The program's database will serve as the infrastructure for developing focused therapy for a host of human diseases.  
"Each individual participant in this national research effort is making a valuable contribution to scientific discoveries that will lead to better prevention, treatment and health for all of us and for future generations," said Susan G. Fisher, MS, PhD, Professor and Chair of the Department of Clinical Sciences at LKSOM and All of Us Co-Lead Investigator at Temple. "It is very important that our diverse Philadelphia community, particularly Blacks, Latinos, and other minority groups, join us in this investment in the future health of ALL people."
To learn more about the program and how to join, please visit JoinAllofUsPA.org.
Note: This study includes participation by the Lewis Katz School of Medicine at Temple University. It is not a clinical study administered by Temple University Health System or any of its affiliates.
Pictured: Dr. Arthur Feldman, Dr. Susan Fisher, and Bill Young (Director of Marketing and Communications, University of Pittsburgh Clinical and Translational Science Institute)