151 Temple Physicians Named "Top Doctors" by Philadelphia Magazine
POSTED ON
April 25, 2018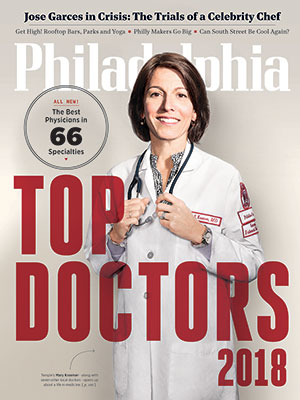 One hundred and fifty-one (151) Temple physicians have been named to Philadelphia magazine's "Top Doctors" list for 2018. Physicians on the list were nominated by their professional peers and practice at Temple University Hospital (TUH), Fox Chase Cancer Center (FCCC), Jeanes Hospital, Temple University Hospital-Episcopal Campus and in the community as part of Temple Physicians, Inc. (TPI).
"We are proud to have such a large number of Temple Health physicians selected to be part of this year's Philadelphia magazine 'Top Doctors' list," says Larry R. Kaiser, MD, FACS, President and CEO of Temple University Health System, Lewis Katz Dean of the Lewis Katz School of Medicine at Temple University and Senior Executive Vice President for Health Affairs at Temple University. "The 151 Temple physicians on this year's list represent 39 different medical specialties, and their recognition is further proof of the clinical excellence and innovative treatment options available to patients across Temple's healthcare enterprise."
The Temple doctors on this year's "Top Doctors" list represent the following specialties: Cardiac Electrophysiology; Cardiovascular Disease; Colon & Rectal Surgery; Diagnostic Radiology; Endocrinology, Diabetes & Metabolism; Family Medicine; Gastroenterology; Gynecologic Oncology; Hand Surgery; Hematology; Hospice & Palliative Medicine; Infectious Disease; Internal Medicine; Interventional Cardiology; Maternal & Fetal Medicine; Medical Oncology; Nephrology; Neurological Surgery; Neurology; Nuclear Medicine; Obstetrics & Gynecology; Ophthalmology; Orthopaedic Surgery; Otolaryngology; Pain Medicine; Pathology; Pediatric Otolaryngology; Pediatrics; Physical Medicine & Rehabilitation; Plastic Surgery; Pulmonary Disease; Radiation Oncology; Rheumatology; Surgery; Thoracic & Cardiac Surgery; Urogynecology/Female Pelvic Medicine & Reconstructive Surgery; Urology; Vascular & Interventional Radiology; and Vascular Surgery.
Temple's Dr. Mary Kraemer (pictured) shares her story for Philadelphia Magazine "Top Doctors" 2018 list, which names 151 Temple physicians.
The doctors included on this year's "Top Docs" list are:
Abbas El-Sayed Abbas, MD, MS, FACS – Thoracic & Cardiac Surgery (TUH/FCCC)
René J. Alvarez, Jr., MD – Cardiovascular Disease (TUH/Jeanes)
Penny R. Anderson, MD – Radiation Oncology (FCCC)
Jonathan R. Anolik, MD, FACP, FACE – Endocrinology, Diabetes & Metabolism (TUH)
S. Ausim Azizi, MD, PhD – Neurology (TUH/Jeanes)
Manavendra Bakhshi, MD – Cardiovascular Disease (TUH-Episcopal/TPI)
Donna J. Barbot, MD – Surgery (Jeanes/TUH)
Simeon Bardin, MD – Internal Medicine (TPI)
Riyaz Bashir, MD, FACC, RVT – Cardiovascular Disease (TUH/Jeanes)
William Battle, MD – Gastroenterology (Jeanes)
David Becker, MD, FACC – Cardiovascular Disease (TUH/Jeanes/TPI)
Cynthia A. Bergman, MD – Gynecologic Oncology (FCCC/TUH)
Richard J. Bleicher, MD, FACS – Surgery (FCCC/Jeanes)
Marissa A. Blum, MD, MSHPR – Rheumatology (TUH)
Robert Boova, MD – Thoracic & Cardiac Surgery (Jeanes/TUH)
Alison Branigan, MD, FACC – Cardiovascular Disease (Jeanes/TPI)
Lawrence Brent, MD – Rheumatology (TUH)
Michael Bromberg, MD, PhD – Medical Oncology (TUH)
David Y.T. Chen, MD, FACS – Urology (FCCC/Jeanes)
David E. Chinn, MD, FACC – Cardiovascular Disease (Jeanes/TPI)
Eric T. Choi, MD – Vascular Surgery (TUH/Jeanes)
Christina S. Chu, MD – Gynecologic  Oncology (FCCC)
Marcin A. Chwistek, MD, FAAHPM  – Pain Medicine (FCCC)
Gary S. Cohen, MD – Vascular & Interventional Radiology (TUH/FCCC)
Serban Constantinescu, MD, PhD – Nephrology (TUH)
Harry S. Cooper, MD – Pathology (FCCC)
Joshua M. Cooper, MD – Cardiac Electrophysiology (TUH/Jeanes)
Francis C. Cordova, MD – Pulmonary Disease (TUH)
Deborah Crabbe, MD – Cardiovascular Disease (TUH)
Gerard J. Criner, MD, FACP, FACCP – Pulmonary Disease (TUH)
Paul G. Curcillo II, MD, FACS – Surgery (FCCC/Jeanes)
Gilbert D'Alonzo, DO – Pulmonary Disease (TUH)
John M. Daly, MD, FACS – Surgery (FCCC/TUH)
Mary B. Daly, MD, PhD, FACP – Medical Oncology (FCCC)
Thomas F. Diaz, MD – Cardiovascular Disease (Jeanes/TPI)
Martin J. Edelman, MD – Medical Oncology (FCCC)
Daniel Edmundowicz, MD, MS, FACC – Cardiovascular Disease (TUH/Jeanes)
Michael Edwards, MD, FACS – Surgery (TUH/Jeanes)
Hormoz Ehya, MD – Pathology (FCCC)
Cherie P. Erkmen, MD – Thoracic & Cardiac Surgery (TUH)
Kadir Erkmen, MD – Neurological Surgery (TUH/Jeanes)
Nestor F. Esnaola, MD, MPH, MBA, FACS – Surgery (FCCC)
Daniel D. Eun, MD – Urology (TUH)
Kathryn A. Evers, MD, FACR – Diagnostic Radiology (FCCC)
Jeffrey M. Farma, MD, FACS – Surgery (FCCC/TUH)
Richard I. Fisher, MD – Medical Oncology (FCCC)
David Fiss, MD – Interventional Cardiology (TUH/Jeanes)
Paul Forfia, MD – Cardiovascular Disease (TUH)
Frank Friedenberg, MD, MS(Epi) – Gastroenterology (TUH)
Henry C. Fung, MD, FACP, FRCPE – Hematology (FCCC/Jeanes) 
Garo Garibian, MD, FACC – Cardiovascular Disease (Jeanes/TUH)
Susan Gersh, MD, FACP, DABIHM – Internal Medicine (TUH)
Carol Glowacki, MD, FACOG – Urogynecology/Female Pelvic Medicine & Reconstructive Surgery (TUH/Jeanes)
Laura Goetzl, MD, MPH – Maternal & Fetal Medicine (TUH)
Amy J. Goldberg, MD, FACS – Surgery (TUH)
Lori J. Goldstein, MD, FASCO – Medical Oncology (FCCC)              
Richard E. Greenberg, MD, FACS – Urology (FCCC/Jeanes)
Richard M. Greenberg, MD, FACC, FACP, FHRS, CCDS  – Cardiac Electrophysiology (TUH/Jeanes)
Alan D. Haber, MD, FCCP – Pulmonary Disease (FCCC)
Michael J. Hall, MD, MS – Medical Oncology (FCCC/TUH)
Marcia Halpern, MD – Neurology (Jeanes)
Shelly Hayes, MD – Radiation Oncology (FCCC)
Stephen J. Heller, MD – Gastroenterology (TUH)
Jeffrey D. Henderer, MD – Ophthalmology (TUH/Jeanes)
Enrique Hernandez, MD – Gynecologic Oncology (TUH)
Gail M. Herrine, MD, FACOG, IBCLC, FABM – Obstetrics & Gynecology (TUH)
Sharon J. Herring, MD, MPH – Internal Medicine (TUH)
Brenda Horwitz, MD – Gastroenterology (TUH)
Eric M. Horwitz, MD – Radiation Oncology (FCCC)
Karen L. Houck, MD, FACOG – Gynecologic Oncology (TUH)
Glenn Isaacson, MD, FACS, FAAP – Pediatric Otolaryngology (TUH)
Mercedes Jacobson, MD – Neurology (TUH/Jeanes)
Larry R. Kaiser, MD, FACS – Thoracic & Cardiac Surgery (TUH)
Lawrence Kaplan, MD, FACP – Internal Medicine (TUH)
Andreas Karachristos, MD, PhD, FACS – Surgery (TUH/FCCC)
Paul Karlin, DO – Pulmonary Disease (Jeanes/TUH/TPI)
Victor Kim, MD – Pulmonary Disease (TUH)        
Stephanie A. King, MD – Gynecologic Oncology (FCCC/Jeanes)
Benjamin Krevsky, MD, MPH – Gastroenterology (TUH)
Alexander Kutikov, MD, FACS – Urology (FCCC)
Miriam N. Lango, MD, FACS – Otolaryngology (FCCC/TUH)
Jeffrey C. Liu, MD – Otolaryngology (TUH/FCCC)              
Bennett Lorber, MD, MACP – Infectious Disease (TUH)
Matthew Lorei, MD – Orthopaedic Surgery (TUH)            
Ian Maitin, MD, MBA – Physical Medicine & Rehabilitation (TUH)
A. James Mamary, MD – Pulmonary Disease (TUH)
Nathaniel Marchetti, DO – Pulmonary Disease (TUH)
Lainie P. Martin, MD – Medical Oncology (FCCC)
David Masiak, DO, FCCP, FACC, FACP – Cardiovascular Disease (Jeanes/TUH)     
Steven J. Mattleman, MD, FACC – Cardiovascular Disease (Jeanes/FCCC)
Alan Maurer, MD – Nuclear Medicine (TUH)
Michael Metro, MD – Urology (TUH)
Barton N. Milestone, MD – Diagnostic Radiology (FCCC)
Michael M. Millenson, MD, FACP – Hematology (FCCC) 
Juhi Mittal, MD – Medical Oncology (TUH/FCCC)              
Curtis Miyamoto, MD – Radiation Oncology (TUH)
Jack H. Mydlo, MD – Urology (TUH)
Minhhuyen T. Nguyen, MD, AGAF, FACP – Gastroenterology (FCCC)
Mark F. Obenrader, MD, PhD – Family Medicine (Jeanes/TPI)
Brian O'Murchu, MD – Interventional Cardiology (TUH)
Anuradha Paranjape, MD, MPH, FACP – Internal Medicine (TUH)
Henry P. Parkman, MD – Gastroenterology (TUH)
Ted M. Parris, MD, FACC – Interventional Cardiology (Jeanes/TUH)
Rosaleen B. Parsons, MD, FACR, FSAR – Diagnostic Radiology (FCCC)
Sameer A. Patel, MD, FACS – Plastic Surgery (FCCC/Jeanes)
Matthew Philp, MD – Colon & Rectal Surgery (TUH/Jeanes)
Elizabeth R. Plimack, MD, MS – Medical Oncology (FCCC)             
Natasha Pollak, MD – Otolaryngology (TUH/Jeanes)                       
Michel A. Pontari, MD – Urology (TUH)
Joseph Queenan, MD – Neurological Surgery (TUH/Jeanes)
Juan Diaz Quinones, MD, FACOG – Obstetrics & Gynecology (TUH)
A. Koneti Rao, MD – Hematology (TUH)
Adam C. Reese, MD – Urology (TUH)
John A. Ridge, MD, PhD, FACS – Surgery (FCCC/Jeanes)
Pamela Roehm, MD, PhD – Otolaryngology (TUH/Jeanes)
Lauren Rosenberg, MD – Family Medicine (TUH/TPI)
Howard M. Ross, MD, FACS, FASCRS – Colon & Rectal Surgery (TUH)
Ronald N. Rubin, MD – Hematology (TUH)
Stephen C. Rubin, MD – Gynecologic Oncology (FCCC)
Denise Salerno, MD, FAAP – Pediatrics (TUH)
Rafik Samuel, MD – Infectious Disease (TUH/Jeanes)
Aditi Satti, MD – Pulmonary Disease (TUH)
Stanley Savinese, DO, FAAHPM – Hospice & Palliative Medicine (TUH)
Deric C. Savior, MD – Medical Oncology (TUH/FCCC)
Bindi K. Shah-Johnson, MD, FACC – Cardiac Electrophysiology (TUH/Jeanes)
Daniel Sher, MD – Gastroenterology (Jeanes)
Elin R. Sigurdson, MD, PhD, FACS – Surgery (FCCC/Jeanes)
Mark L. Sobczak, MD – Radiation Oncology (FCCC)           
Ahmed Soliman, MD – Otolaryngology (TUH/Jeanes)
Irene Tan, MD – Rheumatology (TUH)
Ellen Tedaldi, MD, MACP – Internal Medicine (TUH)
Joseph Thoder, MD – Hand Surgery (TUH/Jeanes)
Jeffrey L. Tokar, MD, FASGE, AGAF – Gastroenterology (FCCC)
Neal S. Topham, MD, FACS – Plastic Surgery (FCCC/Jeanes)
Elina Toskala, MD, PhD, MBA – Otolaryngology (Jeanes/TUH)    
Yoshiya Toyoda, MD, PhD – Thoracic & Cardiac Surgery (TUH/Jeanes)
John Travaline, MD – Pulmonary Disease (TUH)
Audrey Uknis, MD – Rheumatology (TUH)
Robert G. Uzzo, MD, FACS – Urology (FCCC/Jeanes)                       
William Van Decker, MD – Cardiovascular Disease (TUH)
Eric J. Velazquez, MD, FACS – Surgery (Jeanes/TUH)      
Margaret von Mehren, MD – Medical Oncology (FCCC) 
Rohit Walia, MD – Nuclear Medicine (FCCC)
Michael Weaver, MD – Neurological Surgery (TUH/Jeanes)
Sheila Weaver, DO – Pulmonary Disease (TUH) 
David S. Weinberg, MD, MSc – Gastroenterology (FCCC)                 
Michael Weinik, DO – Physical Medicine & Rehabilitation (TUH)
Stephanie E. Weiss, MD – Radiation Oncology (FCCC)
Susan E. Wiegers, MD, FACC, FASE – Cardiovascular Disease (TUH)
George A. Yesenosky, MD – Cardiac Electrophysiology (Jeanes/TUH)
Jian Q. Yu, MD, FACNM, FRCPC – Nuclear Medicine (FCCC/TUH)