White Coat Ceremony Welcomes the Class of 2023
News
August 13, 2019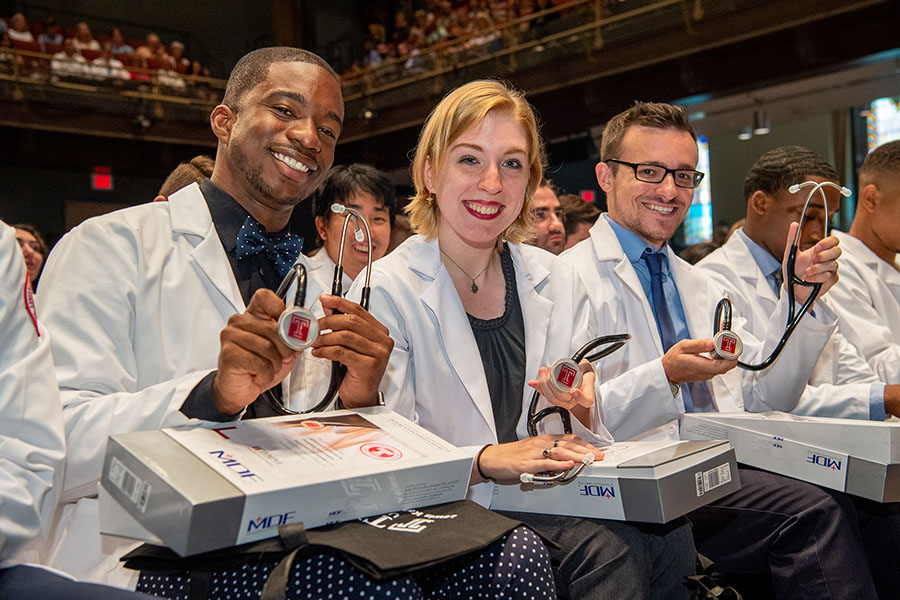 Hundreds of family members and friends packed the Temple Performing Arts Center on August 9 for the presentation of white coats to the 195 incoming students who are part of the Lewis Katz School of Medicine's (LKSOM) Class of 2023.
The annual White Coat Ceremony signifies the beginning of a student's journey to becoming a full-fledged physician, while the white coat symbolizes professionalism, caring and trust.
Speaking at his ninth White Coat Ceremony, Larry Kaiser, MD, FACS, the Lewis Katz Dean of LKSOM and President and CEO of Temple University Health System, described the Class of 2023 as the most diverse in the school's history. The statement was met with the morning's loudest applause.
"We chose each and every one of you because we saw something in you beyond your MCAT scores and GPAs," Dr. Kaiser said. "We saw your determination, your humanity, your potential to be and do all that being a physician requires—which is saying a lot. We looked for your emotional intelligence just as closely as we looked at your book intelligence.
"During this journey, you will see every iteration of the human experience," Dr. Kaiser added. "You will come to embrace humanity at its most diseased, down, corpulent, emaciated, hopeless, defiant, courageous, amazing and resilient. And what a privilege to enter a profession where you can walk into a room and immediately engender the trust of a fellow human being who you likely are just meeting for the first time."
The sentiment was echoed in the keynote address, delivered by Stephen Ludwig, MD, (LKSOM '71) Director for International Medicine Education at Children's Hospital of Philadelphia. Dr. Ludwig focused his comments on professionalism and humanism, two qualities, he said, that are alike in many ways, but distinct in some critical aspects.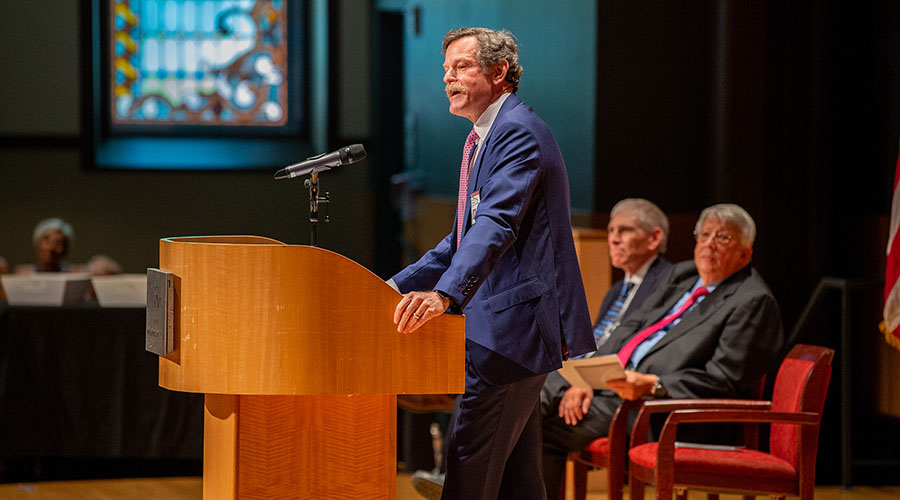 "Professionalism is reminding ourselves that the patient's welfare always comes first and that patients have the right to determine their own health care," he said. "Humanism tells us that we are not special. It also requires us to be good listeners, sensitive to emotions, and empathetic to different backgrounds."
As the names of the members of the Class of 2023 were announced by the Master of Ceremonies, Gerald Sterling, PhD, LKSOM's Senior Associate Dean for Education, the students stepped onstage, white coats in tow, and sometimes a parent or sibling who were alums, or a faculty or staff member of the medical school and it affiliated hospitals, to animated eruptions from all corners of the room.
It was a brief interlude to the relentless studying and sacrificing that would soon be required of them. For one student, the ceremony was also a chance to appreciate anew how dramatically and unexpectedly the course of lives can shift direction.
Orayinka Orafidiya grew up on 15th Street between Tioga and Ontario, in the shadow of Temple University Hospital. After graduating from the University of Pennsylvania with bachelor's degrees in chemical engineering and mathematics, she worked as a scientist for the research and development arm of a major pharmaceutical manufacturer.
Feeling stifled, Orafidiya resigned after nearly six years with the company and turned her attention to the study of ceramics, a passion from earlier in her life. The move was as much about regaining a sense of community as it was exploring her creativity. Over the last 10 years, Orafidiya has worked diligently to develop a socially engaged artistic practice, fostering public dialogue and building community through hands-on projects designed to engage audiences from disparate backgrounds.
Funded by a grant, the goal of her first large-scale project was to challenge social stigma of mental illness by crafting a thousand ceramic cups by hand. On the surface of each, she printed a variety of cognitive distortions and related imagery. At the close of the project, she gave the cups away to the public "to symbolize a shared social responsibility and ensure the conversation continued."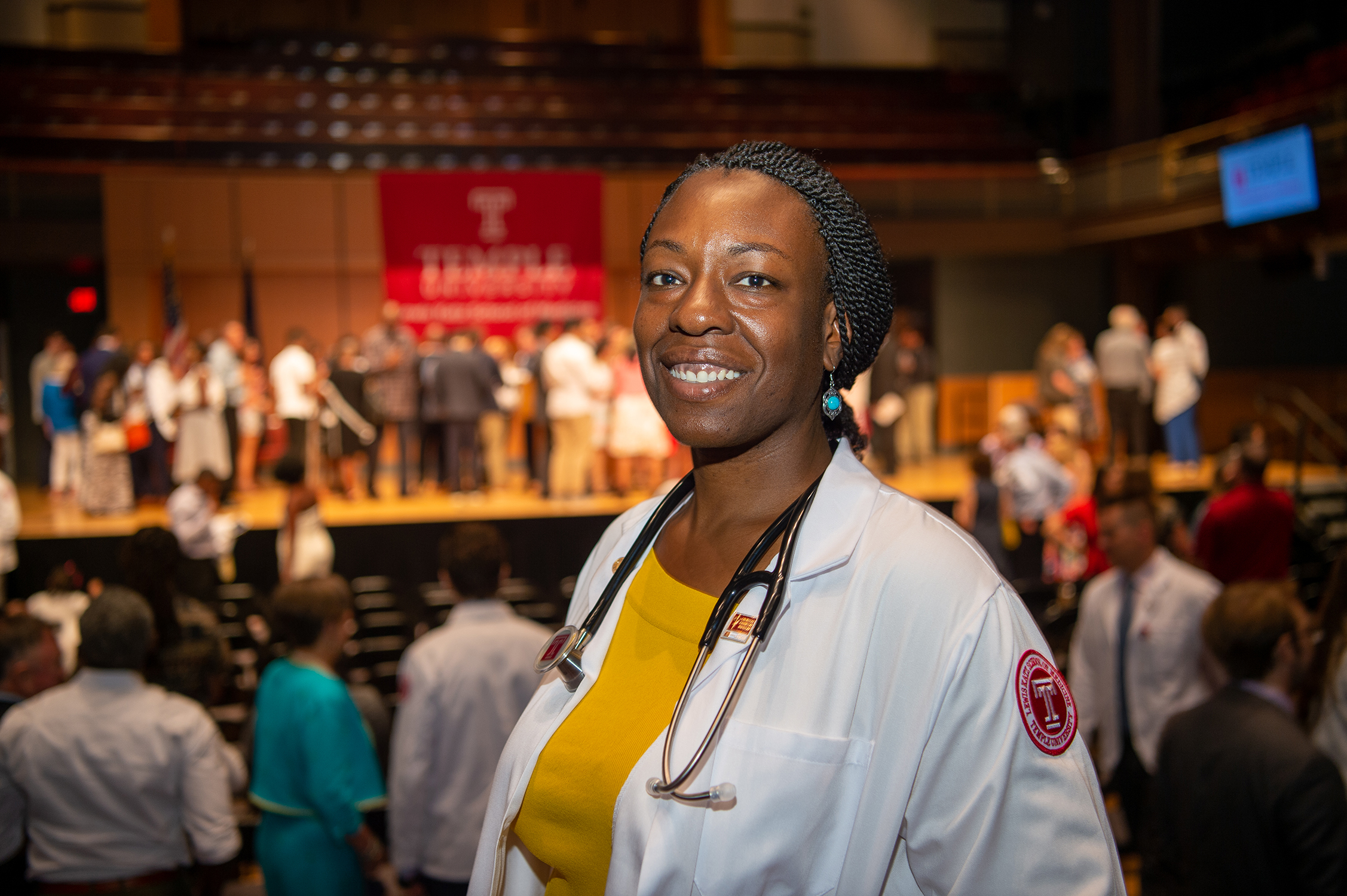 Orayinka​ Orafidiya, Class of 2023
In hindsight, that was the seed for Orafidiya's decision to apply to medical school at the age of 35, but it took several years for the idea to fully form. During that period, she became the primary caregiver for her mother and father and the liaison to their various health care providers, an increasingly complicated network.  
"I'm not someone to shy away from complexity," she said, following the White Coat Ceremony. "I thought that with my education and art background, I was uniquely qualified to become a doctor. Everyone told me practicing medicine is both an art and a science, and the best physicians know how to integrate both."
While her occupation is evolving, Orafidiya's strong sense of social responsibility remains. She chose the Lewis Katz School of Medicine, she said, because it provides an opportunity to affect change in the community she once called home and still identifies with.
"I really feel like I'm coming full circle. I'm excited to be back in North Philly and working with the community that I came from," she said. "As much as possible, I hope to share that enthusiasm with my fellow classmates."
The White Coat Ceremony also featured the induction of 39 upper-year medical students into the Gold Humanism Honor Society led by Bettina Buttaro, PhD, Associate Professor of Microbiology and Immunology.
At the close of the ceremony, Dr. Kaiser presented the students with their own Temple-branded stethoscopes, generously provided by donations to the annual White Coat campaign from alumni, faculty, staff and friends.
View more photos from this year's White Coat Ceremony and Reception
------------------
The White Coat Fund helps support all incoming medical students - including providing student-focused programming throughout their first year - as they continue their journey to becoming Temple-made physicians. Make your gift for the Class of 2023 today.