Temple University/Fox Chase Cancer Center and Hunter College Receive $13.3 Million Renewal of Grant to Address Cancer Health Disparities
News
November 10, 2023
PHILADELPHIA (November 2, 2023) — Temple University/Fox Chase Cancer Center and Hunter College of the City University of New York have received a five-year, $13.3 million competitive grant renewal from the National Cancer Institute (NCI), part of the National Institutes of Health, to address cancer health disparities.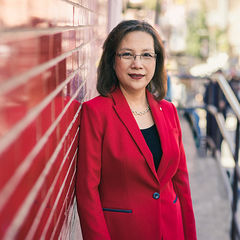 The grant will enable NCI-designated cancer centers and research institutions to better support underserved populations. It will continue to support groundbreaking work in reducing cancer health disparities that adversely affect African American, Asian-Pacific American, and Hispanic American communities across the Philadelphia and New York City metropolitan areas, as well as New Jersey.
"It is an honor for Temple and Hunter to have this important comprehensive cancer health disparities partnership grant renewed so we can continue to tackle the disproportionate cancer burden affecting underserved and diverse communities by making a significant impact on multiple levels. This includes institutional, multidisciplinary research, and community engagement, as well as training, education, and diverse workforce development," said Grace X. Ma, PhD, Contact Principal Investigator on the grant.
Ma is the Associate Dean for Health Disparities, Founding Director of the Center for Asian Health, and Laura H. Carnell Professor at the Lewis Katz School of Medicine at Temple University, as well as a Professor in the Cancer Prevention and Control Research Program at Fox Chase Cancer Center.    
"In the next five years, our partnership aims to break systemic structural barriers and promote inclusiveness across disciplines in order to advance cancer health equity," Ma added.
"The support from this grant allows us to foster new and innovative approaches to health challenges that have been affecting these populations for many years," said Camille Ragin, PhD, MPH, Co-Principal Investigator on the grant and Associate Director of Diversity, Equity and Inclusion at Fox Chase. "With a diverse group of investigators and trainees, we put ourselves in a position of strength to effectively engage with our communities and develop research-based solutions to the barriers impacting these groups."
The initial five-year, $13.5 million grant, which was awarded in 2018, helped underwrite the creation of the Temple University/Fox Chase Cancer Center (TUFCCC) and Hunter College (HC) Regional Comprehensive Cancer Health Disparities Partnership. Since the grant was first awarded, it has helped fund studies focusing on liver, lung, and colon cancers that have led to a better understanding of more personalized treatment strategies for underserved populations.
"The collaborative efforts of Temple and Hunter College have already proven instrumental in addressing these health disparities," said Amy J. Goldberg, MD, FACS, the Marjorie Joy Katz Dean at the Katz School of Medicine. "We are incredibly proud that Temple and Hunter College have been awarded this opportunity for a second time, and we look forward to seeing the continued positive impact these endeavors will have on our communities."
"We are thrilled to have been awarded an additional five years of funding to keep this important partnership thriving," added Joel Erblich, PhD, Contact Principal Investigator and Professor in the Department of Psychology at Hunter College. "As a direct result of this grant, Hunter College faculty, students, and the broader New York City and Philadelphia communities will continue to fight cancer health disparities with innovative community-based research, training, and outreach activities."
Jennifer Ford, PhD, another Co-Principal Investigator on the grant and Deputy Chair of the Department of Psychology and Director of the Hunter College Psycho-Oncology Lab, echoed Erblich's comments.
"It is an honor to be involved in such an innovative and important partnership to address cancer disparities that impact our surrounding communities in New York, New Jersey, and Philadelphia. By training and educating the next generation of cancer researchers and scientists, we will have the ability to more broadly impact the field in a sustainable and meaningful way."
The cancer health disparities partnership created by the initial five-year grant is also known as the Synergistic Partnership in Enhancing Equity in Cancer Health (SPEECH). Since 2018, SPEECH has launched 108 cross-institutional research projects, established collaborations with 51 community- and faith-based organizations, and educated 1,340 community members on liver, colon, and lung cancer prevention.
SPEECH includes more than 80 multidisciplinary investigators across both Hunter College and TUFCCC organizations. It also includes 207 trainees from diverse backgrounds who are mentored by TUFCCC and Hunter College faculty.
The two institutions will continue to focus on three core areas: multidisciplinary cancer research; diversifying the research and medical pipeline by training and mentoring minority junior faculty, undergraduate and graduate students, and postdoctoral researchers; and educating and engaging the community.
Community outreach will specifically focus on intervention, early detection, and access to treatment. It will also continue to address the wide range of barriers that contribute to cancer disparities, including social determinants of health, proximity to care, economic issues, health literacy, stigma, stress, mental health, and more.
 
***
About Hunter College
Located in the heart of Manhattan, Hunter is the largest college in the City University of New York (CUNY) system. Founded in 1870, it is also one of the oldest public colleges in the country and famous for a student body that is as diverse as the city itself. Most Hunter students are the first in their families to attend college and many go on to top professional and graduate programs, winning Rhodes and Fulbright scholarships, Mellon fellowships, National Institutes of Health grants, and other competitive honors. More than 23,000 students attend Hunter, pursuing undergraduate and graduate degrees in more than 170 areas of study. The 1,700 full- and part-time members of Hunter's faculty are unparalleled. They receive prestigious national grants, contribute to the world's leading academic journals, and play major roles in cutting-edge research. They are fighting cancer, formulating public policy, expanding our culture, enhancing technology, and more.
About the Lewis Katz School of Medicine
Founded in 1901, the Lewis Katz School of Medicine at Temple University attracts students and faculty committed to advancing individual and population health through culturally competent patient care, research, education, and service. The School confers the MD degree; MS and PhD degrees in Biomedical Science; the MA in Urban Bioethics; the MS in Physician Assistant studies; a certificate in Narrative Medicine; a non-degree post-baccalaureate program; several dual degree programs with other Temple University schools; continuing medical education programs; and in partnership with Temple University Hospital, 40 residency and fellowship programs for physicians. The School also manages a robust portfolio of publicly and privately funded transdisciplinary studies aimed at advancing the prevention, diagnosis, and treatment of disease -- with specialized research centers focused on heart disease, cancer, substance use disorder, metabolic disease, and other regional and national health priorities. To learn more about the Lewis Katz School of Medicine, please visit: medicine.temple.edu. 
About Fox Chase Cancer Center
Fox Chase Cancer Center (Fox Chase), which includes the Institute for Cancer Research and the American Oncologic Hospital and is a part of Temple Health, is one of the leading comprehensive cancer centers in the United States. Founded in 1904 in Philadelphia as one of the nation's first cancer hospitals, Fox Chase was also among the first institutions to be designated a National Cancer Institute Comprehensive Cancer Center in 1974. Fox Chase is also one of just 10 members of the Alliance of Dedicated Cancer Centers. Fox Chase researchers have won the highest awards in their fields, including two Nobel Prizes. Fox Chase physicians are also routinely recognized in national rankings, and the Center's nursing program has received the Magnet recognition for excellence six consecutive times. Today, Fox Chase conducts a broad array of nationally competitive basic, translational, and clinical research, with special programs in cancer prevention, detection, survivorship, and community outreach. It is the policy of Fox Chase Cancer Center that there shall be no exclusion from, or participation in, and no one denied the benefits of, the delivery of quality medical care on the basis of race, ethnicity, religion, sexual orientation, gender, gender identity/expression, disability, age, ancestry, color, national origin, physical ability, level of education, or source of payment.
For more information, call 888-369-2427.