Temple University Hospital Performs 100th Pulmonary Thromboendarterectomy, Publishes Data
POSTED ON
October 04, 2017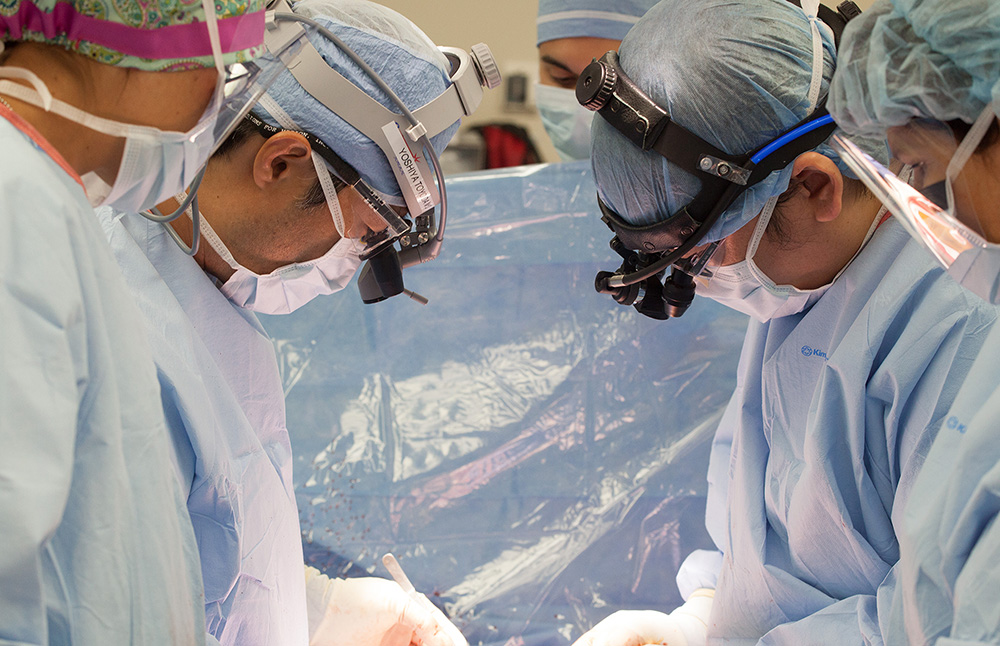 Temple University Hospital recently performed its 100th pulmonary thromboendarterectomy (PTE) for chronic thromboembolic pulmonary hypertension (CTEPH) – a complex procedure offered at only a handful of hospitals in the U.S. This milestone was accompanied by the September 4th publication of Temple's PTE data by the Journal of Cardiovascular Surgery.  
"The 100th procedure is a notable milestone for our program, which has only been in existence since 2013," says Paul Forfia, MD, Director of the Pulmonary Hypertension/Right Heart Failure and Pulmonary Thromboendarterectomy Program at Temple University Hospital. "We are proud of the milestone, but even more so the outstanding patient outcomes, with a 96 percent perioperative survival rate and 70 percent fall in pulmonary vascular resistance post-PTE. These factors have played a major role in making our program one of the most active and rapidly growing in the United States."
Temple's published manuscript reports on the first 71 patients who underwent PTE at the hospital from June 2013 to December 2016, and collected clinical, echocardiographic and hemodynamic data on patients pre- and post-PTE. The data show marked improvements in patient functionality, hemodynamics, right heart function and outcomes. "For many of our patients, the improvements they experience post-PTE are life-changing," Dr. Forfia says.
CTEPH is a rare and often fatal form of elevated blood pressure in the lungs resulting from a blood vessel that has been blocked by a clot for a long period of time. The clots block blood flow through the lungs and can cause a variety of serious problems, including debilitating shortness of breath and right-sided heart failure. During PTE surgery, a patient's chest is opened-up to allow access to the heart and lungs – after which the surgeon makes a small incision in the patient's pulmonary artery – the main blood vessel to the lung.
"In order to safely and completely clear the vessels by removing the clot, we need to place the patient on a heart-lung machine and turn it off for short periods of time – putting them into circulatory arrest – while cooling their bodies to 60 degrees Fahrenheit to protect their brain," says Yoshiya Toyoda, MD, PhD, Chief of Cardiovascular Surgery at Temple University Hospital. "During that time, the patient is in a state of hibernation and we use forceps and a suction dissector to gently peel the clots away from the blood vessels."
According to Dr. Forfia, "The success of the program relies on a team of experts – including specialists in pulmonary hypertension, thoracic imaging and cardiovascular surgery – for optimal preoperative assessment, surgical care, and postoperative patient management. We are very fortunate to have a dedicated and highly specialized CTEPH team, including medical specialists Drs. Anjali Vaidya and Riyaz Bashir, in addition to the surgical expertise of Dr. Toyoda."