Temple Lung Center Plays Leading Role in Newly Published Clinical Trial Results of Minimally Invasive Endobronchial Valve Treatment for Severe Emphysema
News
August 22, 2019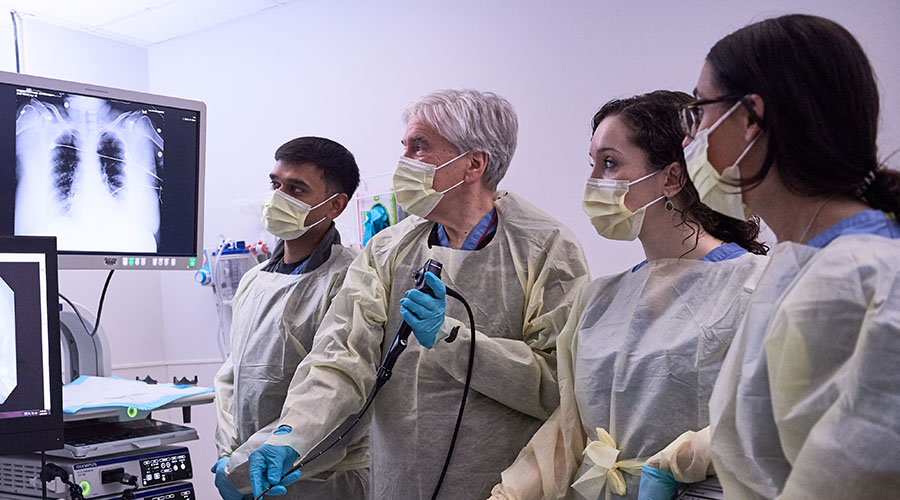 The American Journal of Respiratory and Critical Care Medicine (AJRCCM) has published the results of the EMPROVE multicenter, randomized controlled study for the Spiration® Valve System, an FDA-approved minimally invasive treatment for severe emphysema. Gerard J. Criner, MD, FACP, FACCP, Chair and Professor of Thoracic Medicine and Surgery at the Lewis Katz School of Medicine at Temple University and Director of the Temple Lung Center, is a principal investigator and corresponding author for the EMPROVE study.
The study showed that patients treated with the Spiration® Valve System (SVS) experienced significant improvement in multiple outcome measures.
"Research into minimally invasive treatment options for patients with severe emphysema is crucial," Dr. Criner said. "As clinicians and researchers, we are always looking for ways to address their symptoms and improve their quality of life."
The Spiration® Valve is an umbrella-shaped device that is placed in targeted airways of the lung during a short bronchoscopic procedure. Once in place, the valve redirects air from diseased parts of the lung to healthier parts, allowing the healthier lung tissue to expand and function more effectively. With a potential reduction in lung volume, a patient may be able to breathe more easily and experience improvement in their quality of life.
U.S. Food and Drug Administration (FDA) approval of the Spiration® Valve System, which was based on results of the EMPROVE trial, was announced in December 2018. In March 2019, Temple University Hospital became the first U.S. hospital to treat a patient with the Spiration® Valve System following FDA approval.
The Temple Lung Center was the EMPROVE study's lead enroller. Overall, the study enrolled 172 patients who were 40 years or older across 31 centers in the U.S. and Canada and evaluated the safety and effectiveness of the Spiration® Valve System compared to optimal medical care in patients with severe emphysema in a 2-to-1 randomization. Patients eligible for the EMPROVE trial were those with severe airflow obstruction, dyspnea (shortness of breath) and hyperinflation, which occurs when air becomes trapped in the lungs and makes breathing difficult.
The primary efficacy outcome was the difference in mean forced expiratory volume in 1 second (FEV1) from baseline to six months. Mean FEV1 improved significantly for the treatment group (0.099 liters) versus the control group (-0.002 liters). FEV1 is a measure of the amount of air a person can forcefully exhale from their lungs in one second and is an important part of a pulmonary function test. FEV1 is a frequently used measurement for staging chronic obstructive pulmonary disease (COPD). Emphysema is a progressive form of COPD.
Further analysis of the EMPROVE data showed the SVS treated group had significantly greater improvement in secondary endpoints, including target lobe volume reduction, hyperinflation, health status and dyspnea. These results were durable through the 12-month follow-up.
The primary safety outcome, incidence of composite thoracic serious adverse events, was greater in the treatment than control group (31.0% and 11.9%, respectively). However, pneumothorax was the only individual serious adverse event with significantly higher treatment group incidence, a finding also shown in other comparable studies. Early onset pneumothorax in the treatment group likely resulted due to acute reduction in lung volume by valve therapy and is a recognized indicator of successful target lobe occlusion. Other serious adverse events observed in the study include COPD exacerbations, pneumonia and death, but were not statistically different between the study groups.
The EMPROVE study was sponsored by Olympus Respiratory America, a part of Olympus Corporation and the developer of the Spiration® Valve System.
Editor's Note: Dr. Gerard Criner has received consulting money from Olympus Corporation.