Seven Stellar Educators Win Educational Excellence Awards at the Lewis Katz School of Medicine
News
May 20, 2022

What, exactly, makes a medical educator excellent?
Is it learning students' names to convey respect and build rapport (Nicole Griffin, PhD)? Planning clinical operations to maximize the educational experience (Regina Jacob, MD)? Showing trainees how proper medical decisions are made (Saqib Rehman, MD, MBA). Maybe it is creating a space that unites learners from different fields (Nora Jones, PhD). Or using trainee accomplishment as the yardstick for your success (John Elrod, PhD). Perhaps it is actually the ability to put yourself in your trainees' shoes (Parth Rali, MD). Then again, it could really come down to spotting an opportunity to educate, then seizing it (Jon Livelsberger, DO).
On May 12, seven stellar educators who elevate education in all these ways -- and more -- were honored with Educational Excellence Awards at the Lewis Katz School of Medicine.  
"You set a high bar for education at Temple, and we're privileged to honor you," said Amy J. Goldberg, MD, FACS, Interim Dean, during the 2022 ceremony, the fourth annual since the program was established the Office of Faculty Affairs to extol exceptional teaching at the Lewis School of Medicine.
Nominations are solicited from across the educational enterprise as well as from the North Philadelphia community, with winners – profiled here -- selected by an expert panel of judges.
Medical Program Teaching Award: Nicole Griffin, PhD, Associate Professor, Department of Biomedical Education and Data Science
A faculty member since 2011, Nicole Griffin, PhD, is a course director, lecturer, laboratory instructor, and student adviser. She is Associate Block Director for Fundamentals 1, Human Structure, in the MD program and a lead educator in the Physician Assistant program and Podiatry School as well. While she expects a lot of students, she puts creative, practical spins on teaching clinical context in anatomy and provides fun little tips and tricks to help students remember information. "Dr. Griffin is an amazing instructor," a student evaluator said.  "She helped me excel more than I thought was possible."  
---
Graduate Medical Education Program Teaching Award: Regina Jacob, MD, Associate Professor of Clinical Medicine
Dr. Jacob leverages her clinical roles and educational roles at Temple to elevate quality for trainees and patients. A faculty member since 2014, she is the Director of the Social Determinants of Health Curriculum for the Internal Medicine Residency Program, Co-Director of Ambulatory Medical Education, and Medical Director of the Temple Internal Medicine Associates combined residency and faculty practice.  As such, she's worked to make community engagement a foundational and required core competency of residency training. She teaches house staff to recognize the impact of social determinants on health – and to incorporate this lens for more effective assessment and treatment planning for our patients.  She also teaches residents that evidence-based medicine is not one-size-fits-all, as patients from underserved communities like North Philadelphia rarely match the studied populations. Through educational committee work at Temple and with talks at national conferences, Dr. Jacob pushes clinical education to a higher level.
---
Graduate Medical Education Program Teaching Award:: Saqib Rehman, MD, MBA, Vice Chair and Professor, Orthopaedic Surgery and Sports Medicine
A nominator said: "I have never met anyone as dedicated to education as Dr. Rehman. He involves every learner in a substantive way in patient care -- which translates to unparalleled clinical learning." Dr. Rehman, a faculty member since 2005, is perhaps best known for his contributions to orthopaedic trauma education. He created a weekly trauma conference; a trauma discussion board, which enables residents to dive into a range of topics; and a capstone project for senior residents. His goal is to see trainees become respected physicians in their fields. He also emphasizes didactics since clinical teaching depends "what comes in," and that can leave voids in the learner's education.  No gaps on Dr. Rehman's watch!  One resident called hm "a champion of education." Another said, "Dr. Rehman represents the highest ideals of education at Temple -- a true credit to our institution."
---
Graduate/Non-MD Professional Program Teaching Award: Nora Jones, PhD, Associate Professor and Associate Director of the Center for Urban Bioethics
"The fact that Temple has the nation's first and only master's degree in Urban Bioethics is due in large part to Dr. Nora Jones," said a nominator. A faculty member since 2012, Nora Jones, PhD, is the driving force behind the rigorous, relevant urban bioethics master's program that consistently gets stellar reviews, attracting more applicants every year. Bioethics draws individuals from many different disciplines -- medicine, the natural and social sciences, philosophy, theology, law and more -- and Dr. Jones is masterful at creating a space that unites everyone. Learners appreciate her non-judgmental style, her skilled pedagogy -- and enthusiasm. "Dr. Jones exudes passion and true caring for her students," a nominator said. "She brings excitement to each topic in class – which makes students excited," said another. "She's fantastic."
---
Research Mentoring Award: John Elrod, PhD, Associate Professor of Cardiovascular Sciences; and Center for Translational Medicine
 "Unmatched" is the word one nominator used to describe Dr. Elrod's track record in mentoring. He grooms trainees for success – building their CVs with tangible accomplishments. In his ten years on faculty, 100% of Dr. Elrod's' past graduate students and postdoctoral fellows have secured competitive extramural grants (two recently obtained NIH K99 awards to support their transition to independence – a true rarity) and all have secured outstanding positions, won national and international awards, published in prestigious journals like Nature, and delivered scientific presentations at major meetings. "Dr. Elrod is the most talented and supportive mentor," a nominator said.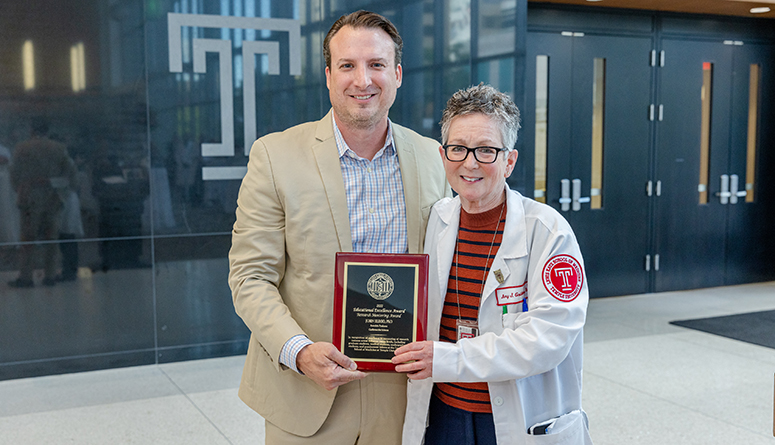 ---
Research Mentoring Award: Parth Rali, MD, Associate Professor of Thoracic Medicine and Surgery
"I owe it all to Dr. Rali," said one of his Pulmonary and Critical Care fellows. "My understanding of research methods and techniques. How to design a research study. How to write a paper. I've had multiple abstracts and papers published. All because of him." Dr. Rali, a faculty member since 2016, enthralls everyone around him. Mentees say he's always eager to hear their research ideas, work on new projects, coach them, give constructive feedback, discuss career path options. "He has a way of pushing limits while never making trainees feel pressured," another fellow said. "He is an exceptionally gifted teacher and his qualities are rare to find in one person," said another.  "I am extremely grateful to have found them all in him."
---
Educational Service Award: Jon Livelsberger, DO, Associate Professor of Clinical Anesthesiology
Dr. Livelsberger's commitment to education is wide and vast. Undergraduates, medical students, graduate students, podiatry students. Nursing staff. Junior faculty, residents and attendings across a wide spectrum of specialties. A nominator said, "he is an exemplar clinician-educator with a tangible impact on learners and the institution."  A faculty member since 2016, Dr. Livelsberger lectures, precepts, advises, creates, designs. Educates in the operating room, classroom, simulation center, bedside. Gives grand rounds. Creates training videos. Develops classroom-based didactic lectures. He also works with committees focused on education. He's done so much -- and most of it at his own initiative.  He spots opportunity and seizes it.  His residents, students, and peers say, "he inspires."   
- Giselle Zayon