Dancing in the Lab
Lewis Katz School Doctoral Candidates Earn National Fellowships
News
June 24, 2022
In scientific research, it's thrilling to uncover something new, something never documented before.
Just as thrilling is to win grant funding to keep that exploration going. Super-competitive, grants and fellowships are difficult to apply for and hard to get. It is always a coup to land one. But there's something extra special about those first few wins.
Just ask Amanda St. Paul and Keman Xu, doctoral candidates in the Biomedical Sciences program at the Lewis Katz School of Medicine. They're both on cloud nine, celebrating brand-new, highly prestigious fellowship awards for their research.
For Ms. St. Paul, there are two victories, back-to-back. News of the first came in April: She'd been selected for an American Heart Association (AHA) young investigator travel grant! It underwrote her trip to Seattle to attend the spring 2022 meeting of the AHA Council on Arteriosclerosis, Thrombosis and Vascular Biology to present her research!
To top it off, more fabulous news came in May: she landed a super-competitive fellowship from the National Institutes of Health – a research stipend for doctoral candidates working at the top of their fields.
Talk about wow! And her classmate Ms. Xu knows just how she feels. This spring, Ms. Xu was selected for a prestigious fellowship from the AHA that provides two years of funding for her research!
"It is so gratifying. You feel your efforts are really being noticed, really paying off," says Ms. Xu, who earned one of the top scores in the nation.
---
Difference-Making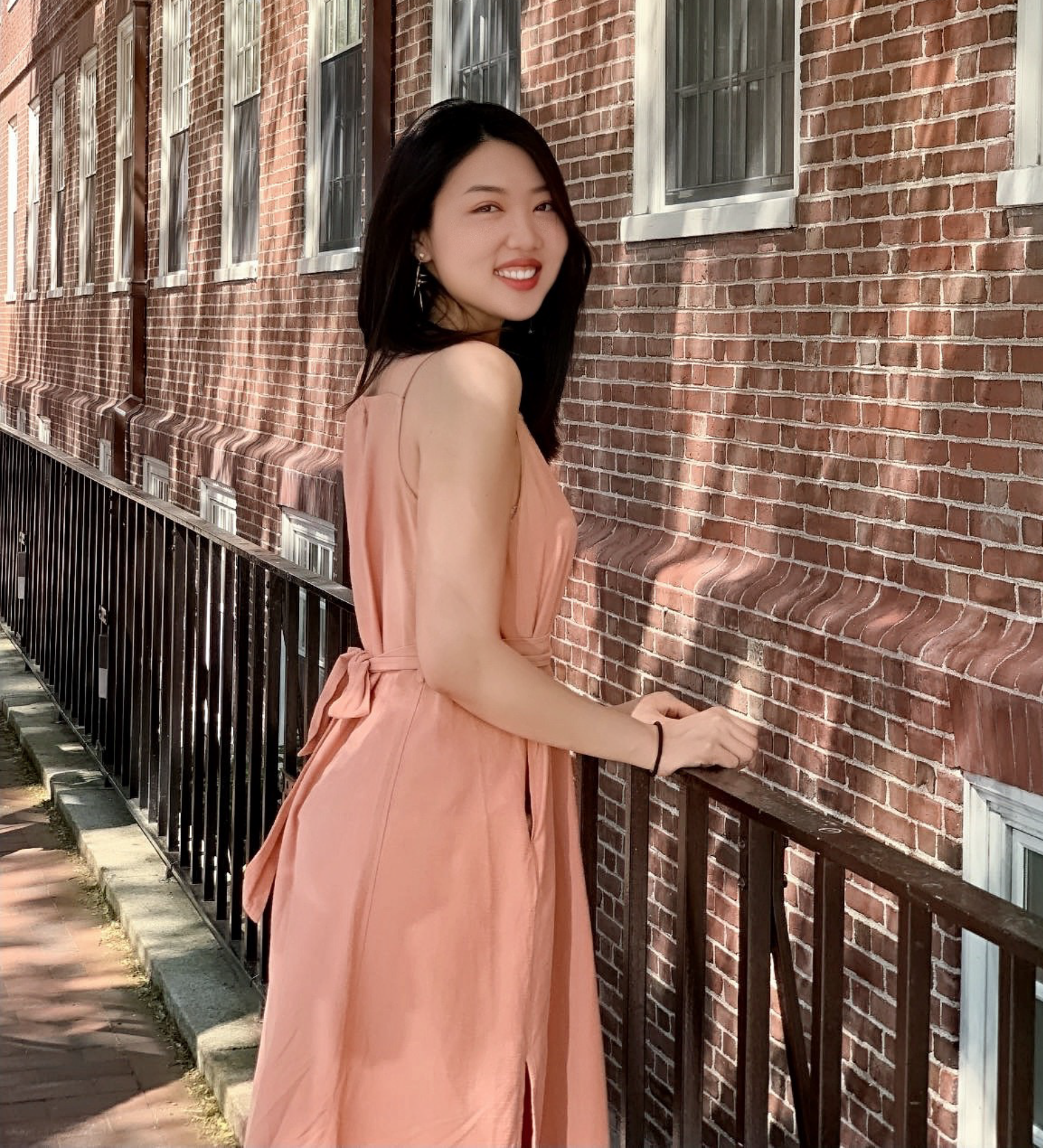 Ms. Xu's AHA fellowship underwrites her study of lysophosphatidylinositols (LysoPI), lipids thought to play a role in atherosclerosis, one of the most severe forms of heart disease.
Heart disease is a leading cause of disability and death worldwide, but to Ms. Xu, it's also stingingly personal. Her beloved grandmother suffers from the disease.
"I hope to gain new scientific insight and identify new targets for potential new therapies," she says, welling up with emotion.
A different common, potentially deadly cardiovascular pathology is the focus of Ms. St. Paul's research: hypertension. Or rather became the focus. Because, suddenly, there it was.
Ms. St. Paul was studying a protein called FXR1. "Not much is known about its role in vascular disease – and I love a mystery," she says.
When you're dealing with an "unknown" (what does it do? how does it interact with other molecular components in the body?), sometimes a good way to find out is to see what happens without it. So, she and her lab mates deleted the gene for FXR1 in mice to observe the consequences in blood vessels.
"It was surprising. Without FXR1, the vascular smooth muscle cells -- the cells that compose blood vessels -- were not behaving normally," Ms. St. Paul says.
They were floppy, not holding normal tension.
Time and again, mice without FXR1 had lower diastolic blood pressure than mice with FXR1 – so, FXR1 must be a key to regulating vascular tension and contractility -- in other words, blood pressure -- Ms. St. Paul hypothesized.
But how?
What she found is that FXR1 binds to other proteins that create the cytoskeleton of blood vessel cells, the filaments and tubules that enmesh, forming a scaffold that the gives cells their shape and structural integrity, enabling them to function.
This exciting discovery opens the door to research that could lead to a whole new way to treat hypertension, a treatment that targets the cytoskeleton.
In 2021, Ms. St. Paul's work was selected as a top abstract by the American Heart Association at its annual Scientific Sessions conference. A summary of her presentation was published in Circulation. Thrilling! And this of course followed by the thrills of the American Heart Association travel grant to present the research in Seattle this year – followed by the National Institutes of Health fellowship to advance her research.
Science labs are generally pretty serious places … but, occasionally: the happy dance!
---
The Magic of a Mentor 
Ms. St. Paul and Ms. Xu have worked hard, but do not take sole credit for their accomplishments. They're grateful to their lab mates for their help and support – and reserve especially high praise for their faculty mentors.
Xiao-Feng Yang, MD, PhD, Director of Graduate Education in the Professor, Cardiovascular Research Center, is Ms. Xu's mentor.
"Dr. Yang is so passionate about science, such an expert. He is always guiding me, encouraging me," says Ms. Xu.
Over his 17 years at the Lewis Katz School of Medicine, five of Dr. Yang's doctoral candidates have earned AHA fellowships like Ms. Xu – among other honors. "I am incredibly proud of all my students' accomplishments," he says.
Ms. St. Paul's mentor is Michael Autieri, PhD, Director of the Lemole Center for Integrated Lymphatics Research and Associate Director of the Cardiovascular Research Center. His guidance, too, has enabled many students to earn coveted grant awards over the years.
"Dr. Autieri is a true authority -- enthusiastic, supportive, kind," Ms. St. Paul says.
---
Success by Design 
According to Dr. Yang, a student's success reflects their mentor's success – and a laboratory team is like a family, a community of support.
In addition to crediting their faculty mentors and lab families, Ms. Xu and Ms. St. Paul attribute their successes to something else: the Biomedical Science Program curriculum and design.
For starters, lots of schools require you to select your specialization when you apply. But you don't have to do that at Katz.
"The Katz program gives you flexibility, room to explore – which is so important," says Ms. St. Paul. "You're not stuck, pigeonholed."
Plus, Katz teaches skills beyond science, such as scientific writing, grant writing, oral presentation, how to prepare manuscripts and abstracts and submit them, how to initiate collaborations.
"Your science is only as good as your ability to communicate it," says Dianne Soprano, PhD, Associate Dean of the Graduate and MD/PhD Programs. The entire program is designed with this in mind.
"You can do the best science in the world -- but if you can't write about your work, speak about it, communicate it – it might as well not exist," she says.
Therefore, the preparation at Katz is wholistic. It equips students with the skills and know-how to be productive and successful in the workplace.
Katz students must perform an Independent Research Project, and in conjunction with it, they learn how to prepare an NIH-style RO1 application to fund its continuation.
In their second year, they present this grant application to a group of faculty and upper-year students on a mock NIH study section.
In the third year, students sit on that panel and assess the proposals presented to them by the second-year students.
"They learn from experience on both sides of the table – and it's always eye opening," Dr. Soprano says.
The students agree. "My knowledge of the processes of science, my competency, has improved after these pieces of training," says Ms. Xu.
And it's not just mock work. According to Dr. Soprano, about half of the students submit a fellowship application at some point during their time in the program -- and typically three to five get funded each year, like Ms. St. Paul and Ms. Xu.
"These accomplishments are significant feathers in students' caps," Dr. Soprano says. "No matter where they go next -- academia, industry, government, nonprofit – Katz students hit the ground running. We're really proud of their great work."
- Giselle Zayon