PA Class of 2025 Dons Its White Coats, Readies for the Next Phase
News
October 04, 2023
With three-and-a-half months of learning beneath them, the 34 students who comprise the Lewis Katz School of Medicine's Physician Assistant Class of 2025 marked a milestone in their medical education and training.
On September 22, during an afternoon ceremony in Temple's Erny Auditorium, the students donned their white coats for the first time as proud family members and friends cheered – in one instance, with a noisemaker – and captured a moment years in the making on camera.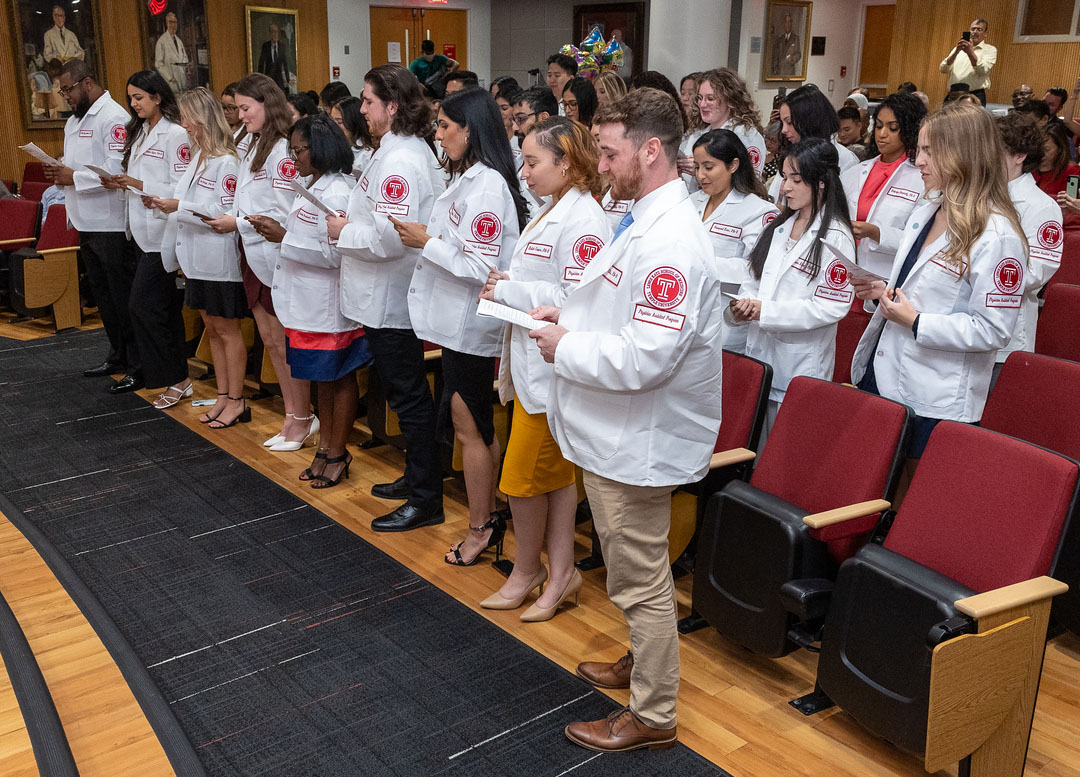 Beneath the relaxed, celebratory nature of the day, the occasion also signals the arrival of a formidable transition for the students, who Christine Mount, MS, PA-C, program director, suspected were already working "much harder than they ever thought they would or could.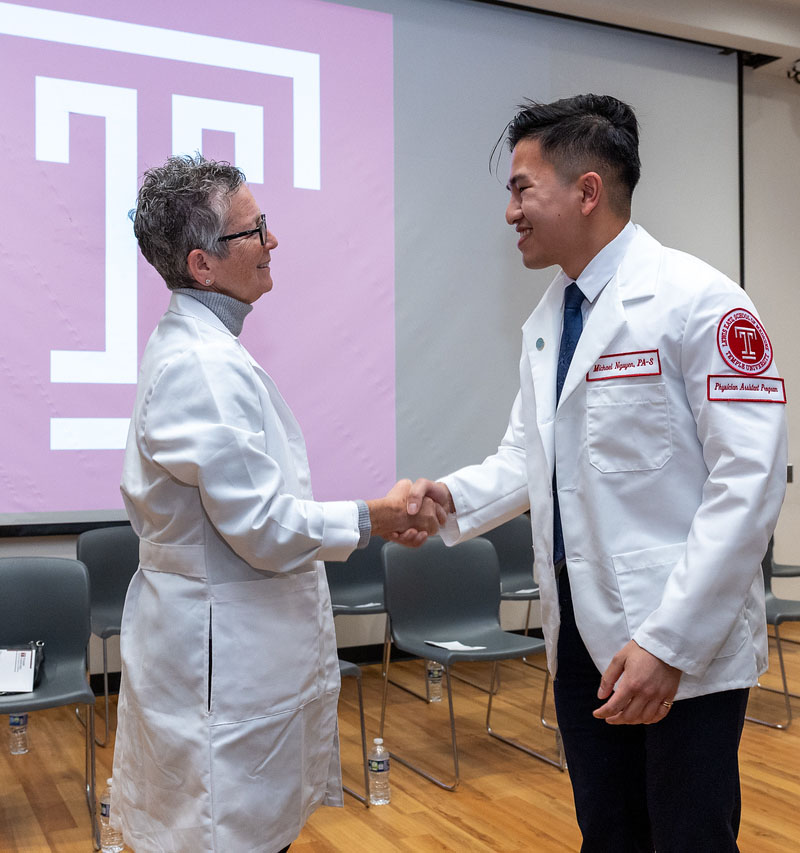 "This ceremony represents a shift in the education style," Mount said. "They're going from being in a classroom with multiple science-based lectures every day. They'll now begin to have more clinically oriented medical lectures and experiences.
"This," she added, "is where students learn that patients don't read the textbooks."
The white coat has become synonymous with medical practice and all that goes into becoming a practitioner. However, that's just scratching the surface, Mount said. It also symbolizes "truth, justice, hope, and cleanliness," she said, as well as the "great responsibility" that accompanies the ability to heal.
"By wearing your white coat, in part, you're taking on a new identity," Mount said. She cautioned the students not to think of it as a superhero's cape that would make them all-knowing and invincible. "Rather, it's a cloak of humility, empathy, professionalism, and compassion. It should remind you of your limitations, your humanity, and your responsibility."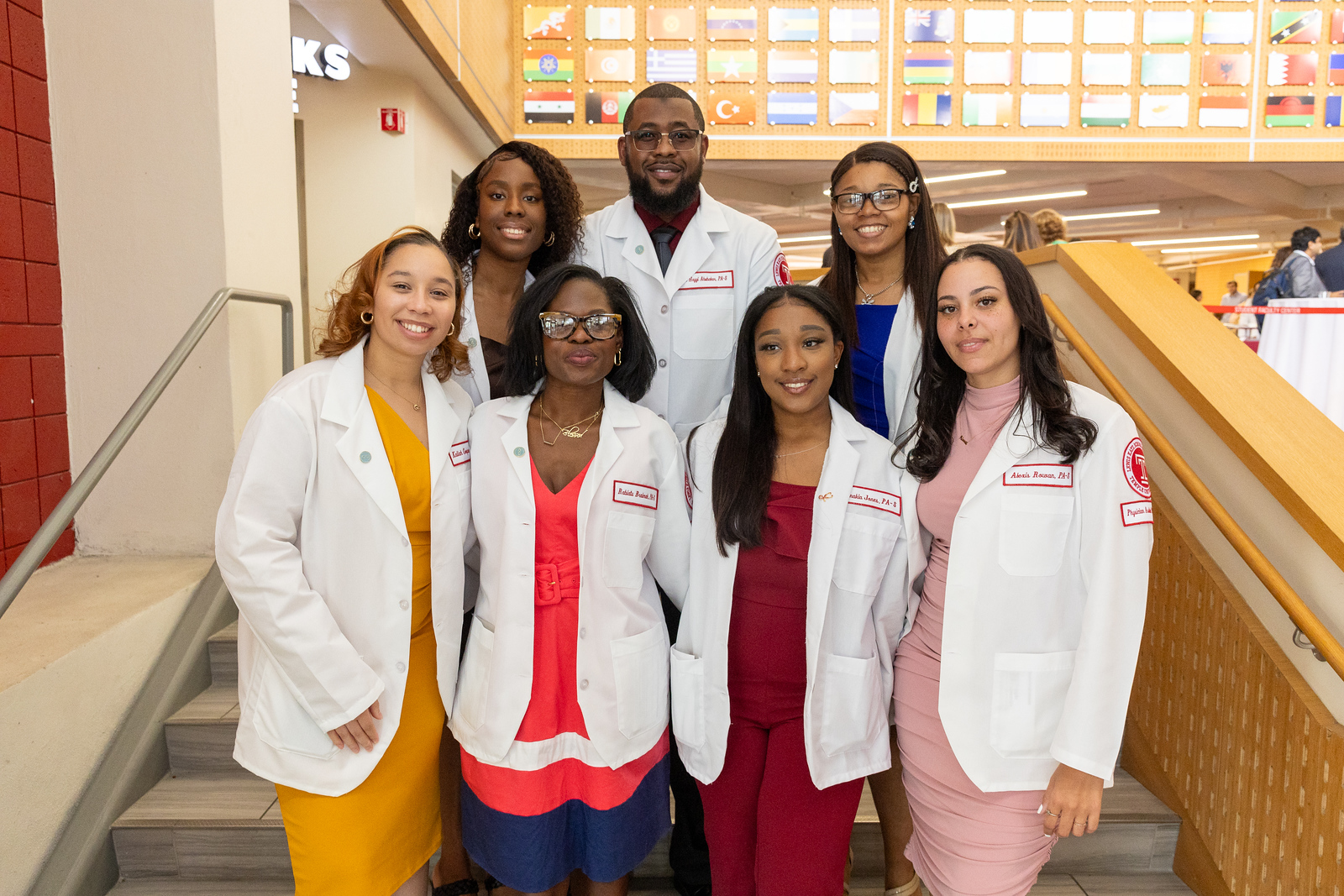 Later, she articulated that responsibility as ensuring the healthcare they will eventually provide is "acceptable, affordable, compassionate, and respectful of all cultures and for all patients."
Amy Goldberg, MD, FACS, the Marjorie Joy Katz Dean of the Lewis Katz School of Medicine, described the physician assistant as "pivotal to the direction that healthcare is taking."
In the months to come, she told the students, "you will learn that good care requires knowledge, proper diagnosis, skilled technique, treatment planning, access to technology, all these things. But none of this is the 'beating heart' of healthcare. Healthcare is your heart, your soul, and your hands. The power of your humanity."
Dr. Goldberg cautioned the Class of 2025 to not submit to the relentless undertow that's an inherent part of modern medicine. Instead, they should prioritize their patients, and then listen, carefully and patiently.
"It can lead to better outcomes, higher patient satisfaction, and a more rewarding professional experience," she said.
Prior to delivering her speech, Dr. Goldberg offered a brief tribute to JoAnne A. Epps, Temple University's acting president, who died suddenly three days earlier.
"You may not have known President Epps, but know that she worked tirelessly for every Temple student," Dr. Goldberg said. "Her love for this institution ran deep. She believed in our collective potential to be great and do great things."
Dr. Goldberg added, "She leaves behind a legacy that will inspire generations to come."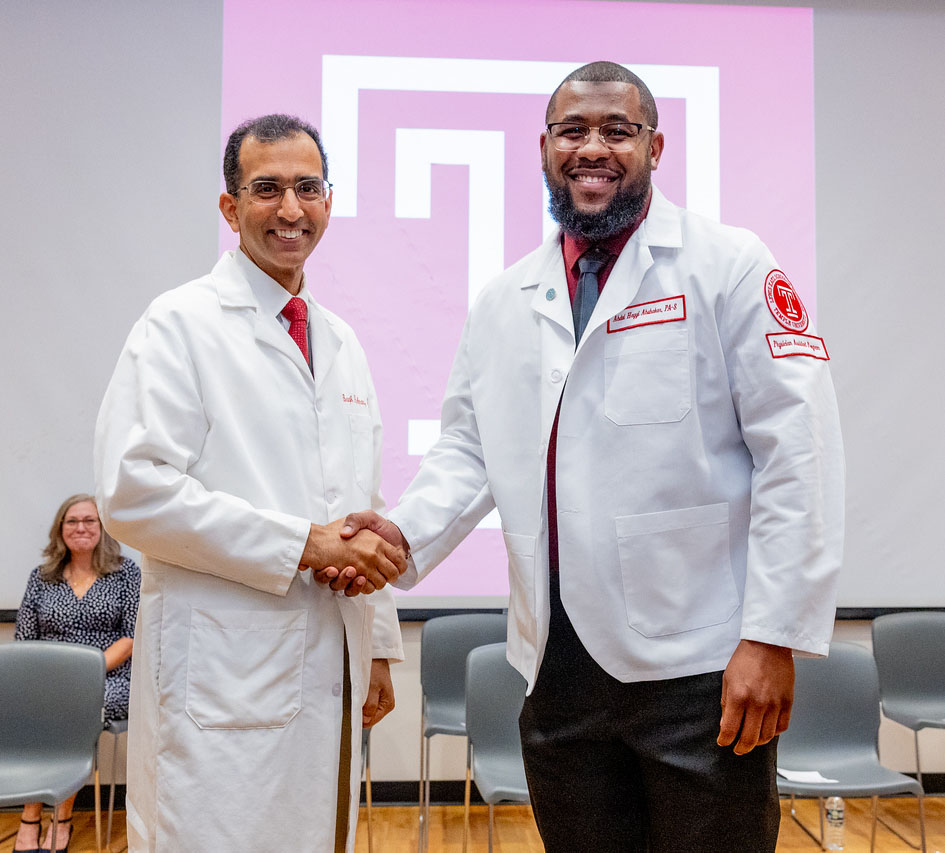 Following her comments, Dr. Goldberg led a moment of silence in Epps's memory.
During the coating, later in the ceremony, students walked out to the center of the Mary Carole Erny Stage, where a faculty member or administrator helped them don their white coats. When Alexa Jacome's name was called, loud applause, punctuated by a noisemaker, erupted from a corner of the audience where a bundle of balloons floated just overhead, waiting to be shared with the reunion of students and families.
At the conclusion of the ceremony, the Class of 2025 stood and recited the Physician Assistant Professional Oath. Across the auditorium, smartphones were thrust into the air, recording a moment that will be relived many times over.