21st Annual Dawn Marks Research Day: Presenting - and Communicating -- Biomedical Research
News
September 20, 2022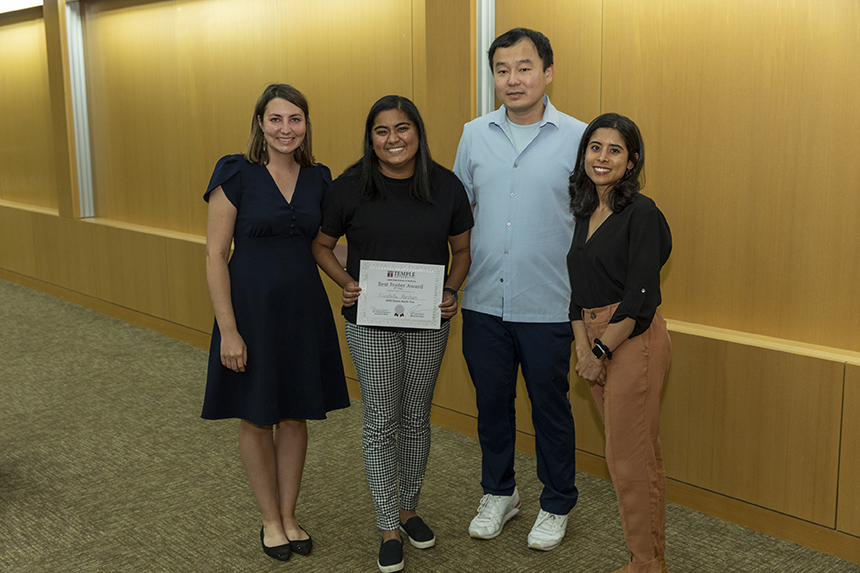 For Biomedical Science Program students at Temple University's Lewis Katz School of Medicine, few things signify the start of a new academic year quite like the Annual Dawn Marks Research Day.
Now in its 21st year, this signature event—which took place this year on August 24—gives MS and PhD degree candidates – as well as MD/PhD candidates -- the opportunity to talk about their research to fellow students, faculty, staff, and guests. This year, approximately 125 to 150 students, faculty, and visitors participated. 
"It was a pleasure to see how enthusiastically students and faculty shared their science with one another," said Alena Klochkova, a fifth-year PhD candidate and President of the Graduate Student Association, which organizes the event.
Two sessions in the morning featured 27 poster presentations. The afternoon showcased seven oral presentations. And a career seminar – a new addition to the tradition – was presented during lunch by Temple University's Mark P. Kaloko, EdD, Director of Graduate Student DEI and Career Advancement.
By highlighting student work and creating a platform for students to speak about their work, the day honors the late Dawn Marks, PhD, a beloved Biochemistry faculty member who taught science -- and how to communicate science -- during her 31-year career at Temple. Dr. Marks served as Assistant Dean for Graduate Education from 1984 to 1998 and co-authored a textbook that is still widely used (and regularly updated): Basic Medical Biochemistry: A Clinical Approach.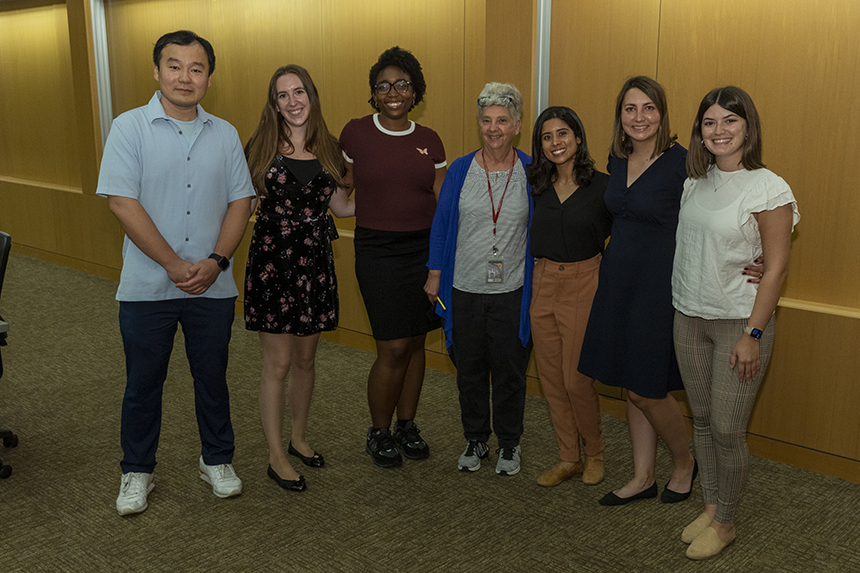 Amy J. Goldberg, MD, FACS, the Katz School's Interim Dean, knew Dr. Marks and remembers her with respect and fondness. During her opening remarks at the event, she and Maryellen Gusic, MD, Senior Associate Dean for Education, said it was wonderful to see everyone coming together to celebrate and enjoy their research. They also thanked the event organizers, which included Ms. Klochkova along with association members Joice Kanefsky, Xinpei Jiang, Annie Fuller, Jazmyne Jackson, and Madison Honer.
Moments and Milestones
"There's always an air of excitement before presentations begin," said Ms. Klochkova, noting that it's normal to be nervous about presenting your work -- even for seasoned professionals. "Yet because we are mostly familiar with one another, the day provides a warm and comfortable atmosphere that helps instill confidence in students," she said.
According to Dianne Soprano, PhD, Associate Dean for Graduate and MD/PhD Programs,
The annual Dawn Marks Day creates "a wonderful opportunity for students to go through the process of presenting their work and answering questions from colleagues, faculty, and guests. It prepares them to showcase their research at larger events in the future, such as national meetings," she said.
"It's also great way to introduce first-year students to the school's biomedical sciences community. New students meet new people and learn more about what they may want to study as they rotate through the labs in their first year," she explained.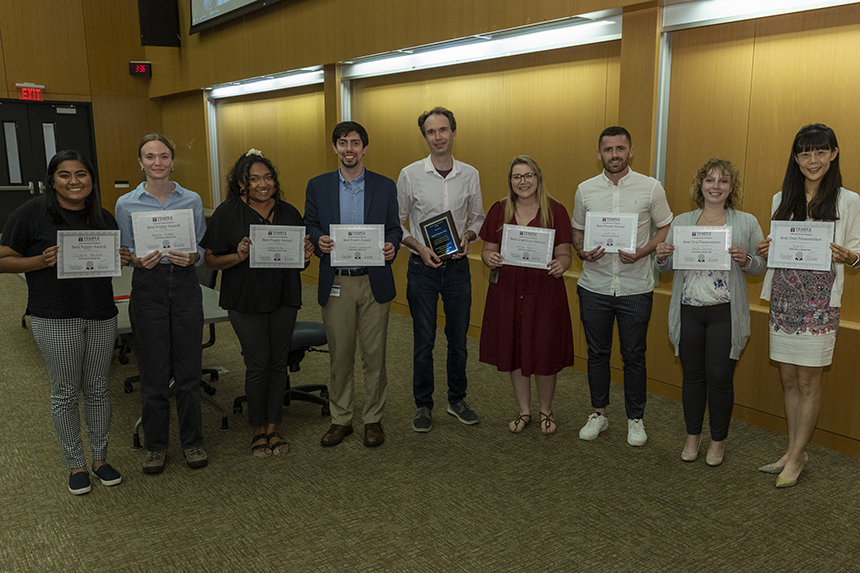 According to Ms. Klochkova, whose thesis project focuses on identifying and characterizing stem cell populations in the murine esophagus under normal conditions, Dawn Marks Research Day is an important milestone for her and her peers.
"It helps new students gain a sense of confidence in the presentation of their research and understand the importance of scientific conferences, while also aiding more experienced students in organizing their own research and preparing for their professional futures.  It is wonderful to reflect on one's own scientific progress and achievements," she said.
Announcing the Winners
An important aspect of Dawn Marks Day is introducing students to scientific competition. Every year, awards are given in three categories for trainees and one category for faculty.  The 2022 's Dawn Marks Day winners are as follows.
Poster Session
| | | |
| --- | --- | --- |
| Years 2-3: | 1st Place: | Elizabeth Abraham |
| Years 2-3: | 2nd Place (tie): | Natasha Hesketh and Brian Leonard |
| | | |
| --- | --- | --- |
| Years 4 - 7: | 1st Place (tie): | Zach Gray and Michael Lazaropoulos |
| Years 4 - 7: | 3rd Place: | Amanda St. Paul |
Oral Presentations
Noelle Sterling and Yijia Li
Graphical Abstract
Dawn Marks Faculty Teaching Award
Gareth Thomas, PhD, Associate Professor, Neural Sciences; Shriners Hospitals Pediatric Research Center; and Biomedical Education and Data Science
Congratulations, all!