Calling all LKSOM alumni who graduated from class years ending in 3 & 8 along with the Class of 2017!
Save the Date for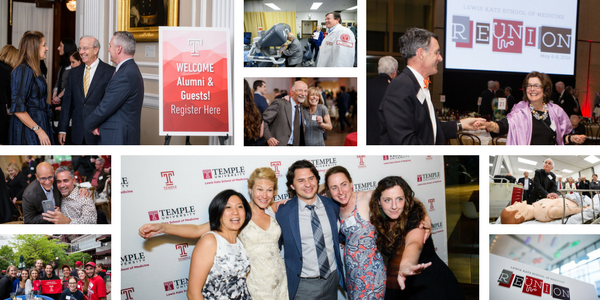 Premier venue. New program. Old friends.
The Countdown is on!
Join us for your upcoming Class Reunion!

Come celebrate your Class Reunion in Philadelphia, PA on Friday, May 4, 2018 - Saturday, May 5, 2018. On Friday, you will have the opportunity to enjoy the city, reconnect with your classmates, beloved faculty, other Med alumni and current students! On Saturday evening, we will host your semi-formal Signature Reunion Celebration at one of the most-premiere art institutions in the country, The Barnes Foundation!
Registration will open in early 2018!
This Reunion, we are celebrating the classes of:
1943, 1948, 1953, 1958, 1963, 1968 (50th Reunion), 1973, 1978, 1983, 1988, 1993 (25th Reunion), 1998, 2003, 2008, 2013 and 2017.
Update your contact information – we'd love to mail you an invitation!
Check out photos from last year's Reunion here to see what's in store!
Interested in volunteering for your Reunion Class Committee? Please fill out the form below and email it to jessica.lista@temple.edu, and a staff member will be in touch.
Reunion Volunteer Interest Form
Questions? Contact Jessica Lista at The Office of Alumni Relations at 215.707.3396 or jessica.lista@temple.edu
We look forward to welcoming you back!