Residencies & Fellowships
Welcome Message from Susan Coull, MBA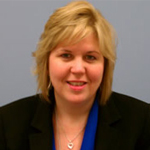 Thank you for your interest in Temple University Hospital's Graduate Medical Education programs.   It is our goal to provide house officers with outstanding clinical training and didactic educational experiences to produce the highest quality physician possible. We train house staff in 40 ACGME Programs, as well as in podiatry, oral surgery, and pediatric dentistry. 
Temple University Hospital is a Level One trauma center that serves a diverse community.  Our teaching programs offer opportunities to work with a variety of specialists recognized for innovation and expertise.
We hope that your questions will be answered by the information within this site.  However, if we can be of further assistance, please do not hesitate to contact the GME Office.
Susan Coull, MBA
Vice President, Medical Education, TUH
Assistant Dean for UME & GME, LKSOM
Designated Institutional Official for GME, TUHS
Residency & Fellowship Programs
Residency Programs
Dermatology
Oral & Maxillofacial Surgery
Pediatric Dentistry
Radiation Oncology
Fellowship Programs
Advanced Heart Failure
Clinical Cardiac Electrophysiology
Interventional Cardiology