Residency Program
Welcome Message from the Residency Program Director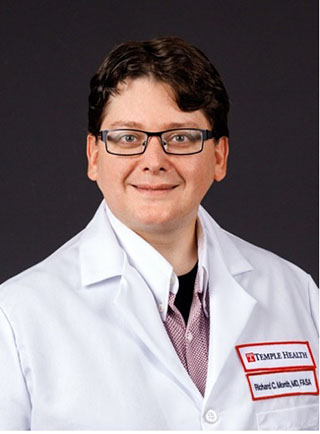 Richard C. Month, MD, FASA
Residency Program Director
For greater than a century, Temple University Hospital has been a leader and a pioneer in medical advancement within the region.  From Philadelphia's first human pneumonectomy in 1932 to its first minimally invasive mitral valve repair using the da Vinci Xi Surgical System in 2014, the dedicated residents and faculty of the Anesthesiology Department have been integral to the ongoing story of this hospital's success. 
The Department of Anesthesiology at Temple University Hospital is committed to the development of exceptional physicians with the tools needed to manage the most complicated patients and surgical scenarios.  Our educational program is designed to do just that.  Over the three year residency program, residents rotate through hospitals of national and international renown. 
The primary site for residents is Temple University Hospital, which features the region's only trauma center with a burn unit.Temple University Hospital is the first academic center in the nation with a multidisciplinary department of Thoracic Medicine and Surgery in its nationally acclaimed Temple Lung Center. In addition to its innovative Cardiothoracic program and unique Trauma services, Temple University Hospital features vibrant Organ Transplantation and Robotics teams and an award-winning Stroke program.
Residents also rotate through St. Christopher's Pediatric Hospital and Children's Hospital of Philadelphia, both of which have led the nation in the development of novel pediatric care and treatment. They have received multiple designations by the U.S. News and World Report as being amongst the best pediatric hospitals in the nation.
At each hospital residents are exposed to a diverse group of patients who present with complex medical and social issues in both elective and emergent scenarios.  The outstanding clinical experiences of the Temple Anesthesiology resident have created confident anesthesiologists and critical thinkers who stand their own on any ground. 
Beyond the strong clinical experiences, the Anesthesiology educational program is structured to respond to the changing needs of its residents and the profession.  Didactic instruction, Grand Rounds presentations and simulation training hone the knowledge base and critical thinking of the residents.  Resident participation in hospital-based, national and international activities fosters the management skills and creativity we value in our residents.  The varied and challenging clinical and educational experiences of the Temple Anesthesiology program creates dynamic physicians who are prepared to be innovators and leaders in the field of Anesthesiology.
Sincerely,
Richard C. Month, MD, FASA