White Coat Ceremony Welcomes the Class of 2022
POSTED ON
August 16, 2018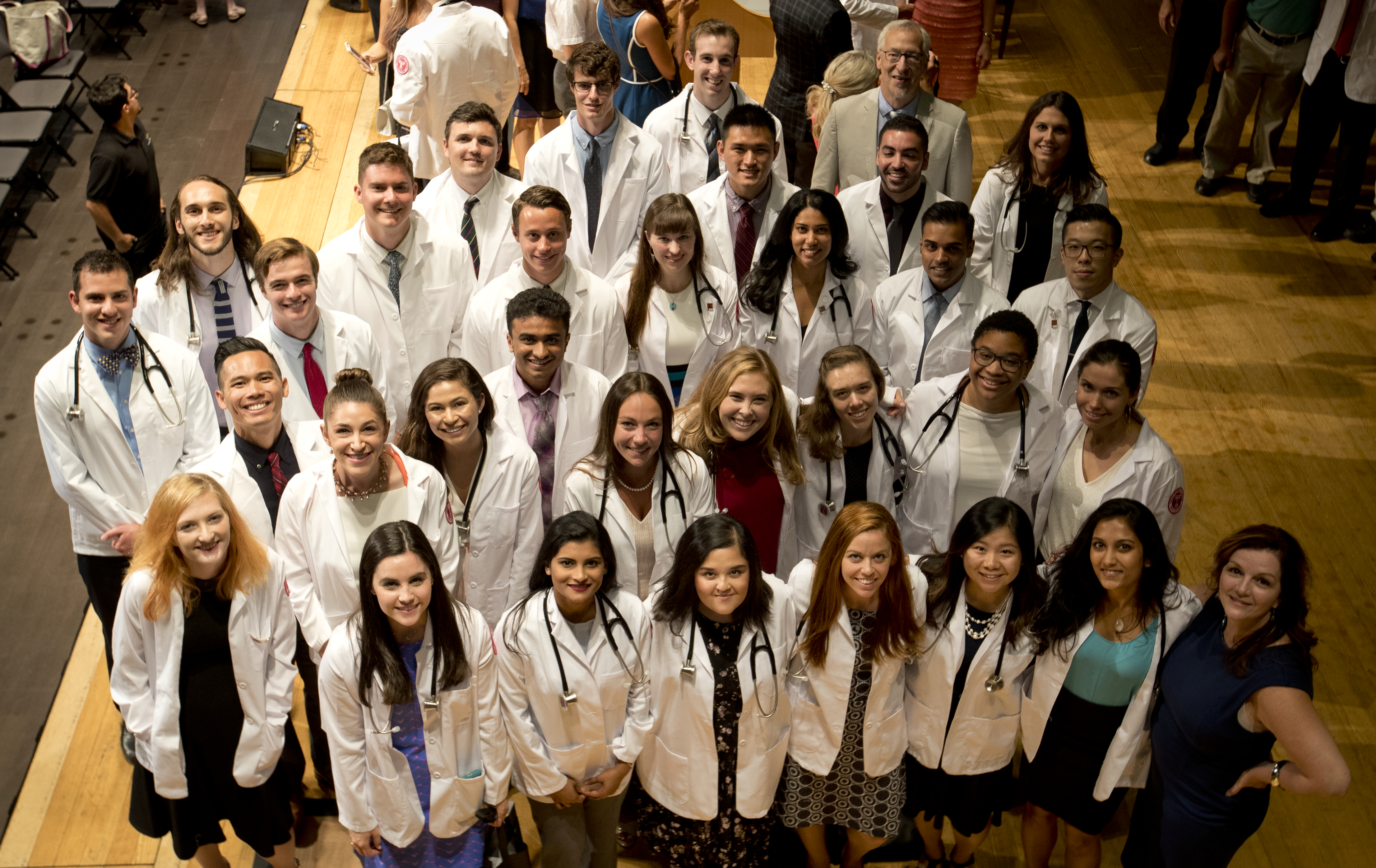 Medical school suddenly "got real" on August 10 for this year's incoming students at the Lewis Katz School of Medicine (LKSOM) when they donned their first white coats during the annual White Coat Ceremony. Held in Temple's Performing Arts Center, this celebratory event welcomes new students to the practice of medicine and LKSOM by providing them with white coats that symbolize professionalism, caring and trust.   
The 200 students were selected from more than 10,000 applicants. It's a diverse class – students hail from 25 states, 14% were born outside the U.S., 23% are URiM (under-represented in medicine), and 54% are female, a fact that elicited cheers and a sustained round of applause from the audience of friends and family.
Gerald Sterling, PhD, Senior Associate Dean for Education, served as the emcee for the ceremony. Larry Kaiser, MD, FACS, Dean of LKSOM and President and CEO of Temple University Health System, described the White Coat Ceremony as "one of the great days" in the course of his responsibilities.
"To be accepted to medical school is no small achievement," he said. "It required major commitment, sacrifice, and diligence on your part—and the support of your parents, family, and friends. Few, if any of you, got here solely on your own."
That sentiment was reflected during the coating portion of the ceremony as the names of the students were announced and, in reaction, bursts of cheers erupted from various corners of the room. It was especially epitomized during the handful of instances where LKSOM alumni and faculty accompanied their relatives onstage to present them with their coats.
Incoming student Daniel Thomas was joined not just by his father, Evan Thomas, MD (Class of '90), but also his grandfather, Robert Blume, MD (Class of '56). Philippe Ortiz was accompanied to the stage by his wife, Kelly Ortiz, MD (Class of '15) and their 10-week-old son, Joseph. Dr. Ortiz deftly slipped her husband's white coat on one-handed as she held Joseph in the other arm. Dr. Kaiser, standing nearby, couldn't resist taking a snapshot of the baby with his phone (Joseph Ortiz, class of 2048??).
"He's going to be so great," Dr. Ortiz said as she watched her husband and the rest of the Class of 2022 file out of the Performing Arts Center.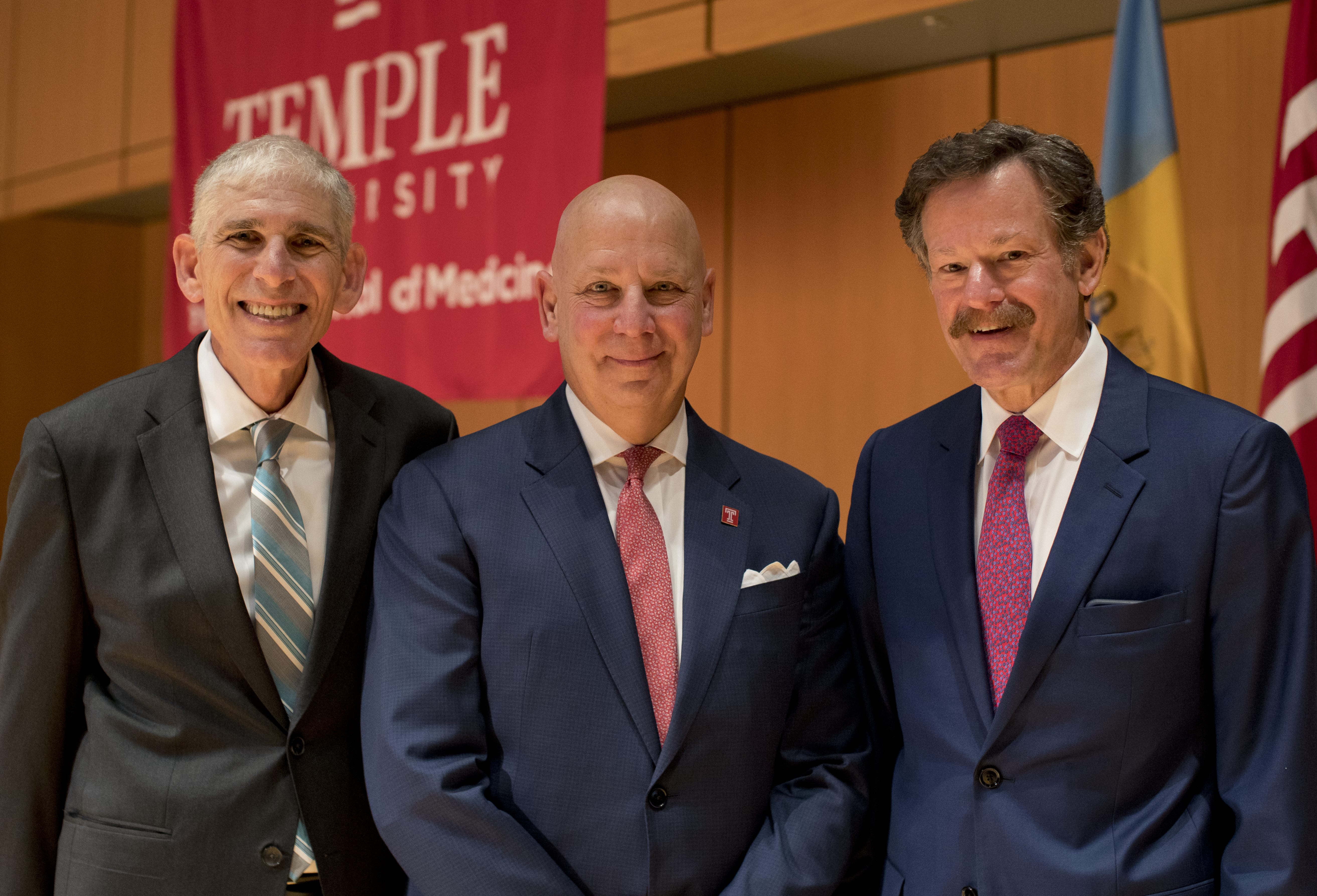 Keynote speaker L. Scott Levin, MD, FACS (Class of '82), Professor of Surgery and Chair of Orthopaedic Surgery at the University of Pennsylvania School of Medicine, encouraged the students to maintain an open mind by reminding them of the extraordinary advances in medicine just since he graduated from LKSOM, such as the ability to image the body with an MRI, stent heart vessels, and perform in-utero surgery.
Dr. Kaiser echoed the recommendation: "You'll no sooner arrive at a defining vision of medicine than you'll realize it's changed yet again, partially by market forces, partially by scientific
See additional photos from the White Coat Ceremony for the Class of 2022: