Temple Transplant Patient Donates Substantial Legacy Gift to Abdominal Organ Transplant Program
News
October 17, 2019
The DeMaio Stewart Abdominal Organ Transplantation Fund will support the Division of Abdominal Organ Transplantation at the Lewis Katz School of Medicine at Temple University and Temple University Health System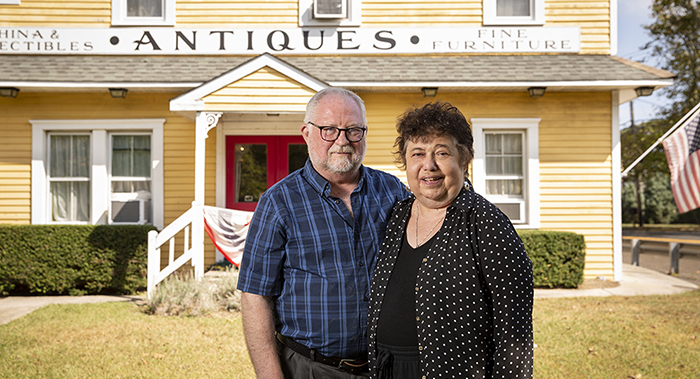 Two days before Christmas in 2015, Mary C. DeMaio learned the kidney transplant she needed was in jeopardy.
Ms. DeMaio, who lives in Cape May, has diabetes. And that, unfortunately, meant she was considered a high-risk patient.
The attorney-turned-shop owner came to Temple University Hospital (TUH) that winter in search of a second opinion – and a second chance at a transplant – from Antonio Di Carlo, MD, CM, FACS, FRCSC, Chief of Abdominal Organ Transplant Surgery at TUH and Associate Professor of Surgery at the Lewis Katz School of Medicine at Temple University. Ms. DeMaio received a kidney transplant at TUH on May 5, 2016.
Now, a substantial legacy gift from her and husband Wayne L. Stewart will help ensure that future transplant patients will continue to receive high-quality treatment and benefit from new discoveries and advances in the field.
"I was considered a high-risk patient," Ms. DeMaio said. "Undaunted, Dr. Di Carlo accepted me as a patient, and the rest is history. I would not be here enjoying my life with my husband Wayne and friends but for the care, skill, and compassion of the doctors, nurses, and other staff at Temple University Hospital."
The DeMaio Stewart Abdominal Organ Transplantation Fund will support the Division of Abdominal Organ Transplantation at the Lewis Katz School of Medicine at Temple University and Temple University Health System. Temple's Abdominal Organ Transplant Program treats patients with serious kidney, liver, or pancreas disease.
"We strive to provide phenomenal care that is truly multidisciplinary and involves everyone from nurses to schedulers and from transplant coordinators to surgeons," Dr. Di Carlo said. "This gift is humbling and will provide support in so many areas – advocacy, education, access to revolutionary resources and technologies, just to name a few. Like every gift that we receive, it is greatly appreciated and makes such a difference in people's lives. We cannot thank Mary and Wayne enough for their generosity."
Learn more about the Transplant Program at Temple University Hospital and find out how you can support Temple's mission.