Fox Chase Cancer Center Welcomes Biomedical Sciences Graduate Students From Lewis Katz School of Medicine
News
October 07, 2021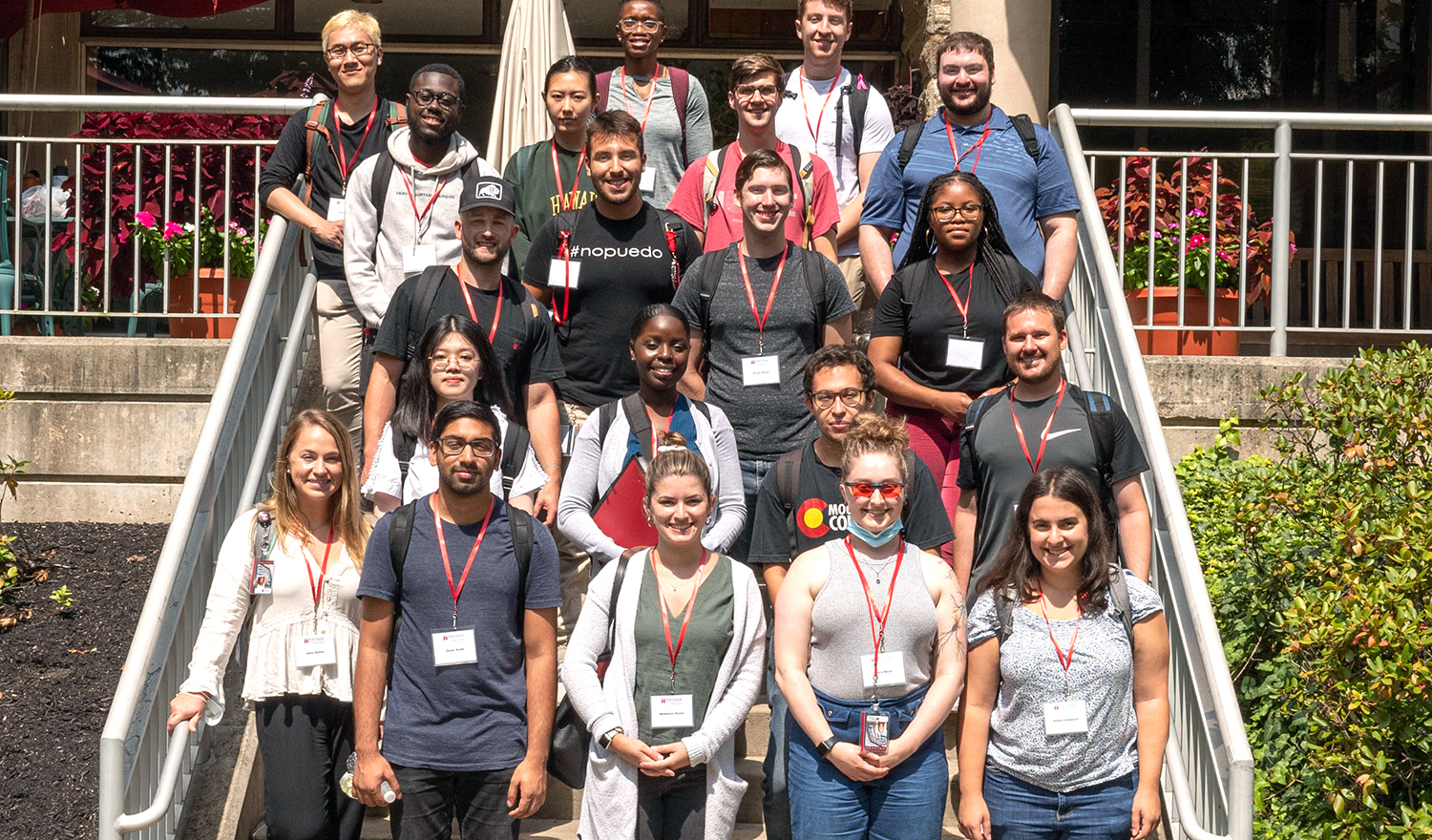 Fox Chase Cancer Center recently welcomed a new class of 21 Biomedical Sciences graduate students from the Lewis Katz School of Medicine to introduce them to research faculty with whom they can do scientific rotations and ultimately their thesis research.
After the students filed in and filled the seats in Reimann Auditorium, they were welcomed with an introduction to the center's history and a glimpse at how work done at Fox Chase changes the lives of patients in a profound way.
"What sets Fox Chase apart is that when you're walking from your car to the lab, you see and you interact with the patients that you'll be impacting every day. In my opinion, that changes it from being a nine-to-five job to something very meaningful," said Zach Gray, a third-year Katz School of Medicine Biomedical Sciences doctoral candidate in the lab of Johnathan Whetstine, PhD, director of the Cancer Epigenetics Institute at Fox Chase. The Whetstine laboratory is part of the Cancer Signaling and Epigenetics Research Program.
"In my time here, we've had several cancer patients or cancer survivors come into the lab and directly say, 'Thank you so much for everything you do.' It's very touching and drives home the reason why we do what we do," Gray said.
He shared his experiences at Fox Chase and highlighted some of the unique characteristics that make the center an ideal environment for students.
"One of the other things I love about Fox Chase is that it's very family oriented. The people you'll meet here today make it a very tight-knit trainee environment, and they will help you along the way with absolutely everything," said Gray.
In past years, faculty from Fox Chase have visited Katz School of Medicine to promote rotation opportunities at Fox Chase. This year, for the first time, students were welcomed to Fox Chase's campus to hear from faculty and get a firsthand look at the vast opportunities the center has to offer.
"The team of researchers at Fox Chace Cancer Center are nationally and internationally known experts in their fields working on cutting-edge research, making them excellent mentors for our Biomedical Sciences MS and PhD students," said Dianne Soprano, PhD, associate dean of the Graduate and MD/PhD Program at Katz School of Medicine.
"The opportunity for our students to visit Fox Chase Cancer Center to learn firsthand the training and career opportunities available during their orientation lays the foundation for collaboration and mentorship with the Fox Chase research team throughout their academic careers."
During the morning session, students heard from a number of Fox Chase's renowned faculty, whose research spans a variety of fields, including molecular therapeutics, cancer prevention and control, cancer signaling and epigenetics, and cancer biology. Students were encouraged to ask questions about the programs and reach out to faculty about potential opportunities.
"This visit offers the new cohort of Lewis Katz School of Medicine graduate students the unique chance to explore the center and really get an up-close look at faculty laboratories to find out their potential interests," said Glenn F. Rall, PhD, chief academic officer and professor in the Blood Cell Development and Function Program.
"If there's one thing to take away, it's that we're trying to open their minds a little bit to consider their research rotation options, even if they think they've already made up their minds," said Amanda Purdy, PhD, director of Academic Affairs. "It's exciting to see that there are 21 students who are interested in what we have at the cancer center, from research to medicine and everything in between."
Following the first set of presentations, students were given a tour of Fox Chase led by Purdy and Alyssa Leystra, PhD, education coordinator. Before returning for a second session, students were treated to lunch, where they had the opportunity to get to know present trainees and learn more about what sets Fox Chase apart as an institution.
"This is an exciting and critical task for our faculty as they get to know these young researchers. Our graduate students, our postdocs, they are the engines that drive science and move it forward. They are truly the lifeblood of a research laboratory. We're excited to be able to showcase the work we do at Fox Chase and offer meaningful research opportunities to young scientists," said Rall.