First Individual Treated with CRISPR-Based HIV Therapy, a Breakthrough Treatment Pioneered by Researchers at Lewis Katz School of Medicine at Temple University and Developed by Excision BioTherapeutics
News
September 21, 2022
In a major milestone in the search for a cure for HIV/AIDS, a breakthrough gene-editing therapy for human immunodeficiency virus type 1 (HIV) infection now being tested in clinical trials has been administered to a human with HIV for the first time. The trial, designed to evaluate the safety and efficacy of EBT-101, a one-of-a-kind gene-editing treatment with the potential to change the future of HIV therapeutics, is the product of a remarkable collaborative effort between researchers at the Lewis Katz School of Medicine at Temple University and Excision BioTherapeutics, Inc.
The first individual to receive single-dose intravenous infusion EBT-101 therapy is under observation and will soon be evaluated for viral rebound if eligible to stop antiretroviral therapy under the protocol. Investigators are hopeful that if the one-time curative treatment works as anticipated, the individual will no longer require antiretroviral therapy, which currently is the standard treatment for HIV infection.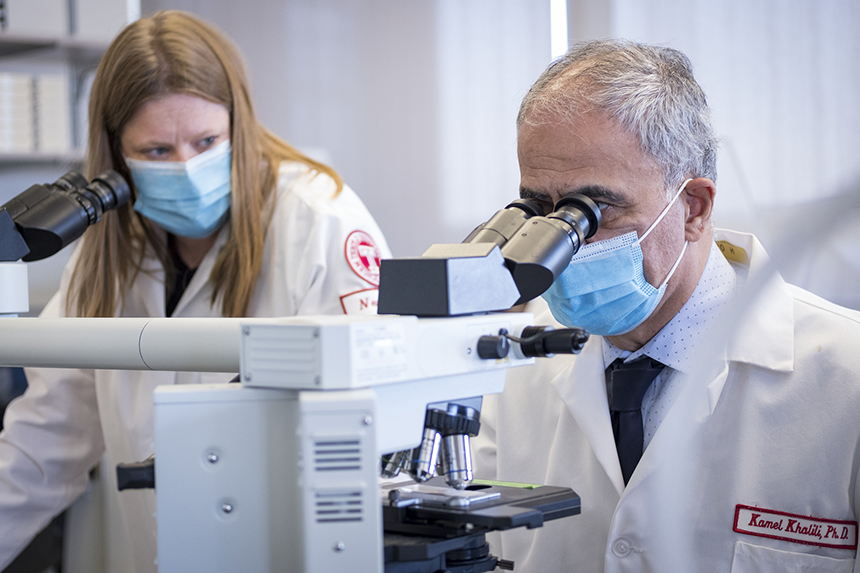 The launch of the EBT-101 Phase 1/2 clinical trial was made possible by research led by Kamel Khalili, PhD, Laura H. Carnell Professor and Chair of the Department of Microbiology, Immunology, and Inflammation; Director of the Center for Neurovirology and Gene Editing; and Director of the Comprehensive NeuroAIDS Center, and Tricia H. Burdo, PhD, Professor and Vice Chair in the Department of Microbiology, Immunology, and Inflammation at the Katz School of Medicine.
Dr. Khalili and colleagues at Temple pioneered the development of EBT-101, which is based on the gene-editing technology known as CRISPR, while Dr. Burdo and her team played a key part in advancing EBT-101 into clinical trials through their studies of EBT-101 in non-human primates.
"Nearly 40 million people worldwide suffer from the effects of HIV, and more than 40 years after the discovery of HIV/AIDS, there still are no curative treatments," Dr. Khalili said. "EBT-101 can potentially address long-standing unmet needs of individuals living with HIV/AIDS by removing viral DNA from their cells, thereby eradicating infection."
The removal of HIV DNA from the cellular genome is essential to effecting a cure. The virus takes up long-term residence in tissue reservoirs, where it hides, evading the immune system and escaping antiretroviral therapy. HIV can persist in tissue reservoirs for years.
"The extensive preclinical work by our research teams at Temple demonstrated the effectiveness of EBT-101 in removing HIV DNA from infected cells and laid the foundation for clinical studies," Dr. Burdo said. "It is really exciting for us to see Excision BioTherapeutics take this potentially curative therapy into Phase 1/2 clinical trials."
"We are well-positioned to collect key data that will enable our efforts to translate the success this approach has shown in animal models to human clinical trial participants," Dr. Khalili added. "We look forward to investigating this hypothesis through the EBT-101 clinical program and are pleased that the EBT-101 Phase 1/2 trial is proceeding as planned."
"The official start of the Phase 1/2 clinical trials for EBT-101 brings us one extremely significant step closer to creating a potential cure for HIV/AIDS," said Amy J. Goldberg, MD, FACS, Interim Dean of the Katz School of Medicine. "This amazing milestone speaks to the exceptional research acumen and scientific knowledge of Drs. Khalili and Burdo and their teams – outstanding members of the Temple family."
The trial is taking place at multiple locations, but Temple is not one of the sites.
For more information, see ClinicalTrials.gov identifiers NCT05144386 (Phase 1/2 trial) and NCT05143307 (long-term follow up trial).
Editor's Note: Kamel Khalili is Co-Founder and Chief Scientific Consultant and holds equity in Excision BioTherapeutics, which has licensed the viral gene-editing technology from Temple University. Kamel Khalili is a named inventor on patents that cover the viral gene-editing technology. Tricia Burdo holds equity in Excision BioTherapeutics. These named researchers are employed by Temple University and conduct research activities sponsored by the company. Questions regarding their affiliations with Temple University may be directed to coisom@temple.edu.
In addition to owning the viral gene-editing technology that Excision BioTherapeutics is licensing, Temple University also holds an equity interest in Excision. As a result of these interests, Temple University could ultimately potentially benefit financially from the outcome of this research. These interests have been reviewed and approved by Temple University in accordance with its Institutional Conflict of Interest policy. Questions about this can be directed to coitemple@temple.edu.