Faculty Spotlight: Ana Gamero, PhD, Associate Professor of Medical Genetics and Molecular Biochemistry
For Dr. Gamero, a passion for mentoring comes naturally.
News
April 28, 2023
When members of the Latino Medical Students Association at the Lewis Katz School of Medicine ran into problems as they planned LMSA's 2022 National Conference in Philadelphia, they turned to Ana Gamero, PhD, for advice.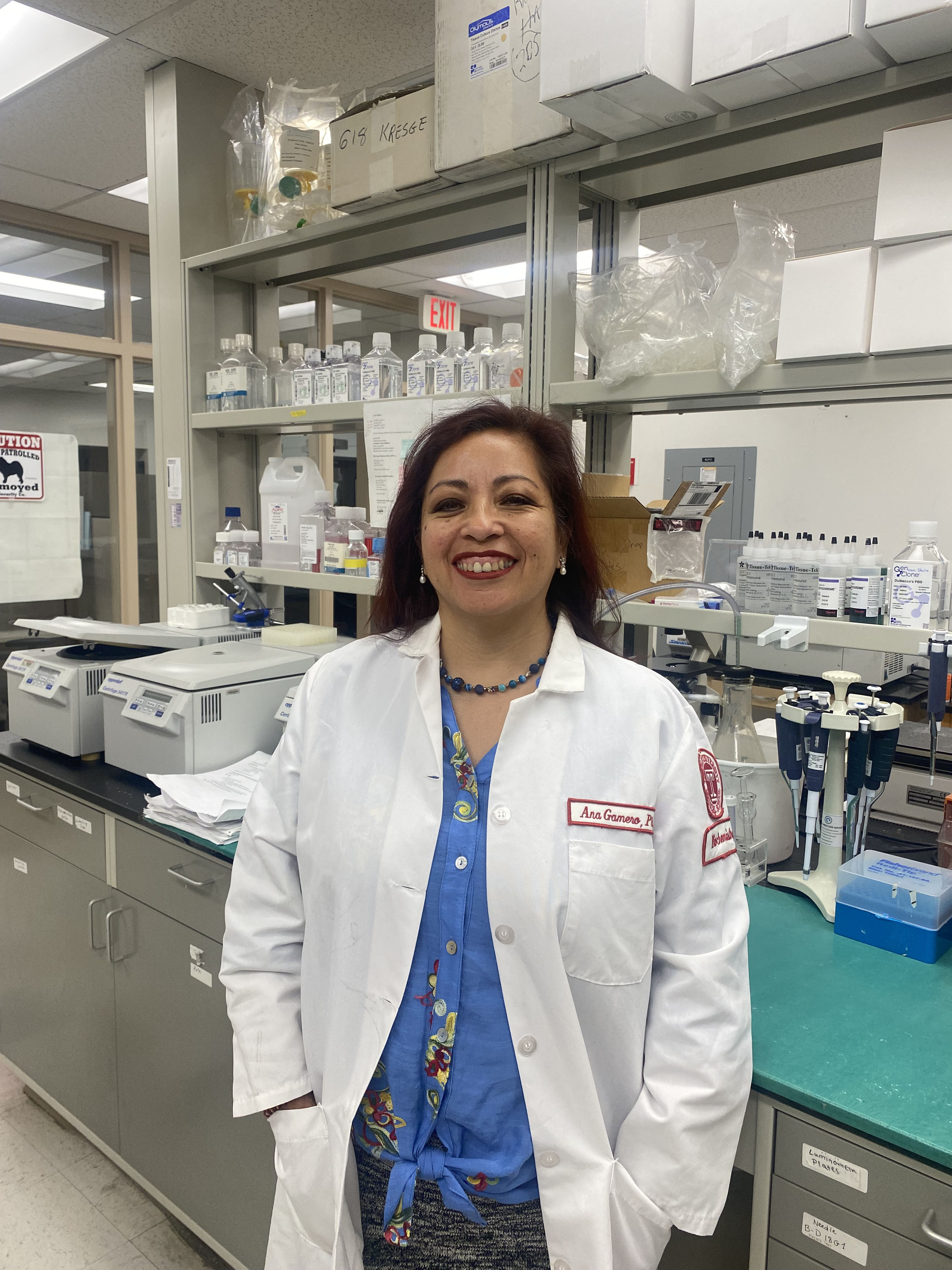 Dr. Gamero, a faculty advisor to the group, listened closely to the deflated students and spotted "a teachable moment."
"I wanted them to see that everything is possible," she said. "Learning that you can count on the support of the faculty is important. All you have to do is make the ask."
That belief – that everything is possible – is why Dr. Gamero, an Associate Professor of Medical Genetics and Molecular Biochemistry, has recently been seeing new doors open for herself as well.
She was selected to join the inaugural cohort of a highly competitive national leadership development program for mid-career faculty from backgrounds under-represented in science and medicine (designated URM). 
And the prestigious College of Physicians of Philadelphia invited her to become a Fellow. Recommended for membership by two Fellows, she plans to attend the induction ceremony on May 5.
The leadership program, TRANSFORM, seeks to develop pathways for URM biomedical and academic institutions by ensuring associate faculty members acquire the skills and experiences they need to advance to senior-level positions. The year-long program offers leadership development skills, strong mentoring relationships, and executive coaching.
Dr. Gamero saw what the TRANSFORM program offered and applied, because it was exactly what she wanted to learn.
Since her acceptance into the program in August, she has taken numerous assessment tests and discovered more about her "signature style" of leadership. She's "an arranger, an achiever, a relator, a strategic thinker, a problem solver, and a learner" who leads in a friendly, engaging and supportive way.
Dr. Gamero said she has learned a lot not only from the online leadership modules and the required homework and reading, but also from the eleven other faculty members in her cohort. 
"To learn that somebody has already gone through some similar situation and can offer advice is wonderful because you don't feel so isolated," she said.
The TRANSFORM program is a partnership among five institutions — the Association of American Medical Colleges, Meharry Medical College, the University of Pittsburgh, Oregon Health and Science University, and Rutgers New Jersey Medical School.
During the year, program participants are required to design an organizational change project with a leader at their institutions. 
Dr. Gamero has a project in mind, but wanted to discuss it with her TRANSFORM coach before disclosing its details.
Dr. Gamero acknowledges that one of her passions is to mentor students. At the College of Physicians of Philadelphia, she hopes to become involved in programs that prepare high school students for college and careers in health care who are from historically excluded communities. 
"These are the kids we need to spend more time with, to let them know they can succeed," she said.
Asked what medical students from backgrounds under-represented in medicine need most, she was quick to reply:
"They need a role model. They also need a mentor, a guide," she said. "There are moments when the students feel like they don't have the qualifications to make it, to be a doctor. Somebody else needs to be there to tell them 'Yes you can. Yes, it's going to take some work. But, yes, you can make it happen.'"
Dr. Gamero said she remains grounded with students – remembering what it's like to be in their shoes -- because she is surrounded by them and listens as they tell her about their lives. From this, she said she has learned that the college experience is far different today than when she was a student. 
Dr. Gamero received her undergraduate and PhD degrees at the University of South Florida. She completed a postdoctoral fellowship at the Cleveland Clinic and then served as a National Cancer Institute (NCI) Scholar.
She decided to join the Temple faculty in 2008 because she wanted to remain close to the circle of friends she had made working for the NCI in Maryland and she liked the department faculty she met on her visit to campus.
"I felt if I am going to start my career in academia, these are the colleagues I want on my side. And I have to say, I wasn't wrong," she said.
She was also drawn to Temple because it gave her an opportunity to teach. With the support of "wonderful teaching mentors" she won a LKSOM 2021 Excellence in Education Award for graduate science teaching.
Her busy work schedule includes teaching classes in the medical school, the dental school, and the school of podiatric medicine. She runs a medical school lab researching the role of the protein STAT2 in psoriasis, inflammatory bowel disease and colorectal cancer. In July 2022, Dean Goldberg appointed her as one of two inaugural faculty scholars in the Office of Health, Equity, Diversity, and Inclusion (OHEDI).
Lately, she has become more involved in community outreach activities. In March, she organized and worked with colleagues and students to offer educational events and colorectal screening activities at Temple University Hospital as part of Colorectal Cancer Awareness Month.
Dr. Gamero's belief – that everything is possible – is perhaps grounded in her life story. With her mother and two siblings, she immigrated to the United States from Lima, Peru, in 1982. The family settled first in New Jersey to be near an aunt, who had immigrated years earlier, and later moved to Florida. 
"I came to this country when I was a teenager. My number one dream was to become a scientist. I didn't know how. I didn't know where. I didn't even know if it was possible, especially with my mother being a single mom, working jobs all the time to support us.
"So, to see where I am now, what I have become, is a dream come true," she said. "It's hard to imagine that this person is me."