Dr. Joseph Torg '61 Honored at Portrait Unveiling
News
July 10, 2019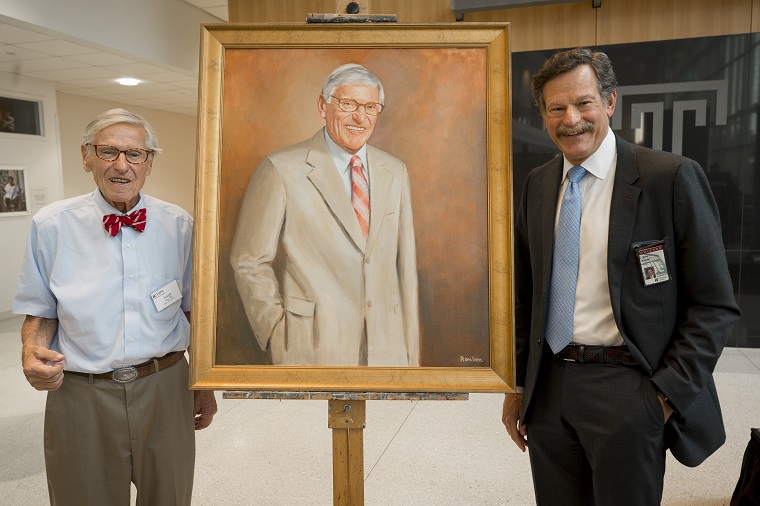 Guests and speakers gathered in the Maurice J. Stone, MD, Commons at the Lewis Katz School of Medicine (LKSOM) on June 17 to pay homage to groundbreaking Temple orthopaedic surgeon Joseph Torg, MD, '61 and unveil his official portrait.
"Many people refer to Joe Torg as the 'Father of Sports Medicine' for his many accomplishments. Here at Temple, he's known not just for his stellar career but for his philanthropy and commitment to the next generation of physicians," said Larry R. Kaiser, MD, FACS, The Lewis Katz Dean at the School of Medicine and President and CEO of the Temple University Health System.
"Let me stress how generous Joe has been to his alma mater," Dr. Kaiser continued. "He established the Joe Torg, MD, Endowed Scholarship Fund with his wife, Barbara. This scholarship fund will underwrite full-tuition scholarships for bright, economically-deprived medical students who attended secondary school in Philadelphia. Today, we're incredibly proud to unveil a portrait that will serve as a reminder of both Dr. Torg's incredible career and his enduring philanthropic legacy to Temple."
Dr. Torg's graduation from the School of Medicine in 1961 marked the beginning of a nearly career-long affiliation with Temple. At countless turns over the almost-six decades since, his research and work as an orthopaedic surgeon and sports medicine physician at Temple University Hospital has shifted the paradigm of sports medicine and advanced Temple's reputation.
During one watershed stretch in the mid-1970s, Dr. Torg proved that it was safe for girls to play baseball, effectively paving the way for the gender integration of Little League Baseball. And in 1974, he and colleague Ted Quedenfeld created the nation's first university-based sports medicine program at Temple University Hospital.
But Dr. Torg is perhaps best known for the research that prompted the NCAA and the National Federation of State High School Associations to ban spear tackling in football. The 1976 rule change resulted in a dramatic decrease in the number of incidents of catastrophic spinal injury among young athletes.
"If Dr. Torg has a question, he's going to get an answer," said Eric J. Kropf, MD, Director of Sports Medicine, Chair of Orthopaedic Surgery and Sports Medicine, and Interim Chair of Physical Medicine and Rehabilitation at LKSOM.
Aside from his reputation as pioneer, mentor and philanthropist, there's another aspect of Dr. Torg's reputation is what was politely described in a 2018 Temple Health Magazine profile as his "penchant for candor." That was heavily referenced, too, and on full display when Dr. Torg took the podium and later interrupted Dr. Kaiser's closing remarks to stand before his newly-unveiled portrait and critique it—at his own expense, of course.
"Anyone who has ever been introduced to Dr. Torg has a story to tell, be it the targeted comment that he made, or the way he looked you in the eye and saw right into your thoughts, or how long it took to get feeling back into your hand after you shook hands with him," said Helene Pavlov, CST, MD, FACR, Radiologist-in-Chief Emeritus at the Hospital for Special Surgery, Professor of Radiology in Orthopedic Surgery at Weill Cornell Medicine, and Chair of the LKSOM Board of Visitors.
But that wry sense of humor should never be mistaken for a lack of seriousness about his work, said Dr. Pavlov, who studied under Dr. Torg at Temple during the late 1960s and early 70s. "Dr. Torg believed, 'If you know something that can help physicians help their patients, it is your responsibility to share that knowledge.'"
Nevertheless, Dr. Torg's opinions were often met with controversy, if they weren't dismissed altogether, said Dr. Pavlov, who co-authored more than 40 published articles with Dr. Torg. "Eventually, however, all of our work stood the test of time and he received numerous awards," she said. "He was always ahead of the times. He envisioned sports medicine as a distinct field in orthopaedic subspecialty long before any of his orthopaedic colleagues had a clue."
Put simply, Dr. Torg will always have the last laugh.
See more photos from the event here. 
To make a gift in support of scholarship at the Lewis Katz School of Medicine, visit https://giving.temple.edu/givetomed. For information about establishing a scholarship fund, contact the Office of Institutional Advancement.