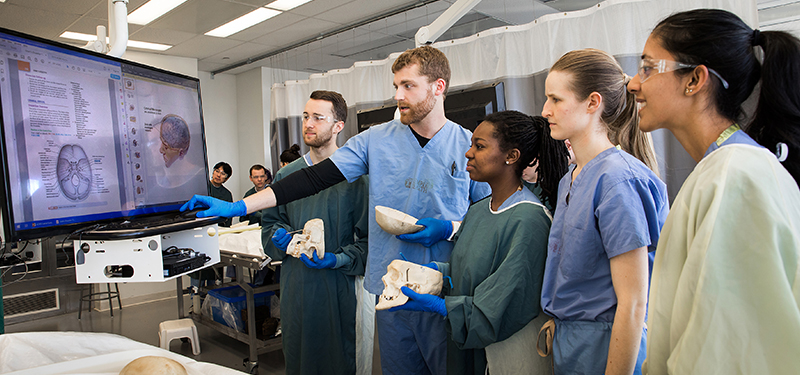 Lewis Katz School of Medicine Postbaccalaureate Program
The Lewis Katz School of Medicine (LKSOM) Advanced Core in Medical Sciences Postbaccalaureate program was launched in 2008 and is designed to specifically prepare students for success in our medical school and as practicing physicians. This is a 10 month full-time,  non-degree program designed for those who have completed the foundational science coursework, have a passion for medicine and service and seek to enrich their understanding of biomedical science. 
Advanced Core in Medical Sciences Program (ACMS) – "Career Enhancers"
Provides: in-person instruction from outstanding medical school faculty, world-class facilities, and personalized advising.
Provides specifically designed graduate-level courses to maximize student's academic experience.
Provides learning activities in the Institute for Clinical Simulation.
Provides opportunities for shadowing of clinical faculty in Temple University Hospital.
Acceptance to LKSOM Postbaccalaureate Program
The program completes an individualized holistic review of each completed application including, but not limited to, the candidate's academic history, the college attended, standardized test scores, CASPer results, recommendations, extracurricular activities, work experience, medically related experience, and community service activities to select candidates for interview. While not required, many students have participated in research activities.
An interview (by invitation only), serves as a candidate's interview for conditional acceptance to the MD program and is required to be considered for admission into the LKSOM ACMS Postbaccalaureate program. All offers of admission to the ACMS program include a conditional acceptance to the LKSOM MD program. The requirements that ACMS students must meet to gain full acceptance to the MD program are detailed in the offer of acceptance to the Postbaccalaureate program.
Conditional Acceptance to LKSOM MD Program
All applicants accepted to the LKSOM Postbaccalaureate program receive a conditional acceptance to this medical school for the following fall without a gap year.
Acceptance to the MD program requires successful completion of the Postbaccalaureate program. Successful completion of the ACMS program requires students to achieve at least a 3.60 (not rounded) GPA in the ACMS coursework. Students must also achieve a total MCAT score of at least 509, with no single section less than 126. Only the most recent MCAT score is considered.