Lewis Katz School of Medicine at Temple University Announces Creation of "Alzheimer's Center at Temple"
News
March 14, 2018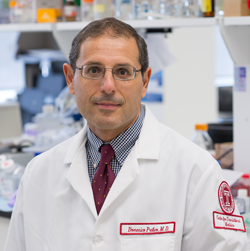 The Lewis Katz School of Medicine at Temple University (LKSOM) has received a gift from Temple University trustee, benefactor and Fox School of Business alum Phil Richards and the Scott Richards North Star Charitable Foundation to establish the Scott Richards North Star Charitable Foundation Chair for Alzheimer's Research at Temple. Domenico Praticò, MD, Professor of Pharmacology, Professor of Microbiology and Immunology and Professor in the Center of Translational Medicine at LKSOM, has been named the first occupant of the newly established chair. In addition to the endowed chair, the gift allows LKSOM to create the Alzheimer's Center at Temple.
"We are extremely proud and humbled to receive this generous gift from Phil Richards and the Scott Richards North Star Charitable Foundation," says Larry R. Kaiser, MD, FACS, Lewis Katz Dean at LKSOM, President and CEO of Temple University Health System and Senior Executive Vice President for Health Affairs at Temple University. "This strategic investment will pay dividends not just to Temple, but to society – well beyond our lifetimes – funding cutting-edge basic science research, clinical studies, and innovative educational programs for new generations of researchers."
Alzheimer's disease is the sixth leading cause of death in the United States today, with more than five million Americans living with the disease. The Alzheimer's Center at Temple (ACT) will integrate research, training, clinical and educational activities in order to study the pathophysiology of Alzheimer's disease and related disorders, discover the mechanisms responsible for their onset and progression, and develop effective treatment strategies with the ultimate goal of curing those diseases. ACT will build upon the longstanding tradition of excellence in biomedical research and education of LKSOM.
"ACT is committed to promoting brain health and fostering discoveries for a better understanding of Alzheimer's disease and related dementias through cutting-edge research, clinical studies and innovative educational programs," says Dr. Praticò. "ACT brings together a diverse team of multidisciplinary and talented investigators who devote their entire effort to making a difference in the fight against these diseases."
Dr. Pratico joined LKSOM in 2007 and currently leads Temple's Alzheimer's Disease Research Program. His primary area of focus is clinical pharmacology with a special focus on the cellular and molecular mechanisms involved in brain health, and the pathogenesis of neurodegenerative diseases such as Alzheimer's disease, Parkinson's disease and frontotemporal dementia.
Internationally known for his work on Alzheimer's disease, brain health, aging and neurodegeneration, Dr. Praticò has authored more than 240 original articles in high impact journals and 25 book chapters. He serves as principal investigator in numerous private sector, foundation and NIH research grants.
The North Star Resource Group established a charitable foundation in 2004 to support causes close to the North Star team. The foundation was renamed the Scott Richards North Star Charitable Foundation in 2008, after the passing of former president Scott Richards. Since 2004, North Star has donated 10% of all profits to the foundation, which has contributed $3 million to local communities across the nation. The foundation also supports the philanthropic interests of its advisors and team members by providing an internal gift matching program.
The Scott Richards North Star Charitable Foundation has selected six causes to focus its support: Alzheimer's disease, ataxia, Bikes for Kids, breast cancer, cystic fibrosis and myelofibrosis. Phil Richards serves as Chair of the foundation.