Lewis Katz School of Medicine names dean's chair for philanthropist Marjorie Joy Katz
News
March 31, 2023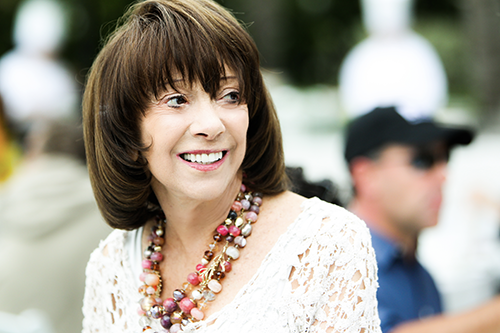 The dean's chair at the Lewis Katz School of Medicine has been named to honor the late philanthropist Marjorie Joy Katz, who was the wife of Lewis Katz, CST '63, the namesake of the medical school and a Temple trustee until his passing in 2014, and the beloved mother of Drew Katz, a current Temple trustee, and Melissa Katz Silver. 
Ask anyone who knew her to describe Marjorie Joy Katz and their responses are almost identical: To know Marjorie was to know someone genuinely motivated by love and generosity. "After interacting with her, you'd walk away with this warm, uplifted feeling as if you'd just been hugged by an angel," said Drew. Indeed, Marjorie is remembered most for quietly dedicating her life to taking care of the people in her community.
Dean Amy J. Goldberg, MD, FACS—the first woman in the school's storied history to serve in the role—now also becomes the first dean to hold this new title.
"I am truly honored to serve as the first woman dean of the Lewis Katz School of Medicine, and deeply proud that the name this role bears now recognizes a woman whose legacy is rooted in kindness and generosity," Goldberg said. "Marjorie's values will certainly serve as guideposts for my leadership as dean, as they will for those who lead our school in the future."