Lewis Katz School of Medicine is the First Medical School in Philadelphia and the East Coast to Provide All First-Year Students with Butterfly iQ+ Ultrasound Devices
The Class of 2025 will begin using the devices during their first year of medical school, fostering the development of key clinical skills through innovative technologies.
News
August 06, 2021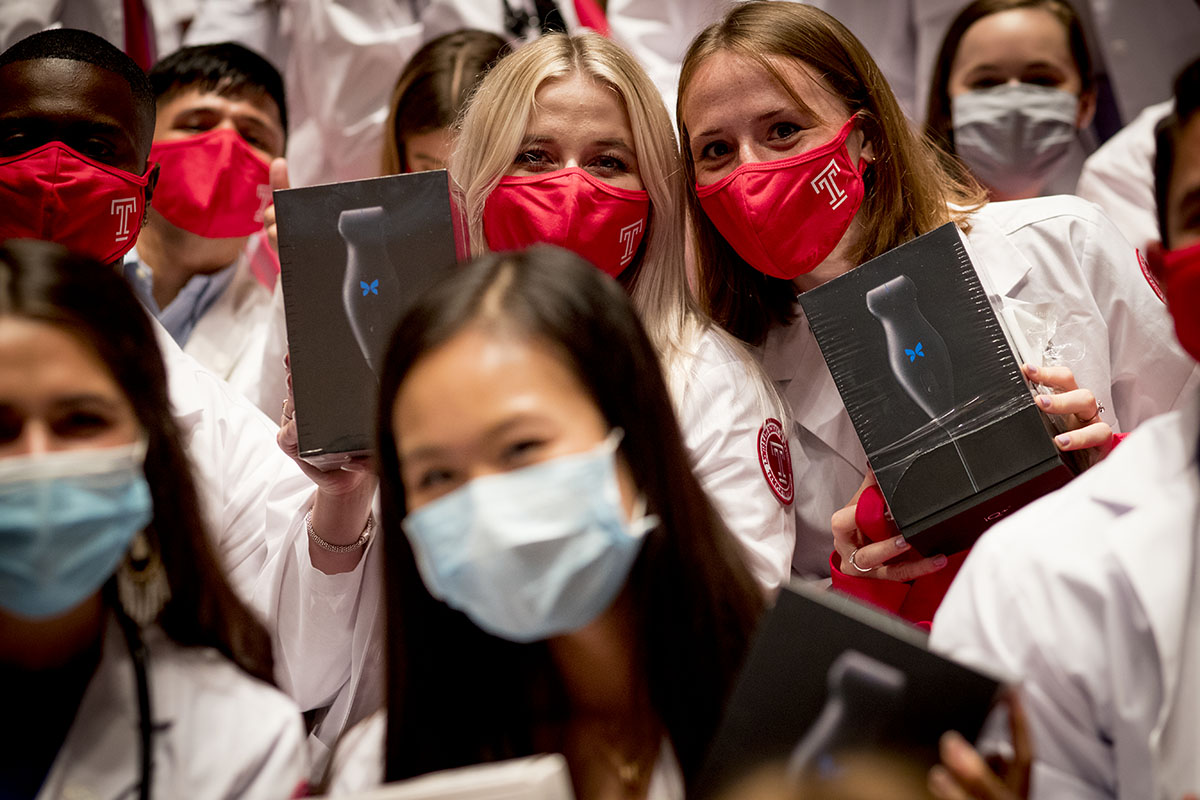 Each member of the Lewis Katz School of Medicine Class of 2025 received Butterfly iQ+ ultrasound devices, along with Temple-branded stethoscopes, at the annual White Coat Ceremony today, Friday, Aug. 6. The handheld, portable ultrasound devices were made possible through a generous donation by Ronald Salvitti, MD '63. The gift is the first of its kind for medical students in Philadelphia and on the East Coast.
"When I was named Temple University's 12th president this summer, I mentioned that one of the things that attracted me to this institution was its status as best-of-class in education, research and health. Dr. Ronald Salvitti's generous donation of the Butterfly iQ+ ultrasound devices is the latest example of that," said Jason Wingard, President of Temple University. "This is a path-breaking gift for our medical students, as it allows us to introduce them to advanced medical imaging on the very first day that they begin their coursework, creating a solid foundation for them to become future leaders and innovators in the field of medicine."
"Temple is setting the pace for medical education in Philadelphia and across the country by adopting innovative technologies into our medical education curriculum," said Amy J. Goldberg, MD, FACS, Interim Dean and George S. Peters, MD and Louise C. Peters Chair and Professor of Surgery at the Lewis Katz School of Medicine at Temple University and Surgeon-in-Chief and Senior Vice President of Perioperative Services at Temple University Health System. "Only a handful of medical schools provide the ability to use a portable, point-of-care ultrasound on Day One of medical school."
The Butterfly iQ+ is an advanced assessment tool that unlocks the power and potential of point-of-care ultrasound. The probe is plugged into a mobile device, which then connects to the Butterfly iQ+ iOS or Android app. From there, the user can evaluate the patient at their bedside and scan for an image, which can be interpreted in real time. The device has access to six imaging modes and 21 presets, offering visualization of nearly every bodily structure, from bladder volume and cardiac flow, to lung imaging. It is portable and easy-to-use, allowing medical practitioners to incorporate ultrasound within their everyday practice at the point of care.
Lewis Katz School of Medicine Class of 2025 students will begin using the Butterfly iQ+ devices in their first year of medical school, with a basic introduction to ultrasound and then hands-on sessions in the classroom nearly every month. As they make their way through different coursework – anatomy, physiology, cardiology, etc. – they will learn important ways in which ultrasound can be used in different clinical contexts.
"The donation of Butterfly iQ+ devices to the Lewis Katz School of Medicine Class of 2025 allows us to introduce one of the most significant advances in patient care at the beginning of our students' training," said Ryan C. Gibbons, MD, FAAEM, FACEP, Associate Professor of Emergency Medicine, Director of the Emergency Ultrasound Fellowship and Associate Director of the Division of Emergency Ultrasound in the Department of Emergency Medicine, and Director of Ultrasound in Medical Education at the Lewis Katz School of Medicine at Temple University. "This dramatically enhances our ultrasound curriculum and our students' education. We will now have one of the most robust ultrasound programs around."
"I made this gift to take medical student education at Temple to the next level by placing a Butterfly ultrasound device in every new medical student's hands," said Ronald Salvitti, MD '63. "It's a gift to support innovation."
Photos and videos of the White Coat celebration and gift reveal can be viewed on the Lewis Katz School of Medicine's YouTube, Facebook, Twitter and Instagram channels.
- Giselle Zayon